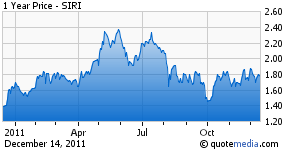 I was speaking with Rocco Pendola the other day and we were going over some stories that just won't go away. It caused me to reflect on some of the issues that investors and analysts alike have sought to beat to death over the past 12 months – remarkably, these have taken a complete life of their own. Admittedly, I'm launching my own whip with this article, because in my attempt to bring this issue to light, I'm only contributing to that which I am condemning, I get it. But so it goes.
Sirius XM (NASDAQ:SIRI) is certainly no stranger to stories and theories that won't go away. I think we can include the following amongst stories that certainly need to be left alone:
When it comes to Sirius XM we are all experts – including yours truly. We've been subscribers for longer than three months and know where all of our favorite channels are. We might even know a customer service rep or two by name. These credentials alone make us think that we can run the company (if not) better than the CEO himself, but certainly we would not screw things up. Sirius XM knows its passionate fan base and I can tell you that the company appreciates these feelings. There is nothing worse than total apathy – just look at what the Research in Motion (RIMM) cheering section has become.
Liberty Media (LCAPA) will acquire Sirius – another story that won't go away. But remarkably, this one has lived for three years and likely will breathe its fainted life until it happens or until Liberty comes out and proclaims its intentions in terms that we can understand. Oh wait a minute - I think it has done that already on a couple of occasions. In a recent article by Seeking Alpha contributor King of All Trades, the following point was made regarding this continued speculation:
Although March is a date that allows a full investment into Sirius XM from Liberty Media, Greg Maffei at the Dec. 5th UBS Conference warned that this date really has no significance to them. If they were interested in a majority stake, he said then why didn't Liberty add in the open market to 49% when the stock was trading at 15 cents in 2009. It would be illogical to add now basically when a cheap stock was ignored for so long.
Greg Maffei spelled out the options on Dec. 5th. He stated they basically have two choices - first choice is to do nothing. Second choice is to add more shares to take control. They could also do a spin-off of course and some type of merger down the road as well. Any merger would require a 50% controlling stake first. He stated Liberty does two things usually with an investment. They either get out of it quick with a tax benefit, or hold long term. This is a hold long term situation with them.
I have to agree completely with the points made by Relmar and the article went on to describe several more scenarios that are more logical than what we think the leaders of both companies are likely to do. Yet, we refuse to let it go.
CPR was conducted on this story when an appearance was made on CNBC by analyst Martin Pykkonen of Wedge Partners who fanned more flames toward the idea. This was preceded by a NY York Post article written by Claire Atkinson which suggested that "John Malone is finally getting serious about Sirius." It seems the source of the article gave this topic more credibility than it deserved.
I have a tremendous amount of respect for the wonderful people at the NY Post and I read their content on a regular basis, but this is the same publication that earlier this year suggested that Oracle (NASDAQ:ORCL) CEO Larry Ellison was on the verge of acquiring Hewlett Packard (NYSE:HPQ).
The bigger issue is what happens if HP's shares do not recover. One source close to the situation believes Oracle's Larry Ellison, with former HP CEO Mark Hurd now on his team, is ready to pounce. If that stock keeps dropping, I think it is inevitable.
"Spinning off the PC business makes a takeout much easier," the source said, believing Oracle might make a hostile approach early next year, and if it succeeds, would sell off HP's printer business. A banker in the space believes Oracle will likely make a hostile bid, but it will take a bit longer.
Oracle would likely be able to buy HP and have it pass antitrust muster, albeit with concessions, an antitrust source said. If Oracle bought HP, it would be better able to challenge IBM (NYSE:IBM), sources said.
At the time of the buyout discussion in August, Hewlett Packard traded at $28. The stock would drop to as low as $21 in October yet nothing ever occurred. Not only did HP subsequently announce the hiring of a new CEO, but the company recently reported earnings that offer glimpse of a recovery that will take much less time than previously anticipated. It's also worth noting that since the stock reached the 52-week low of $21.50 in October, it has since climbed 25% to just under $27.
Is it possible that the NY Post article could have been right in suggesting that Oracle was perhaps "considering" a HP acquisition? Yes. But will we ever know for certain? Not likely. I think it is also fair to consider that perhaps the article was grasping at straws and speaking of "beating dead horses" this story certainly fit the bill.
Summary
As we are with our favorite sports teams, investors are equally passionate about investments. But sometimes we have to consider that the coaching staff or in this case, the management team is better positioned to make decisions that are in the best interest of the company – more so than we are, as hard as that may be to believe. In the process, we lose sight of what makes sense by constantly beating horses that have long been expired. They say there is comfort in redundancy - I tend to find my comfort in common sense.
Disclosure: I am long SIRI, AAPL, ORCL.