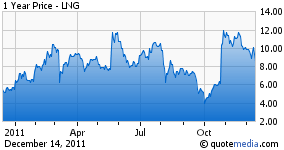 Cheniere Energy (NYSEMKT:LNG) fell off a cliff Tuesday night, as news of an equity offering pushed down shares. Cheniere plans to issue 33 million shares, with an underwriters option for another 4.95 million shares. Proceeds of the offering will be used for general corporate purposes, including to repay debt.
As the ticker symbol suggests, Cheniere is involved in the liquefied natural gas (LNG) business, and owns and operates the Sabine Pass terminal in Louisiana through the majority ownership of Cheniere Energy Partners (NYSEMKT:CQP). Sabine Pass is an import facility for LNG, and Cheniere is seeking to expand the facility into an export facility. It also owns the pipeline that connects Sabine Pass to the rest of the infrastructure in the U.S., called the Creole Trail Pipeline, and an associated marketing business.
My problem with Cheniere Energy is that construction on the export facility is only expected to begin in 2012 and it will not begin exporting before 2015. That means that until that date, Cheniere will need to continuously raise capital to fund both the expansion plans and to make debt payments.
According to the most recent quarterly filing, Cheniere reported a net loss for the first nine months of 2011 of $140.9 million. In addition, Cheniere has $298 million coming due on the 2007 term loan due in May of 2012, and another $204.6 million for the Convertible Senior Unsecured Notes due in August of 2012. That's $502.6 million due in the next nine months. Cheniere does have $131.3 million in unrestricted cash and cash equivalents, as well as restricted cash with $137.3 million designated for interest payments for the senior notes. Even if Cheniere were to use 100% of its unrestricted cash and cash equivalents, in addition to the restricted cash that is set aside, the firm would still need another $234 million to cover just the debts due next year.
Assuming that the full overallotment is exercised, this offering should net Cheniere roughly $300 million. That comes after the offering in June, in which 12.7 million shares were sold, raising $123.1 million. While this capital raise should provide Cheniere some breathing room to get past the May payment, I don't think they will make it to August 2012 without another equity and/or debt offering. Losses have been accelerating this year, and the company will likely burn through over $55 million in the fourth quarter, bringing the full year loss to almost $200 million. With no material shifts in the business landscape for Cheniere on the horizon, expect losses of about this size to be the norm for the next few years.
Given the fact that the company hasn't even broken ground on the export facility, and that the import facility completed in 2008 is not economically feasible to use right now, and since natural gas prices in the U.S. are so low, I question how long investors will continue to step up and buy these offerings. The company is losing hundreds of millions of dollars per year, and is planning to turn things around by having its MLP subsidy spend another few billion dollars on an LNG export facility that will not be up and running for another 3 to 4 years.
Investors buying into Chenere now are likely to face at least another three years of dilutive share issuances, without the chance of profitability, until the export facility is up and running. I think investors looking to participate in the LNG market should be looking at safer, profitable names in the tanker space, such as Teekay LNG (NYSE:TGP). Cheniere may be worth a look again in 2015, but until the first exports begin leaving Sabine Pass, I'd stay away from LNG.
Disclosure: I have no positions in any stocks mentioned, and no plans to initiate any positions within the next 72 hours.