John Helzer's excellent article "Semis Tweeting World Wide Economic Slowdown" on December 9 on Seeking Alpha pointed out that 4Q revenue guidance for nearly all semiconductor companies is pointing down, as shown in the chart below. Only Advanced Micro Devices (NYSE:AMD), Cirrus Logic (NASDAQ:CRUS), Qualcomn (NASDAQ:QCOM), Intel (NASDAQ:INTC), Nvidia (NASDAQ:NVDA) and SanDisk (SNDK) gave Q4 revenue guidance that was not negative.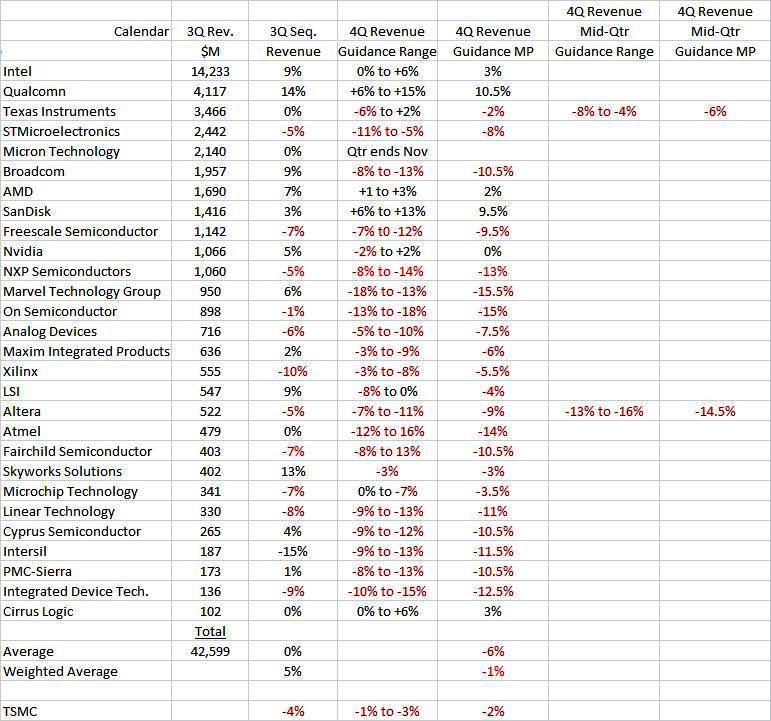 Click to enlarge
Texas Instruments (NYSE:TXN), which gave only a -2% guidance compared to most companies in the -9 to -12% range, noted that reductions are due to broadly lower demand across a wide range of markets, customers and products, except for Wireless applications processors. In other words, the downturn in the semiconductor industry is primarily caused by macroeconomic ills, as opposed to internal factors that could influence sales reductions, such as historic oversupply/undersupply conditions. Up cycles and down cycles, however, are usually shaped by contributions of many factors such as natural disasters (we had two major ones in Japan and Thailand in 2011), inventory correction, and oversupply/undersupply.
The World Semiconductor Trade Statistics [WSTS] organization projects 1.3% growth for 2011 and a 2.6% growth. Market research organization Gartner reduced semiconductor's international revenue outlook for 2012 to 2.2 %.
According to a chart from The Information Network, semiconductor sales, which peaked in September 2010, had begun a slow but steady increase that lasted until September 2011 and is starting to drop again, at least for the next 9 months
The companies' Proprietary Leading Indicators [PLLs] show a peak in January 2010 and again in January 2011, which was mirrored by a rebound in semiconductor sales nine-months later. Semiconductor sales, based on SIA's three month moving average, peaked in September 2010, and a second peak occurred in September 2011 - exactly a 12-month peak-to-peak cycle as in their PLLs. This is illustrated in their chart below.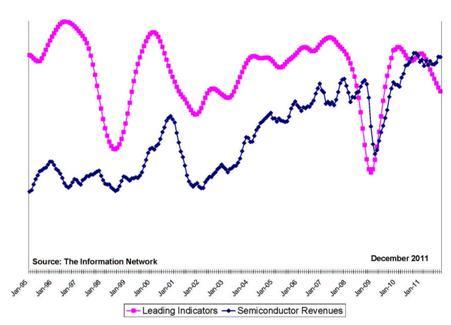 Their PLLs are pointing down for at least the next 9 months, which should be mirrored by semiconductor sales based on historic correlation.
Disclosure: I have no positions in any stocks mentioned, and no plans to initiate any positions within the next 72 hours.