Red Hat, Inc. (NYSE:RHT) provides open-source software and services to the enterprise computing market. It is the most recognized open-source brand in the world. Their most popular solutions are Red Hat Enterprise Virtualization, JBoss Enterprise Middleware and their Red Hat Enterprise Linux (RHEL) operating systems. Much of the company's revenue is generated through subscriptions and in the training of these products.
The company's RHEL is under an open-source license, which forces the company to create a different type of licensing model. Red Hat sells its enterprise technologies through subscription agreements, and recognizes revenue over the period of these agreements with the customers. Generally, the agreement periods are between 1 and 3 years, with a specific level of support. The more support needed, the more the agreement will cost.
Training doesn't only involve the Red Hat employees, but the customers as well. People from all over the world are looking to get certified in Red Hat's products. From Red Hat Certified Engineer (RHCE) to the JBoss Certified Application Administrator (JBCAA), the company has global exams and classrooms for almost everything. Red Hat also offers consulting services for their customers, which is also lumped into this classification of revenue.
According to the Red Hat website, its open source model supplies enterprise computing solutions that reduce costs, improve performance, reliability and security. Moreover, it plans to apply this strategy to today's most critical IT sectors: Operating Systems, Storage, Middleware, Virtualization and Cloud Computing.
Red Hat has major competitors in all these sectors, but its toughest will be Oracle Corp. (NASDAQ:ORCL). For a long time, Oracle was an enterprise software company specializing in databases. However, Oracle's acquisition of Sun Microsystems has put it head to head in multiple markets.
On November 9, Oracle released Solaris 11, which is being marketed as the first cloud OS. These two companies are now competing with each other in Operating Systems, Cloud Computing and Virtualization. Foresight into Oracle's action may have prompted Red Hat's purchase of Gluster, Inc. in October. Gluster is a new competitor in the storage market specializing in cloud and virtual machine environments. Red Hat believes that this acquisition will improve their position in the storage market and complement their cloud computing strategy.
Although Oracle may be Red Hat's largest competitor, it also has to worry about many other competitors. Microsoft (NASDAQ:MSFT) is definitely making strides in the Operating System sector, with its Windows Server 2008 products, but Oracle's Solaris is more of a direct competitor, because the Unix/Linux operating systems have similar limitations. In terms of Virtualization, Vmware (NYSE:VMW) is the clear leader, because its products support a larger variety of platforms. Oracle's virtualization is built into its OS utilizing the Solaris Zone technology. Other known competitors across the sectors are Amazon (NASDAQ:AMZN), Google (NASDAQ:GOOG), Cisco (NASDAQ:CSCO), SAP AG (NYSE:SAP) and Salesforce.com (NYSE:CRM).
From a technology perspective, this may seem like a lot of work for their employees to develop, train and support. However, the ability to offer multiple products to their customers is paying off for Red Hat. According to the Q2 2012 Earnings Call, the company experienced a 150% increase in upsells this quarter. Red Hat CFO Charles E. Peters explains that impressive numbers are a result of "good cross-selling and strong demand." This proves that the company's customers are loyal, and they are willing to spend more as long as the product is available. Moreover, it keeps the customer from looking elsewhere to find the product they are looking for.
From a financial perspective, Red Hat seems like a sturdy company with a market value of about $9 billion. In the last 4 years, Red Hat has managed to grow their revenue significantly while maintaining a total debt of zero. According to their latest 10-K filing, revenue has increased over 40% since 2009. Moreover, their net income has grown steadily from $78 million in 2009 to approximately $107 million this year.
From a geographic perspective, over 60% of their revenue comes primarily from the Americas, followed by EMEA (Europe, Middle East & Africa) and Asia Pacific. The good thing is that they are seeing about an 18% average increase in revenue across all geographic segments, with the largest increase coming from Asia Pacific.
On a negative note, Red Hat's stock price is that it's trading at over 71 times its earnings and has increased in price almost 60% over the last two years, as shown below: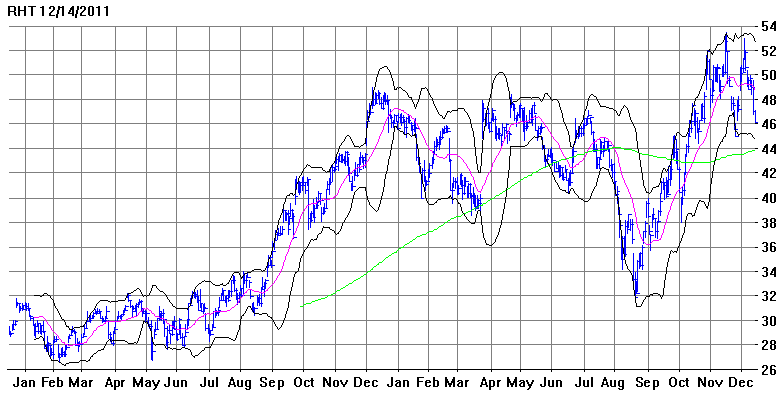 Click to enlarge
And, with the recent release of Oracle's Solaris 11 cloud OS, it may seem even more risky. An investor with a big profit in Red Hat may be considering taking some or all of the profit off of the table and potentially experience a taxable event, but as an alternative an investor might consider entering a collar position instead. A collar enables an investor to protect a position while continuing to benefit from the stock. A collar may be entered by selling a call option against an existing or purchased stock with some of the proceeds from selling the call option used to purchase a put option for protection. A collar enables an investor to protect the position without having to add any additional capital for protection.
Using PowerOptions search tools, a collar position was found for Red Hat with a potential return of 2.3% and a maximum potential loss of 7.2%. The time frame for realizing the potential profit is 38 days. The specific call option to sell is the 2012 Jan 47 at $2.45 and the specific put option to purchase is the 2012 Jan 42 at $1.40. If the price of Red Hat's stock is unchanged at option expiration in January of 2012, the collar position will return 2.3%. As a bonus, if the price of Red Hat's stock is greater than or equal to the $47 strike price of the call option, the position will return 3.9%. A profit/loss graph for the collar position is shown below: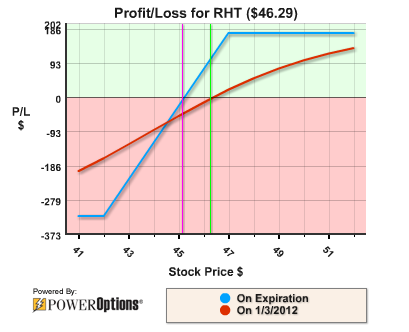 With Red Hat's upcoming earnings report on Monday, Dec. 19, 2011, an investor in a collar for Red Hat can rest easy knowing the position is protected, yet positioned for generating a profit.
Disclosure: I have no positions in any stocks mentioned, and no plans to initiate any positions within the next 72 hours.