When I look at Freeport-McMoRan (NYSE:FCX), I really get confused. Here is a company that always has good revenue, earnings and cash flow numbers plus an A+ financial strength rating, but has performed like a dog lately. In the long run, I think it might be a good buy, but you need to be careful in how you play the stock.
Recently the stock has been down a bit, as evidenced by this Barchart graph of the last 6 months' performance: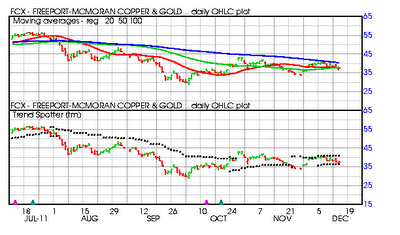 Even with gold prices up, the stock isn't performing as well as the Value Line Index of 1,700 stocks: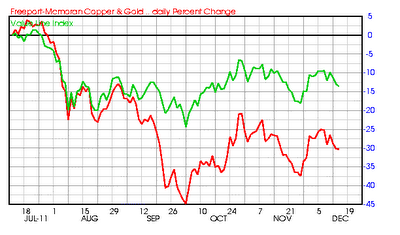 Freeport-McMoRan Copper & Gold Inc. engages in the exploration, mining, and production of mineral resources. The company primarily explores for copper, gold, molybdenum, silver, and cobalt. It holds interests in various properties, located in North and South America; the Grasberg minerals district in Indonesia; and the Tenke Fungurume minerals district in the Democratic Republic of Congo. As of December 31, 2010, the company's consolidated recoverable proven and probable reserves totaled 120.5 billion pounds of copper, 35.5 million ounces of gold, 3.39 billion pounds of molybdenum, 325.0 million ounces of silver, and 0.75 billion pounds of cobalt. The company was founded in 1987 and is headquartered in Phoenix, Arizona. (Yahoo Finance profile.)
Factors to Consider
Barchart technical indicators:
Barchart uses technical indicators from 7 days to 6 month to determine the current price momentum of a stock
Currently a 72% Barchart technical sell signal
Trend Spotter hold trending to a sell
Below its 20, 50 and 100 day moving averages
5.34% off its 1 month high
34.56% off its 1 year high
Relative Strength Index 46.80%
Barchart computes a technical support level at 36.14
Recently traded at 37.58 with a 50 day moving average of 37.93
Fundamental factors:
18 Wall Street brokerage firms have assigned 22 analysts to follow this stock
Analysts look for sales to increase by 13.50% this year but decrease slightly by 1.00% next year
Earnings are estimated to be up 8.40% this year, down 5.20% next year and continue to increase over the next 5 year by an annual rate of 6.64%
The stock has a very conservative P/E ratio of 6.66
The dividend rate of 2.59% is less than 20% for the projected earnings
The company enjoys an A+ financial strength rating
The company always makes money but the amount of money seems to be determine more by commodity prices than production levels
General investor interest:
I find the readership of Motley Fool to be a good indicator of the sentiment of the individual investor
5,876 readers have offered an opinion on this stock
97% voted that the stock will beat the market
97% of the more experienced All Stars agreed
Fool notes that 96% of the reports issued on this stock were also positive
Those giving a thumbs up were Chris Davis, Jim Cramer, Jim Jubak, David Teeper and Charles Payne
I think it is important to see how FCX performed against some of its competitors, and although it is down further than Newmont Mining (NYSE:NEM), it is not down as much as Southern Copper (NYSE:SCCO):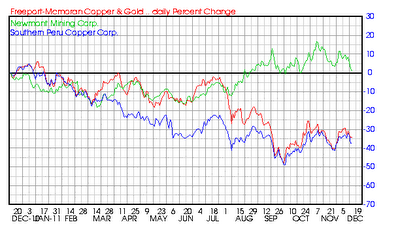 Summary

In the long run, I agree with the optimism expressed by both the professional and individual investors about Freeport-McMoRan; however, I think you will be able to pick up some shares a little cheaper down the road. Right now, commodity prices seem to be falling. I think if you use a 14-day turtle chart like the one below, you might be able to buy on a dip. If you do not like to watch the technical chart, then I'd advise you to dollar-cost average into this issue over the next 6 months.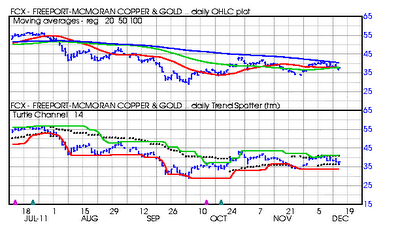 Disclosure: I have no positions in any stocks mentioned, and no plans to initiate any positions within the next 72 hours.