Triangle Petroleum (NYSEMKT:TPLM) Reported Stronger Than Expected Quarter; Ups Long Range Production Target ~ Pre Conference Call Note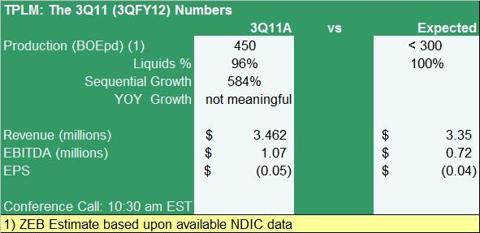 click to enlarge
3Q Comment: This is a pre call, pre press release note. We're starting to see the fruits of the non-operated program under more normal weather conditions with volumes jumping (albeit from a small base) as TPLM's operators work to complete and tie in previously drilled wells. The quarter was the first to look like an E&P company quarter in that LOE fell into a normal per unit range and G&A/ BOE is on its way there. We even saw positive EBITDA. Note as you read on that they are an end of January fiscal year company so when you see FY2013, think calendar year 2012 lagged a month into the next year.
Highlights:
Production Moving In The "Up and To The Right" Direction. Now that we are beyond the weather burdened quarters of the first half of 2011, you can see that production is starting to mount. Note that December 1st volumes were flush with new well production and on that day TPLM was producing 800 BOEpd which was actually my 4Q average in my model issued on October 20th here. All of the production to date is from their non-operated program but that will change in the first half of 2012 as they bring their first operated Bakken well, the Dywer #150 (currently at TD and awaiting completion), on line, in the same area as Slawson's recent Cyclone well and NFX's big Tobacco Garden area wells.
After that they will complete Larsen followed by a four well pad, to be drilled over the winter in an attempt to avoid the logistical headaces of the season. Management feels confident enough to bump its exit rate for next year from a prior range of 2,000 to 2,800 to a range of 2,600 to 3,200 BOEpd. That should stay over 90% oil through the period with the remainder rich gas (we saw the first of that gas this quarter with prices north of $6 / Mcf).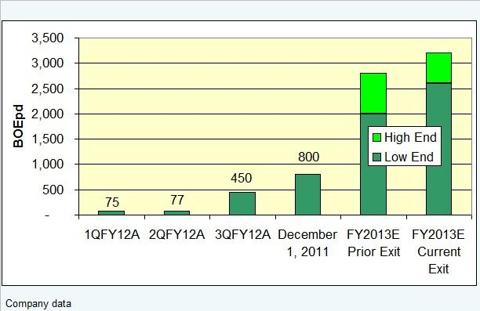 Calendar 2012 Program (FY 2013). The program will consist of a mix of operated and non-operated wells in the Williston. Until they find a joint venture partner, I would suspect they continue with a one rig program through 1H12 which probably costs them in the neighborhood of $6 to $8 per well with 7 to 8 net operated wells being completed on the year, but they can accelerate and likely will if they land a JV partner in the Basin. The total budget for the year should be along the lines of $130 to $150 mm with $30 mm of that going to a variety of experienced operators (Slawson, KOG, WLL, CLR) in the play to continue their non-operated program.
Reserves Moving Up With Production: In their Q, TPLM mentions their internally estimated proved reserves are up 80 to 90% over the beginning and they have changed reserve engineering firms from MHA Petroleum Consultants to Ryder Scott for this year's annual review, which, nothing against the former firm, is an upgrade, though it may auger for more conservative reserve estimates down the road. This, however, will improve in time as they shift to being more of an operator (better for booking PUDs).
Williston Basin Position Edging Higher. TPLM now holds 81,000 net acres in the Williston with 31,000 acres in North Dakota in what I'd call "good" areas of McKenzie and Williams counties. Since the last quarter, they added another 6,000 net acres, probably also in North Dakota (at least I think this is the case as that's how much the total acreage count went up and I would not think they added to their position in Montana at this time). They also note they plan to swap 2 to 4,000 net acres in 2012 to high grade their position in favor of their operated program. That kind of horse trading goes on all the time in the Basin and it's positive that they are actively pursuing a program to up their operated working interest areas. The remainder of the acreage is their Station prospect in Roosevelt and Sheridan counties, Montana, which has cheap lease extension terms and is currently being delineated by the pioneers of the horizontal Bakken play.
Balance Sheet Remains Strong. No debt and $94 mm in cash at the end of October.
Nutshell: It was a good quarter. Guidance is strong. The plan is on course. The non-operated program is moving the production profile in the right direction and the first results of operated program arrive in short order. As they become an operator, and assuming they have success in the effort (they've built a team that should be successful) they should start to chip away at the non-operator discount they current labor under. We should get a lot more color on the call but for now, they are on course. The name is cheap to my current estimates, trading at about 5x 2012 and less than 2x my 2013 CFPS estimate.
Conference Call: Today, 10:30 am EST