Overview
Baltic Trading is a dry bulk shipper controlled by Genco Shipping & Trading (NYSE:GNK). The company was formed by Peter Georgiopolous in late 2009, who also founded GNK and the recently-bankrupt General Maritime. Unlike most shipping companies that focus on long-term contracts at fixed rates for their fleets, Baltic focuses on the spot market.
BALT had an initial public offering in March of 2010, when shipping stocks were doing relatively well. However, since then the stock has been falling with the rest of the dry bulk shippers. The industry has been plagued by overcapacity, as well as the continued economic disruptions. I believe the market is being over pessimistic on the sector --and Baltic, in particular. I estimate that simply liquidating Baltic would generate a return for shareholders of over 60% or $8.50 a share. On a more normalized EBITDA multiple, I think the stock is worth closer to $13 a share.
Thesis
Modern Fleet
Baltic has a fleet of nine ships; four Supramaxes at about 53,000 dwt each, two Capesizes at about 178,000 DWT each, and three Handysizes at about 34,000 DWT each. Five of the ships were built in 2009 and four of them were built in 2010. Modern ships are more attractive to charters because they have reduced operating costs and fuel consumption versus older ships. The newer ships are also more reliable, which improves utilization.
Spot Market Focus
Baltic does not charter its vessels out on a fixed rate basis. Baltic charters vessels on contracts tied to the spot market. Therefore, any recovery in dry bulk rates will be immediately seen in Baltic's results.
Significant Operating Leverage
Baltic has significant operating leverage. A higher demand for dry bulk vessels raises the charter rates but does not increase expenses to operate the vessels. Most of the expenses in dry bulk are basically fixed. This, in combination with the fact Baltic's charters are tied to the spot market, creates significant upside to EBITDA if dry bulk rates rise. I estimate that if there is a 50% increase in charter rates, the increase in revenue will fall directly through to EBITDA. This will result in EBITDA more than doubling.
Downside Protection
Looking at BALT's Q3 EBITDA of $4.6 million and its interest expense of $1.1 million, Baltic's revenues can fall by another $3.5 million, or more than 30%, before the company won't be able to cover its vessel operating expenses and its debt obligations. The dividend, which is sitting at $0.12 a quarter for a yield of 9.4%, won't be so lucky. A drop of rates of more than 10% will probably force Baltic to cut the dividend.
Debt Maturities
Baltic does not have significant debt maturities until November 2016. This gives management time to wait out the market disruptions and not have to sell vessels at depressed levels or dilute shareholders to cover debt payments.
Very Attractive Valuation
The valuation metric I prefer in this case is breakup value. The company is trading for a substantial discount to breakup value. Below is a table of the company's fleet and my estimate of what the vessels are worth in the open market.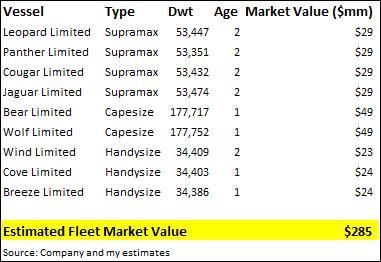 Below is a table of the company's balance sheet reported at the end of Q3 and my estimate of what the assets would be worth during liquidation.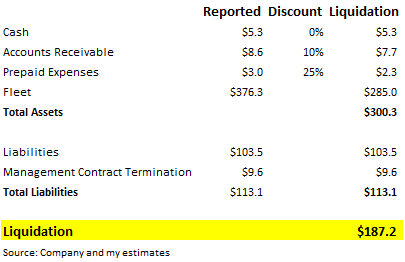 With 22.1 million shares outstanding, that is a breakup value of about $8.50 a share. I don't think it is likely that BALT will be bought out or sold off since it is controlled by GNK, but it does provide an idea of what the assets are worth.
Baltic has a market cap of $110 million plus net debt of $96 million, for a total enterprise valuation of $206 million. The company's trailing twelve month EBITDA is $20.6 million for an EV/EBITDA multiple of 10x. Not cheap by any means, however, the charter rates have been so depressed this year that valuing Baltic based on the EV/EBITDA multiple would be completely misleading. Baltic's time charter equivalent was $12,246 for the first 9 months of 2011. For the last three months of 2010, the company's time charter equivalent was $18,596, or more than 50% higher. Although not the perfect comparison based on the time difference, Q4 of last year was the first time the company had its full fleet in operation, so it does give some frame of reference.
Charter rates are at historic lows this year. If we estimate that rates rebound to last year levels, about a 70% increase from today's rates, BALT's revenues will jump to about $18.5 million a quarter, with operating expenses at about $10 million. Adding back depreciation of $3.7 million, I arrive at an EBITDA/quarter of $12.2 million. That is about an annual EBITDA of $49 million for an EV/EBITDA multiple of 4.2 at today's levels. A more standard 8x multiple would give Baltic an EV of $392 million. Subtracting the $96 million of net debt, we arrive at a market cap of $296 million or a price per share of $13.40, upside of 170% from today's levels. That is also around the price where Baltic had its IPO at ($14/share).
Risk
Ultimately, the risk lies in the dry bulk market. If rates continue to drop even further, then the discount to liquidation value can quickly disappear. The big headwind for next year is the large number of vessel deliveries. According to Paragon Shipping's (PRGN) Q3 slides, the order book currently stands at 38% of the current fleet. The deliveries scheduled for 2012 are over half of that. The uncertainty surrounding Europe isn't helping dry bulk either. If the economy falters, it may mean further pressure for shares of dry bulk stocks, including Baltic.
Disclosure: I have no positions in any stocks mentioned, and no plans to initiate any positions within the next 72 hours.