This is the 2nd article in a series focusing on whether now is the time to invest in emerging markets. The first article which focused on India concluded that while some appealing stocks were at very discounted levels, investors need to wade into the stocks carefully, in order to not catch the proverbial falling knife.
This article focuses on the largest Latin America economy, Brazil. It faces similar problems, where high inflation led to numerous interest rate increases by the central bank, leading to a slowing down of the economy. The major difference, though, is that Brazil has already been aggressive-- with three rate cuts of 50 basis points each-- while India is still pondering whether to cut rates.
The country also has two potential catalysts, with the World Cup arriving in 2014 and the Summer Olympics in 2016. Both events will require large infrastructure spending that should benefit not only the economy, but a lot of the stocks traded in the U.S.
Brazil provides an interesting array of investments, from large banks to oil power Petrobras (NYSE:PBR) to global mining leader Vale (NYSE:VALE), along with numerous other mining, chemical, telecommunications, and utility companies.
The Brazilian Bovespa Stock Index ($BVSP), though weak, has shown some signs of life lately. The index has been making higher lows since early August. See chart below:
Click to enlarge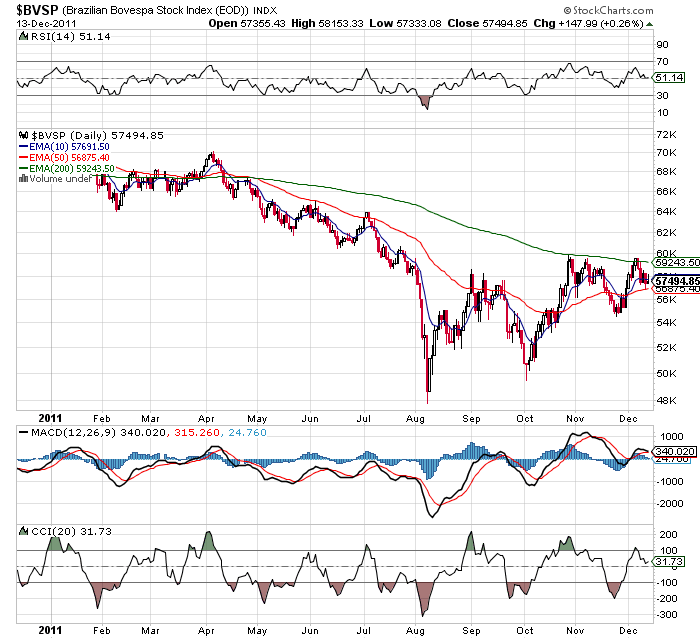 Though the major Brazilian index has shown signs of improvement, the same can't be said for all individual stocks. Many of the stocks are still struggling near 52 week lows. Below are some of the most interesting opportunities.
Banco Itau (NYSE:ITUB)
This bank is the largest domestic bank in Brazil, with a market cap exceeding $80B and revenue over $40B. With a forward PE below 9, it offers an attractive valuation for investing in the credit growth in this country.
Most analysts are indifferent on whether ITUB or Banco Bradesco (NYSE:BBD) provide the best investment opportunity in Brazil. One could presumably buy the cheaper one on any given day.
NII Holdings (NASDAQ:NIHD)
Wireless provider building out 3G networks in both Brazil and Mexico, plus other Latin American countries. Stock hit a new 52 week low this week, even though Bloomberg reports surging mobile demand in Brazil. At nearly $7B in annual revenue, NIHD is not a small wireless provider, though likely mostly unknown.
Stock trades at a 10 forward PE, though analysts expect a nearly 19% annual growth rate. Undoubtedly investors are concerned about the expenses and debt load for building out these 3G networks in the middle of a feared global slowdown.
Gerdau (NYSEARCA:GBB)
Leading steel producer in the Americas with a heavy focus on Brazil and the U.S. The company expects revenue to hit nearly $35B this year, which would be up 10% from 2010, but earnings are expected to slump. The stock trades at a sub 7 PE if analyst estimates of $1.17 are reached. It also offers an attractive 3.3% dividend yield.
The company should ultimately benefit from the infrastructure requirements-- not only for the World Cup and Olympics, but just the general needs for more housing in the country.
Speculative:
Gafisa (NYSE:GFA)
Domestic homebuilder that has struggled in 2011, due to accounting issues and a slowdown in the housing sector. Stock is trading near 52 weeks lows, with plenty of upside potential now that the central bank has cut interest rates 150 basis points. The country still has a housing deficit making homebuilding a priority for the next decade.
All four of these stocks provide an interesting investment thesis at this point in the cycle. Typically though, all of these stocks trade in tandem with the general index. At times it can be more of a Brazil on, Brazil off thesis-- with each stock providing a different level of beta.
Brazil appears ahead of the curve, with the aggressive move on rate cuts making these stocks more investable now-- especially if 52 week lows hold.
Disclosure: I am long ITUB, NIHD, GFA.
Additional disclosure: All data is sourced from Yahoo! Finance. Please consult your financial advisor before making any investment decisions. All information is for informative purposes only and should not be relied upon for investing decisions.