In its latest monetary policy assessment, the Swiss National Bank (SNB) "reaffirmed its commitment to the minimum exchange rate of CHF 1.20 per euro." The SNB also gave its sternest warning yet about the risks of deflation by concluding "in the foreseeable future, there is no risk of inflation in Switzerland." The SNB revised its inflation forecasts downward from the previous quarter as the sharp appreciation in the currency has hurt economic growth.
Real GDP is expected to grow only 0.5% next year. Inflation this year will likely hit a paltry 0.2%. Next year, the SNB forecasts that prices will DROP, generating an inflation rate of -0.3%. In 2013, prices will barely recover with a 0.4% inflation rate.
The SNB followed the lead of other central banks over the past several months in warning about the economic risks coming from the sovereign debt crisis in Europe:
Growth in Europe…remained weak and the economic outlook for the euro area deteriorated…The international outlook continues to be highly uncertain. A further escalation of the European sovereign debt crisis cannot be ruled out. This would have grave consequences for the international financial system. Moreover, given our country's close relations with the euro area, Switzerland's economic prospects are highly dependent on how the crisis develops.
In the immediate aftermath of the statement, the franc quickly increased in value, likely because the SNB did not put forth any new proposals for weakening the franc. Rumors of negative interest rates resurfaced in previous weeks.
click to enlarge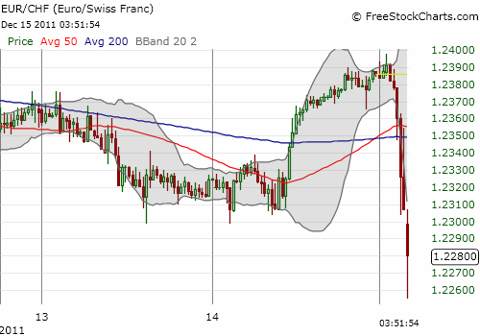 Click to enlarge
The franc appreciates against the euro going into the SNB statement (at 3:30am Eastern) and immediately afterward.
Source: FreeStockCharts.com
However, the SNB appears as firm as ever in its desire to weaken the currency:
Even at the current rate, the Swiss franc is still high and should continue to weaken over time. The SNB stands ready to take further measures at any time if the economic outlook and the risk of deflation so require.
This insistence means that I still believe positioning for a weaker franc is the right strategy using EUR/CHF as a hedge against currency traders finally deciding to test the SNB's resolve by hoarding francs again. This hedge also facilitates a bet against the euro which is the franc's biggest "threat." For more details, see "How To Play The Devaluation Of The Swiss Franc".
Be careful out there!
Disclosure: I am net short the Swiss franc