Provident Energy Ltd. (PVX) is a Canadian corporation that owns and operates a natural gas liquids midstream services and marketing business. The company was formerly a Canadian Royalty Trust, but converted to a corporation on January 1 of this year, in response to the "Halloween Massacre." Provident continues to pay its dividend on a monthly basis as a corporation, just as it did when it was still operating as a royalty trust. This can make the company an appealing investment for those who desire (or require) monthly income.
Provident has most of its operations in Canada, but the company also has significant pipeline assets and a few other facilities in the United States.
Click to enlarge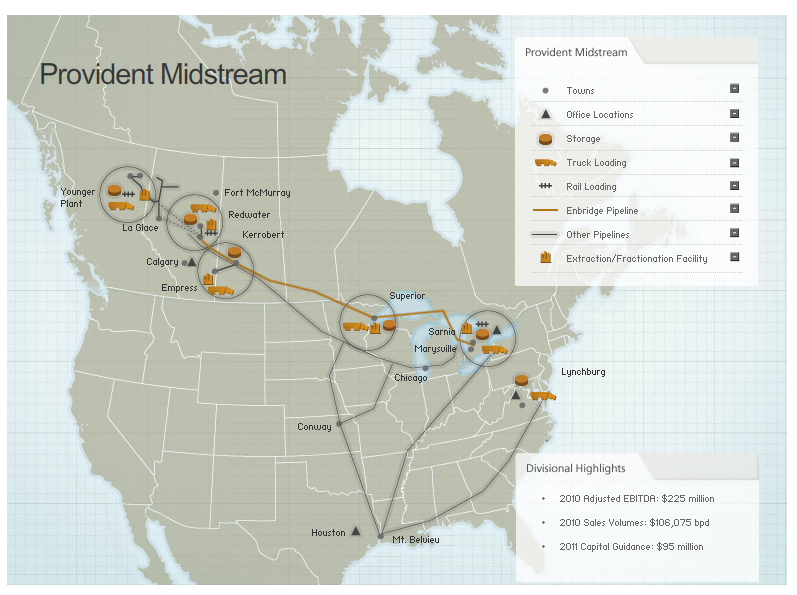 Source: Provident Energy
Provident Energy operates solely in the midstream segment of the market. Provident Energy used to own and operate various upstream producing assets, but these were all spun-off prior to the conversion into a corporation. Provident also used to produce oil, but this is also a business that the company no longer participates in. Today, the company focuses solely on producing the following natural gas liquids (NGLs):
Ethane: Ethane is primarily used by the petrochemical industry to produce ethylene and polyethylene. These two compounds are used in the production of plastics, among other things.
Propane: Propane is used to heat homes, cook food, and dry agricultural crops. Propane can also be used as a fuel for vehicles and currently powers 190,000 on-road vehicles and 450,000 forklifts in the United States. It is the third most popular vehicle fuel in America, trailing gasoline and diesel.
Butane: Butane is primarily used as lighter and cooking fuel. It is also used as a diluent in Alberta.
Condensate: Condensate is used by bitumen and heavy oil producers as a diluent. Condensate decreases the viscosity of bitumen and heavy oil, enabling these two substances to flow easily through pipelines.
There have been many articles, at Seeking Alpha and elsewhere on the internet, discussing the incredible growth opportunities available in the Canadian oil sands of Alberta. They are correct, the Canadian oil sands is an area that is very rich in heavy oil and will likely be a growth area for the energy industry going forward.
Provident Energy is well-positioned to benefit from the growth in the Canadian oil sands. As you can see in the map above, Provident Energy has facilities located at Redwater, Alberta which is in very close proximity to the oil sands. The energy resources in the oil sands are in the form of bitumen, which is an extremely heavy form of crude oil. The oil found in these sands cannot easily flow through pipelines. Provident Energy can provide condensate to the producers in the oil sands. This condensate will then help make this heavy crude oil flow more easily, allowing it to be transported via pipelines (which are the most cost-effective way to transport crude).
Provident Energy has a long history of paying monthly dividends, giving out monthly payments to investors since it incorporated as a royalty trust in 2001. This distribution has varied with the company's fortunes and it has certainly not been a steady dividend grower. In fact, the dividend today is at the lowest level in the company's history. It is important to remember, though, that Provident was not subject to the Canadian corporate income tax until this year.
There was an unexpected benefit to investors that happened when the company converted to a corporation, and that is the way withholding taxes are imposed on Provident's dividends. When the company operated as a royalty trust, investors who held the trust units in a tax-advantaged account were still required to pay Canadian withholding taxes on the distributions that they received. This is no longer the case. Canada does not impose withholding taxes on U.S.-based investors who hold shares of a Canadian corporation in a tax-advantaged account such as an IRA. Investors who hold Provident Energy in a standard taxable account are still subject to a 15% Canadian withholding tax.
Provident currently pays a dividend of $0.045 CAD ($0.044 USD) per month. That gives the stock a 5.7% yield at current levels.
Zack's Investment Research ranks Provident Energy as a strong buy at present levels. They also rank the stock as a long-term outperform. The stock has a six-month target price of $10.50, representing a 14.25% return at present levels. That would give the stock an annualized return of 30.626%.