We wrote earlier about the lousy conditions for gold. Now I wanted to look at another former "safe haven" the Swiss franc. After watching the EURCHF fall from 1.5000 to nearly parity, the Swiss National Bank had enough and has been doing everything they can to weaken the franc. This includes setting Swiss interest rates at nearly zero to discourage franc deposits and buying Euros.
As many of you know, the actions have been amazingly effective as the EURCHF has more or less stayed above 1.2300. The SNB's ultimate goal is to bring the exchange rate to 1.3000, but they have stated on numerous occasions that this is too expensive to accomplish now.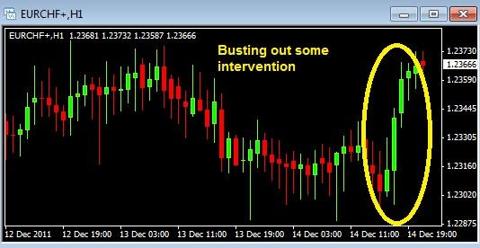 click to enlarge
EURCHF
Where would we be without the SNB?
Basically, ever since the SNB decided to smoke out all the shorts in the EURCHF (yes, they spilled lots of blood when they caused the pair to jump from 1.13 to 1.20) we haven't been big fans of trading the Swiss franc. Overall, knowing that a central bank is intervening makes it a little hard to trade. The one trade that has worked over and over again has been to buy the EURCHF on any move below 1.2250 and wait for the intervention to bring it to 1.2400.
But, whenever there is a large euro selloff, I like to take a look at just where the EURCHF is trading and guess where it would be if the SNB wasn't in the market. My guess is that the EURCHF would be holding somewhere around 0.9000 as more or less any European with more than 10,000 euros in savings would be stashing funds in Switzerland. Therefore, the big question is just how much money is the SNB spending to keep purchasing euros? And how much longer can they realistically keep this up?
Also worth wondering about is when the political pressure gets too high for the SNB to continue. Remember, the SNB took a $21 billion loss in its forex holdings in 2010. What will the public consensus be when the 2011 losses are revealed?
Now, it's true that a weaker Swiss franc does assist Switzerland's export economy, but unless the SNB is plainly printing money to buy those euros, those losses will eventually be paid by someone.
Disclosure: I have no positions in any stocks mentioned, and no plans to initiate any positions within the next 72 hours.