Not long ago, the health of the casino and resorts industry was centered on the success of Las Vegas properties. While certainly still important, Las Vegas has taken a back seat to the exploding gaming markets of Macau: Macau is now four times larger than Las Vegas. Additionally, the non-Vegas domestic market is also performing relatively well, considering the current status of the economic recovery within the U.S.
Macau, currently the only Chinese city with legalized gambling, has witnessed tremendous growth in the last few years. Macau posted record monthly casino gaming revenues of MOP 26.86 billion (US$ 3.35 billion) in October 2011. November 2011's monthly revenue figure was also 33% higher than the same month last year at MOP 23.06 billion (US$ 2.88 billion). 2011 will be another record year for Macau's casinos.
Click to enlarge: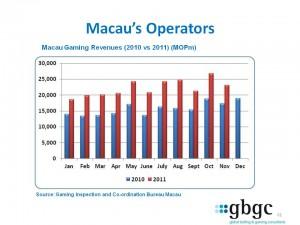 Eleven months are in the books for 2011 and Macau's casino industry has collected more than $30.5 billion in gaming revenues, blowing past the region's total for 2010 ($23.5 billion) which was itself a record haul. Growth has been driven by more frequent visits and higher chip turnover by wealthy gamblers from China.
Investors have shifted their focus toward 2012. Analysts are projecting 15% - 25% revenue growth in Macau in 2012. Stifel Nicolaus Capital Markets gaming analyst Steven Wieczynski told investors last Thursday in a research report:
We believe (Macau) remains well positioned heading into the new year, as media reports suggesting a tightening in Chinese lending standards and slowdown in gaming-related consumer spending continue to prove unfounded in monthly gross gaming revenue results.
According to figures released by the Chinese Special Administrative Region's Gaming Inspection and Coordination Bureau, total gaming revenues through November are up 44% compared to the first 11 months of 2010. JP Morgan gaming analyst Joe Greff wrote in a research note:
We continue to feel positive about the overall health of the VIP- and mass-gaming segments, and believe subsequent months of solid year over year gross gaming revenue growth should continue to improve investor sentiment and put to rest junket liquidity concerns.
One of the stocks that is a bargain and can be wrapped under the Christmas tree is Asia Entertainment & Resources Ltd. (AERL). Recently, Robert Carter published a great article on the company on Seeking Alpha: Asia Entertainment Wealth Play With High Octane Business Model Set For Rapid Growth. I have to confess that it's hard to give some new insights, but here are my key takeaways.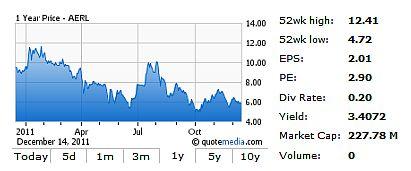 Asia Entertainment & Resources Ltd. is an investment holding company based in Macau with an office in Hong Kong. The company operates through its subsidiaries and related promoter companies as a VIP room gaming promoter, and is entitled to receive a fixed commission based on the amount of money gambled in the VIP gaming rooms they operate. Asia Entertainment's VIP room gaming promoters currently participate in the promotion of three major luxury VIP gaming facilities in Macau, China, the largest gaming market in the world. One VIP gaming room is located at the top-tier 5-star hotel, the Star World Hotel & Casino in downtown Macau, and another is located in the luxury 5-star hotel, the Galaxy Macau Resort in Cotai, each of which is operated by Galaxy Casino, S.A. The third VIP gaming room is located at the Venetian Macao-Resort-Hotel in Cotai.
Asia Entertainment has a unique business model that requires little physical property. The company has no capital expenditures. The company is a growing nicely with US$ 10.4 billion in Rolling Chip Turnover (RCT) for 2010, up 101% year-over-year. RCT for the first eight months of 2011 was US$ 12.4 billion (an average of US$ 1.6 billion per month), up 105% year-over-year. The CAGR from 2007 until 2010 is an astonishing 54.8%.
Click to enlarge: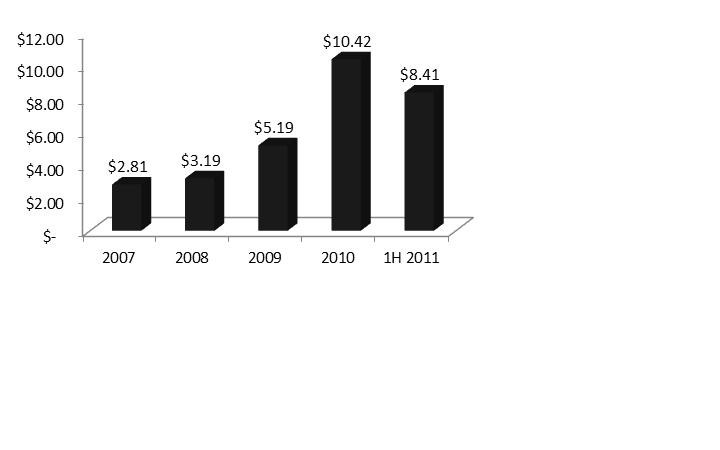 To get a better understanding of the opportunities and risks of Asia Entertainment, I posed five questions in an interview with Jim Preissler, an Asia Entertainment Director.
Question 1. Where do you see the company 5 years from now?

Answer: VIP gaming in Macau is the world's largest, and fastest growing gaming market - the VIP segment alone is approximately four times the size of all of Las Vegas. Our core growth strategy is based on expanding the number of VIP rooms we operate and growing the amount of capital we have available for our agents.

We see plenty of fantastic opportunities to expand our market share, not only in Macau but also in other countries in Southeast Asia.

Question 2. Are you planning to raise dividends every year, if results keep growing?

Answer: With our strong organic growth, we have been able to generate positive cash flows. We currently have a dividend policy that on an annual basis pays out 15% of our EBITDA. In fact, we are the FIRST and ONLY Macau-based company to pay a dividend. The remaining 85% of our cash flow remains in the company to enhance growth through organically opening new VIP rooms, acquisitions, and other strategic initiatives.

While Macau as a whole continues to grow at a rapid rate, we have consistently outpaced the marketplace. Since the dividend is naturally based on a fixed percent of our cash flow, as the cash flow grows, so will our dividend. If our opportunities to reinvest decrease over time, we may increase the payout percentage to reflect that.

Macau is still growing. But also other casino jurisdictions (Korea, Singapore) in the region are increasing their efforts to lure Chinese gamblers away from Macau.

Question 3. Do you have plans to set up businesses in countries outside of Macau?

Answer: The key success factor for any of these regions is mainland Chinese VIPs. Our ability to attract these mainland players to our VIP rooms is a distinctive competitive advantage few competitors have. We have a team of 1,500 junket agents, many whom have been affiliated with AERL for many years.

If any of these other regional destinations have facilities that are attractive to these mainland players, the economics for AERL make sense, and the environment is stable, we will consider operating there. As a public company, with transparency and a very professional, experienced team, we will have many advantages operating in those new jurisdictions.

Question 4. What has to be done to restore market confidence in U.S.-listed China stocks?

Answer: Well, for one, we are not a Chinese company - we operate in the same jurisdictions as all the Macau-based casinos. Eventually, our continued strong execution, cash flow, dividend, growth, management and valuation should shine through.

Question 5. Would a Hong Kong listing not be interesting/appealing for your company?

Answer: Globally, there is only a trickle of IPOs, so this is a theoretical question. We will, of course, explore opportunities that make sense for our shareholders and company, including a potential HK listing. Traditionally, the U.S. market was seen as the globally most prestigious, well regulated, and with the highest standards. Recently, that image has been tarnished and for good non-U.S. companies there is a lack of confidence in the U.S. markets and U.S. investors. Hong Kong is increasingly more attractive, especially for companies that are deriving their growth from mainland China. Currently, the HK market seems to better understand these companies, and provide greater opportunities for them.
Disclosure: I have no positions in any stocks mentioned, but may initiate a long position in AERL over the next 72 hours.