Magellan Midstream Partners, L.P.
(
MMP
) delivered record results in the third quarter of 2011 as well as a solid positive earnings surprise. Analysts have been raising their estimates off the strong quarter, sending the stock to a Zacks #2 Rank (Buy).
Magellan also pays a distribution that yields an attractive 4.9%. And the partnership has been steadily raising its payout over the last several years, even during the Great Recession.
Master Limited Partnership
Magellan Midstream Partners, L.P. is a master limited partnership (MLP) operating pipelines and storage terminals for crude oil and refined petroleum products in the United States.
The partnership is headquartered in Tulsa, Oklahoma and has a market cap of $7.4 billion.
Third Quarter Results
Magellan recently delivered better than expected results for the third quarter of 2011. Earnings per unit came in at 79 cents, beating the Zacks Consensus Estimate of 72 cents. It was a 55% increase over the same quarter in 2010.
Total revenues increased 7% while each of Magellan's business segments generated higher operating profits year-over-year. The Petroleum Pipeline System delivered a 35% increase in operating profits while the Petroleum Terminals segment delivered a 37% increase, driven in part by acquisitions but solid organic growth as well.
Meanwhile, distributable cash flow increased 10% year-over-year to $94 million.
Estimates Rising
Following strong Q3 results, analysts revised their estimates higher for both 2011 and 2012, sending the stock to a Zacks #2 Rank (Buy).
Based on current consensus estimates, analysts expect solid growth to continue over the next couple of years. The Zacks Consensus Estimate for 2011 is $3.50, representing 13% growth over 2010 earnings per unit. The 2012 consensus estimate is currently $3.64, corresponding with 4% growth.
4.9% Yield
As an MLP, Magellan pays out most of earnings to unitholders in the form of distributions. It currently pays a distribution that yields a juicy 4.9%.
The partnership has a solid track record of consistent distribution increases, even during the Great Recession, thanks in large part to its steady fee-based revenue. In fact, Magellan has raised its quarterly distribution in each of the last 7 quarters.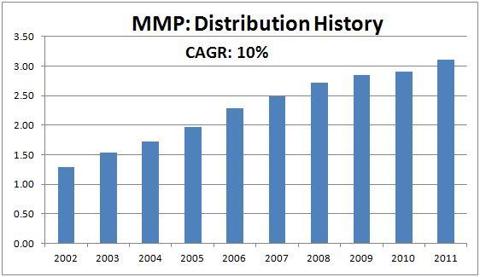 Valuation
The valuation picture looks reasonable for MMP, although it doesn't look dirt cheap. The stock trades at 18.0x 12-month forward earnings, in-line with the industry average. But this is a premium to its historical median of 15.8x.
The Bottom Line
With rising estimates, solid growth projections, a juicy 4.9% yield and reasonable valuation, Magellan Midstream Partners offers investors attractive total return potential.
Todd Bunton is the Growth & Income Stock Strategist for Zacks Investment Research and Co-Editor of the Reitmeister Value Investor.