By Tracey Ryniec
Strong demand from, who else, the oil and gas sector, boosted Twin Disc, Inc. (NASDAQ:TWIN) to a record fiscal first quarter. Earnings are expected to grow 45.6% in fiscal 2012 on a record 6 month backlog. Despite trading near 3-year highs, this Zacks #1 Rank (strong buy) is a value stock with a forward P/E of just 13.5.
From its founding as a company making the first "twin disc" clutch for farm tractors, Twin Disc now designs marine and heavy-duty off-highway power transmission equipment including marine transmissions, surface drives, propellers and boat management systems.
91 years later, its customers include pleasure craft, commercial and military marine markets, the energy and natural resources, government and industrial markets.
Record Earnings in the Fiscal First Quarter
On Oct 25, Twin Disc reported its fiscal first quarter results and surprised on the Zacks Consensus by 88.6%. Earnings per share were 83 cents compared to the consensus of 44 cents. It made just 24 cents in the year ago quarter.
It was the 7th consecutive earnings beat.
Seasonally, the first quarter is usually the weakest, but sales rose 32.5% to $81.3 million from $61.4 million a year ago. Strong demand from the oil and gas markets as well as growing demand in the aftermarket, industrial and airport rescue and fire fighting (ARFF) markets boosted the quarter.
The mega yacht and pleasure craft marine markets showed some improvement over last year but that was off of depressed levels.
Gross margins were a record 37.8% compared to 32.6% in the fiscal first quarter of 2011 due to continued increased sales volumes, improved manufacturing efficiency and absorption and a more profitable business mix.
The 6-month blacklog as of Sep 30, 2011 was a record $164.5 million, up from $146.9 million at the end of June and $100 million as of Sep 24, 2010. The marine business, in particular, has shown signs of improving market demand.
Zacks Consensus Estimates Rise
Analysts liked what they heard this quarter. The fiscal 2012 Zacks Consensus jumped to $2.69 from $2.30 in the last 2 months.
That is earnings growth of 45.6%.
Fiscal 2013 is also looking strong with continued earnings growth of 11%. The 2013 Zacks Consensus Estimate has moved to $2.99 from $2.66 per share in the prior 60 days.
Shares at Multi-Year Highs
With a hot earnings report, it's not surprising to see the shares near multi-year highs.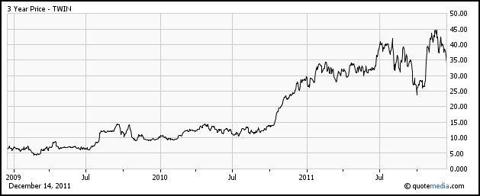 However, there's still plenty of value to be found.
In addition to a P/E under 15, my cut-off for a "value" stock, Twin Disc also has a price-to-book ratio of 2.8. A P/B under 3.0 usually indicates value.
The company also has other solid fundamentals, including a 1-year return on equity (ROE) of 22.2%.
Shareholders are rewarded with a dividend, currently yielding 0.8%.
Twin Disc is a roundabout way to cash in on the strong oil and gas markets. It is one of those rare animals that is both a value stock and a growth stock, expected to post double digit earnings growth.
Tracey Ryniec is the Value Stock Strategist for Zacks.com. She is also the Editor of the Turnaround Trader and Insider Trader services. You can follow her on twitter at traceyryniec.