China Medical's (CMED) announcement Monday that it intends to implement a debt restructuring plan likely took shareholders by surprise. This is because in most cases, restructuring implies that the company has an inability to make payments on its outstanding debt: This is not the case for China Medical.
I think there are two main drivers of the company's announcement. First, from what I have heard, the outstanding debt trades at 50% of par. Second, there is an assumption that many of the shares held short are related to the convertible bonds.
Since 2010, the company has repurchased nearly $150 million of its convertible notes, booking gains of $17 million. With its debt trading at half of par and nearly $200 million of cash on the balance sheet, management has stated its intention to buy back debt on the open market. However, its efforts to find sellers over the past six months have largely failed. The recent press release is likely a solicitation of information for who the current holders are of the debt. In a scenario where the company has $200 million in cash and $396 million in convertible debt, if the company marked its debt to market, it would have no net debt position. For this reason, the company is likely looking for a way to negotiate the early repurchase of convertible notes for an advantageous price. The strategy should be a win-win for the company. Either note holders enter into negotiations and China Medical is able to lower its net debt position, or the market begins to realize that the company has the ability to pay on its debts and bids the price of the notes up closer to par, giving common shareholders more confidence in the company.
Convertible notes can be a double edged sword. On one hand, it is often a cheap source of financing for small to medium sized public companies. This is because in the case that there is significant upside for shares, note-holders are able to participate. The downside is that note-holders are often thought to significantly hedge their note positions by shorting the common shares. This leaves common stockholders at a distinct disadvantage. As it stands, there are $396 million principal notes on the market compared to a market capitalization for the common stock of $76 million. This imbalance has likely led to additional pressure on shares of China Medical and it's likely that management is looking to put and end to this through the repurchase of its convertible debt.
Click to enlarge: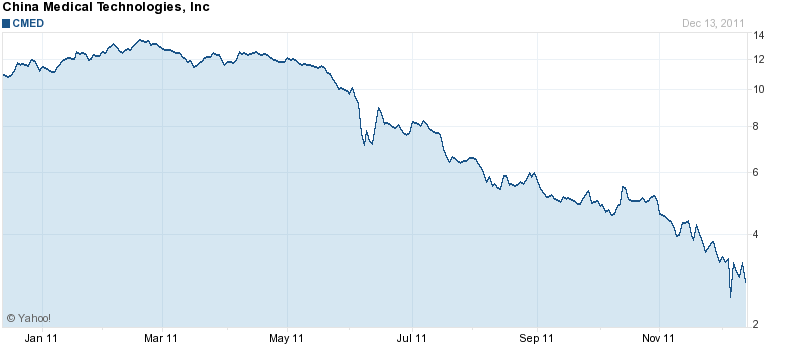 Between this announcement and the recent negative report issued by Glaucus, December has not been a good month for shareholders of China Medical. In fact, since the beginning of May of this year, shares are off 75%. Since then, the company has posted two consecutive quarters of record earnings per ADS.
In my last article on China Medical, I attempted to allay fears of those worried over allegations in the Glaucus report. The only concern I identified with was that over higher Days Sales Outstanding. The company's explanation was that more of their sales have been coming from hospitals, which have recently been taking longer to pay. Recent channel checks confirm that this is an industry-wide phenomenon in China, so while I think the company should be given a discount for this, 1.5x earnings is too steep. While investors appear to be pricing in every possible negative scenario, they are not taking into account what can go right for China Medical.
The company's SPR platform, featuring HPV testing, is the only one of its kind in China. The market for HPV testing is significant and increasing. If China Medical can leverage its existing relationships with hospitals to sell HPV tests, there could be significant upside to current sales estimates. Additionally, the company is developing new tests for the SPR platform. Over the past six months, the company has announced numerous partnerships that would give its products greater appeal within China and abroad. Finally, if the company is able to restructure its debt and DSO's stop increasing, the balance sheet will improve significantly and institutional investors could start to gain interest again in building positions in China Medical, which should lead to appreciation in shares.
Disclosure: I am long CMED.