Summary
Gramercy Capital Corp (GKK) is an integrated commercial real estate finance and property investment company. Gramercy can be broken into three distinct pieces: a realty division, a finance arm (itself comprised of 3 CDOs about one billion dollars in size each), and Gramercy Corporate.
Gramercy Corporate - At the corporate level, Gramercy has about 155mm in (unrestricted) cash, and 40.3mm fair value of Class A-1, A-2 and B CDO securities from one of its own CDOs, and no recourse debt.
Realty Division - Gramercy used to own a large realty arm that was recently liquidated on June 2011. It still owns about 121mm in realty assets (94.3mm mortgage obligations owned by its CDOs in addition to three remaining buildings and land lots which have not been liquidated). In addition, the company has also negotiated management rights to its former properties worth 10mm a year for two years in addition to a kicker worth up to 3-4mm. It is unclear what kind of cash flow this division will produce in the future through purchasing and managing additional properties, but for the purposes of this write up we will assume that this division will not contribute any value going forward.
Finance Arm - Substantially all of Gramercy's value is derived from its 3 CDOs of which only one is currently passing its OC tests albeit by a relatively thin margin. The following charts are referenced in the 2nd and 3rd tables of Q3 results in the "Corporate" section.
Click to enlarge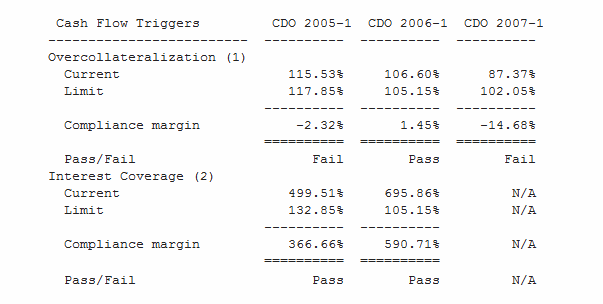 The high interest coverage and relatively small negative compliance margin on the 05 CDO leads me to believe that, all things being equal, it will pass its OC test next quarter as that excess interest (I estimate to be around 8mm a quarter) goes to pay down the A-1 tranche. Assuming that only the 06 CDO continues its distribution and the 05 does not produce any cash flow, we estimate that total cash flow to be 41mm (CDOs) + 10mm (realty management fee) + 2.4mm (senior CDO notes) - 20mm (estimated SGA) = 33.4mm a year.
Preferred Shares
To date, Gramercy has elected not to pay 12 quarters' worth of dividends on its series A cumulative preferred shares. The arrears amounts to about $6 a share ($25 par), or about $21.5mm representing 13.5% of its unrestricted cash position and a 24% discount to where the preferred are trading. These shares yield 8.125 % representing the minimal yield if bought at par. As the company has no recourse debt at all and robust cash flows, it seems highly unlikely that the arrears will not be paid.
Risks
Deterioration of the collateral - If the 06 distributions are shut off, cash flows from CDOs would be substantially reduced (by about 75%). However, even in the event of liquidation, the cash available at corporate would be sufficient to pay the arrears and fully redeem the preferred shares (88mm + 21.5mm in arrears). As Gramercy continues to accrue unpaid dividends on the preferred shares the yield on the investment will approach 8.125%, making the preferred shares significantly less attractive.
Catalysts
Idaba - On Sept 30. 2011, Idaba capital wrote a letter to the board of Gramercy urging the board to pay the arrears on the preferred shares. Upon six or more missed quarterly dividends, GKK must elect a new board member. Idaba has nominated a candidate pushing payment of accrued preferreds, for the election in early 2012. Idaba owns 22.8% of the outstanding preferred shares and 2% of the common shares outstanding representing 20.17mm and 2.66mm in market value respectively.
Takeover - GKK management has been looking to sell the company.
Disclosure: I am long GKK.