Presenting a deja vu moment from this time last year, Best Buy (NYSE:BBY) sharply fell off a cliff again after reporting third quarter earnings (read the earnings call transcript here). The company missed analysts' expectations and its shares sank more than 15% on Tuesday, similar to the stock's behavior at this time last year.
click to enlarge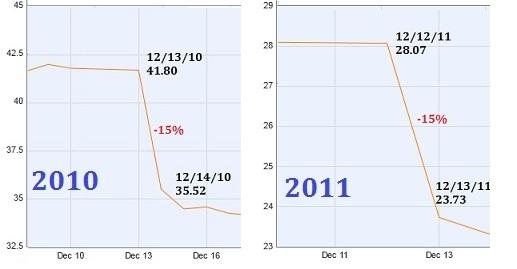 But the steep fall isn't a signal of a falling company. Rather it signals a company that is beaten by the economic turbulence and has the potential for significant capital gain. As the leading retailer of consumer electronics and entertainment software is nearing its 52 week low of $21.79 and is trading at almost half of its price in December of last year, Best Buy offers a rare opportunity for investors to buy in.
When comparing year-to-date performance, Best Buy has lost about 31 percent, which is better than its peers, Radio Shack (NYSE:RSH) and Staples (NASDAQ:SPLS), and significantly better than Tweeter Home Entertainment (OTC:TWTRQ), which lost about 88 percent.
| | |
| --- | --- |
| Best Buy (BBY) | -30.80% |
| Staples (SPLS) | -37.07% |
| Radio Shack (RSH) | -43.37% |
| Tweeter Home Entertainment (OTC:TWTRQ) | -87.50% |
With a strong balance sheet and a sizable market share, Best Buy enjoys numerous supplier and buyer benefits and a history of profitability. The main concern for Best Buy is the current economic climate, which is beyond the management's control and will naturally turn around as the economy recovers. Equally as concerning are the numerous rivals and an intense price competition, which Best Buy can control and is controlling.
"The decline in the domestic gross profit rate was driven by a combination of investments we made in promotional activity in key categories and customers purchasing more value-orientated items," said Best Buy's CFO James Muehlbauer.
Best Buy's third quarter net income fell to $154 million or 42 cents per share as Best Buy cut prices in popular categories such as tablets and TVs to drive sales during the holiday season. The revenue rose 2 percent to $12.1 billion from $11.9 billion a year ago. The revenue did not rise as much as expected, but it is not a surprise because Best Buy's sales are highly dependent on the economic climate.
In a climate where consumer confidence is being challenged and retail sales are missing analysts' expectations, Best Buy's miss on earnings isn't any different. The Commerce Department reported Tuesday that retail sales were up 0.2 percent compared to October, but below analyst expectations. Retail numbers might have disappointed forecasters, but it is not bad news as November's modest increase came after two months of bigger sales increases.
While the economic climate is beyond Best Buy's control, the company continues to focus on areas it can control— robust marketing, competitive pricing, and strong online strategy. Additionally, Best Buy's focus on advanced TVs, notebooks, tablets, video gaming devices and mobile phones will continue to drive Best Buy's revenue growth in 2012.
Disclosure: I am long BBY.