This year has featured roller-coaster rides during an extraordinarily painful period for most investors and traders. Traders blindly dumped all stocks, including the ones with rock-solid fundamentals, when the market crashed. In some cases when I say fundamentals, I am not talking about solid future growth potential that is yet to be realized or great past performances that might be tempered in the future. I am talking about great, stable, and proven past performances with current strengths that can be easily replicated in the future. One such example is Longwei Petroleum Holdings Inc. (LPH).
For people who are not familiar with LPH, information regarding the company and its stock can be obtained at LPH's website or at LPH's investor relations firm's website.
In brief, the company's business operations are very similar to those of Kinder Morgan Energy Partners LP (NYSE:KMP). The only difference is that LPH operates in a smaller geographical area and has a higher concentration of assets. The workflow of the company's operations can be summarized into three steps:
1. LPH buys products from major national and international refineries and oil importers. According to the company's previous 10-K report, five suppliers account for 84% of these purchases. These five suppliers are large, well-known oil providers in China:
Guangzhou Tenghao Company—Tenghao is a very large national refiner and supplier of petroleum products that was formed as a joint venture by China Petroleum & Chemical Corp. (NYSE:SNP), CNOOC Ltd. (NYSE:CEO), and other national oil producers. Tenghao has branches and subsidiaries in southern and north-central China and sells products mostly to midsized and larger oil distributors and wholesalers in China.
Lanxin Petroleum Co., Ltd.—Lanxin Group is one of the biggest conglomerates in China with publicly traded and private subsidiaries in a wide range of businesses. Its publicly traded subsidiary Shen Yang Petroleum is a large petroleum and chemical importer and refiner in northern China. Lanxin also has at least three large-scale independent subsidiaries supplying petroleum in central and northern China that have "Lanxin Petroleum" as part of their company names (with locale-specific prefixes).
Panjin Jinjiang Oil Company—This company is a large regional provider of petroleum products in northeast China.
Yan Lian Industrial Group—This group is a super-sized oil refiner in Shaanxi Province. Its parent company, Yan Chang Petroleum Industrial Group, is a national petroleum giant and one of the top 500 companies in China. The group is partially own by the Shaanxi provincial government.
Tianjin Dagang Jinyu Industrial Co., Ltd.—This supplier has been in business for 20 years and has a very complete list of petroleum and chemical products. The company is a very reputable and reliable midsized supplier.
Although these five suppliers account for 84% of LPH's supply, none accounts for more than 19%. So, in my view, the concentration risk is still low. This list of top five suppliers has been very stable in past three years, indicating that LPH has strong and stable relationships with them. These large oil refiners only do business with reputable oil wholesalers and distributors that pass certain thresholds in terms of storage capacity and distribution network.
2. LPH stores its oil products in huge storage tanks. Currently, the company has two oil storage sites, one with 50,000 metric tons of storage capacity at its headquarter in Taiyuan City and the other one with 70,000 metric tons of storage capacity in Gujiao City. The buildings, equipment, and petroleum products at these two oil storage sites account for the majority of LPH's assets (95% of the total value of assets on the balance sheet, according to my estimates).
Photos of these hard assets are from the company's and its IR firm's websites. This video posted in June provides an onsite tour of the facilities and interviews with LPH executives.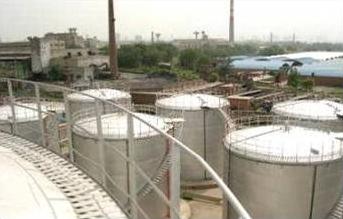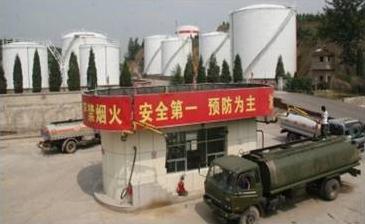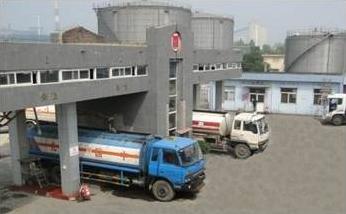 3. The company transports gasoline, diesel, and other oil products to gas stations, power plants, and other customers using railroads and tanker trucks. This is the step in the workflow in which Kinder Morgan has an advantage over LPH because Kinder Morgan ships a big portion of its products via pipelines. Transporting through pipelines is cheaper than using trucks and railways. One point to note: Because the region is filled with high mountains, it is technically and financially prohibitive to build pipelines. So transporting via railroads and tanker trucks is the only solution for all oil wholesalers/distributors in the region. As we all know, gasoline and diesel products are necessities that people all over the world and especially in China demand in great quantities.
While the LPH process is easy to understand conceptually, it is not a business with low barriers to entry for the following reasons:
1. Hard-to-get business license: The company owns the highest level wholesale and distribution license in China, allowing it to store and distribute oil products any way in China. The Chinese government tightly controls oil wholesale and transportation and only grants a wholesale license to a small number of operators. This creates an oligopoly for the existing players.
2. High capital requirement: The capital required to construct oil storage facilities is dauntingly high. This is one of the reasons LPH chose to be listed in the United States three years ago to seek financing from American investors and seize the lucrative acquisition and expansion opportunities in the industry.
3. Technical sophistications: The company has had to pass stringent reviews and inspections of all facilities and systems at its sites as part of the application process for initial licensing. The safety and environmental requirements are detailed and sophisticated. A small mistake during the construction of facilities can impose a huge financial burden and, in some cases, the mistake is uncorrectable. The company also has to pass inspections by government agencies every year in order to continue its business. In preparation for these inspections, the company's technicians maintain the storage tanks, pipes, filling stations, and computer systems. These activities are difficult for start-ups but are part of a daily routine for a company that has been in business for over 16 years. This is yet another insurmountable advantage for the existing players in the industry, especially those with an experienced management team such as LPH.
Some supplemental information regarding the company and its stock is as follows:
1. Demand for LPH's main gasoline and diesel products in China has been extremely high and has grown rapidly for the past 10 years. Many economists, specialists, and analysts expect demand to remain high for the next 10 years.
All these factors suggest that the industry will grow significantly over the next several years. Even under extreme circumstances, the industry is not likely to shrink in any quarter or year.
The company is well-positioned in its operating region—Shanxi Province, Shaanxi Province, Hebei Province, Henan Province, Beijing metro, and the Inner Mongolia area—which is expected to grow faster than the national average over the foreseeable future. The rapid economic growth of the Shanxi Province is detailed here:
Discussion on Sustainable Development of Regional Finance and Economy in Shanxi Province (Note that this article also mentions the shortage of financing faced by many enterprises in Shanxi, which is the reason that LPH came to the United States to seek financing.)
2. Unlike many small caps and overly hyped growth stocks, the company did not issue any new shares to fund its latest acquisition (Haijie facility), which is expected to almost double the company's revenue run rate and contribute to the bottom line in the first year of operation. Instead, the company funded the acquisition completely from working capital earned over the past several years from existing operations.
3. In the past 12 months, the executives and directors of LPH have not sold a single share of the stock. See SEC filings regarding this fact. More importantly, the two biggest shareholders, including the CEO have held their 67 million shares, or 97% of their original stake along with all other shareholders throughout this turbulent year.
4. In the conference call for Q3 ER and the latest virtual conference, the CFO said that the Board of Directors was planning to issue dividends after second quarter of 2012. He did not say if he meant for the fiscal year (ending June 30) or calendar year, but other parts of his presentation and his answers to other questions indicated that he meant the calendar year. The timing makes perfect sense because by next fall, two quarters after the anticipated on-boarding of the new Haijie facility, the company should have increased inventory in the facility to a satisfactory level ($20 million–$30 million).
5. For the first time, the management team has announced its annual meeting to all shareholders and invited them to attend. The annual meeting is scheduled for December 15, 2011 at the company headquarters in Taiyuan City. Basing on what the CFO has said in conference calls and on other occasions, the company will arrange tours of its facilities for all attendees who want to see the assets and operations.
The table below compares LPH's financial ratios to those of its closest comparable, Kinder Morgan Energy Partners LP, and its biggest domestic comparable, PetroChina Co. Ltd. (NYSE:PTR).
PetroChina Co. Ltd.


Kinder Morgan Energy Partners LP


Longwei Petroleum Holdings Inc


Comment

Gross Margin

45.7%

37.8%

20.3%

KMP has a higher gross margin due to higher bargaining power to suppliers and lower transportation costs.

PTR group accounts for its costs in a different way than LPH. PTR classifies more costs as operating expenses rather than as cost of revenue.

For LPH, gross margin is very stable, oscillating between 18% and 21%.

Net Margin

10.3%

16.3%

13%

LPH is in the middle of the range.
In conclusion, this company is a standard oil wholesaler with visible and identifiable tangible assets, straight-forward business operations, and reasonable margins.
What's the golden nugget here? The company currently has a book value of equity of close to $3 per share. For the next 12 months (calendar year 2012), the company is expected to earn 80 cents or more per share with existing facilities and more than $1.00 per share (more likely $1.10 to $1.20 per share) with the inclusion of the third storage site. For the next five years, the company will likely earn a total of $6.00 per share in a bad-case scenario and $7.00 or more per share in an average-case scenario. So, buying a share of the stock today is an investment costing $1.2 upfront and getting $3.00 in return immediately and $1.20 or higher average return per year for the next five years. This is the level of return that one cannot even get from non-publically traded oil assets (e.g., a gas station).
Is this high return accompanied by high risk? I don't think so. The company is not Salesforce.com (NYSE:CRM), Renren Inc. (NYSE:RENN), Youku.com Inc. (NYSE:YOKU), or LinkedIn Corporation (NYSE:LNKD). Its assets are concrete and tangible, its products are necessities in short supply that people desperately need, and in all likelihood its revenue will continue to grow every year for a long period of time unless the world economy contracts by 10% or more in a year. Its margins are very stable because of the oligopoly situation.
Over the past several months, investors have been dumping small-cap stocks in a mindless herd-driven movement for the purpose of "risk off" and "flight to quality." Ironically, it is for these exact reasons that investors should buy LPH now. The company has high-quality assets, earnings, and operation cash flows. It is also a place to park money when an investor's purpose is to go with companies that can best resist economic downturns.
As a popular pastime story in Chinese says, once in a while a kid will bump into a situation on a street in which a dumb person is willing to sell five dollars for one dollar (maybe the seller needs to get a one-dollar bill for whatever reason). Amazingly, not many kids are smart enough to recognize this rare opportunity and seize it. Most kids are deterred by the automatic "too good to be true" mindset and let the lucrative arbitrage opportunity pass by. It seems that there aren't too many smart minds in the stock market who know how to spell I-N-V-E-S-T today. "Day trading," "gambling," and "following the herd" are the only terms and phrases that are popular in the financial world now.

Disclosure: I am long LPH.