The E-Mini S&P 500 slid further on eurozone dashed hopes as China's plan for the new $300 billion sovereign wealth fund was squashed! It was a show of China's lack of confidence in both the U.S. and euro debt instruments. The low interest rates and the low yields along with the potential defaults from the eurozone all pressed China to look for other asset classes. It is thought that China has more interest in real assets such as stocks, real-estate, corporate bonds and/or agricultural land. Recently, we have seen China lease land in Africa to grow crops. We have also seen them purchase copper mines and other tangible assets. For now it seems that the $800 billion in eurozone bonds that China holds is enough in the asset class. The U.S. losing its AAA credit rating certainly may have had some impact on their decision.
Investors still found flight to quality in the U.S. dollar and the Treasury Bonds. The U.S. dollar reached a high today of $81.415, which is the world's most liquid currency. The three credit ratings agencies, (Standard & Poor's, Moody's and Fitch's) have warned of a potential downgrade to 15 of the 17 eurozone countries and to the European Financial Stability Facility as well rendering the potential recovery almost impossible. German Chancellor Merkel stands by her view that the budget discipline will bring the eurozone out of the debt crisis, but that it may take years to resolve.
Federal Reserve Chairman Ben Bernanke commented on the eurozone crisis to confirm his stance that the U.S. cannot and will not provide bailout funds to support the European Banks or nations. The U.S. in past years has been instrumental in aiding countries in turmoil. The lack of support by the European Central Bank, China and the United States will make the recovery of the eurozone all the more difficult. When we have the power countries and bank resource backing away from the crisis, it gives U.S. pause to ponder what resolve would support the eurozone?
On the stock side: JP Morgan Chase and Co. (NYSE:JPM) was up 0.70% to $31.51. Citigroup Inc. (NYSE:C) was down 3.16% to $26.05. Bank of America (NYSE:BAC) was down 1.69% to $5.23. Alcoa Inc. (NYSE:AA) was down 1.11% to $8.94. Boeing Co. (NYSE:BA) was down 1.35% to $69.94. Caterpillar Inc. (NYSE:CAT) was down 3.98% to $87.00. General Electric Co. (NYSE:GE) was up 1.16% to $16.61. Halliburton Co. (NYSE:HAL) was down 2.70% to $31.00. Hewlett Packard Co. (NYSE:HPQ) was down 1.5% to $26.38.
E-Mini S&P 500 Chart.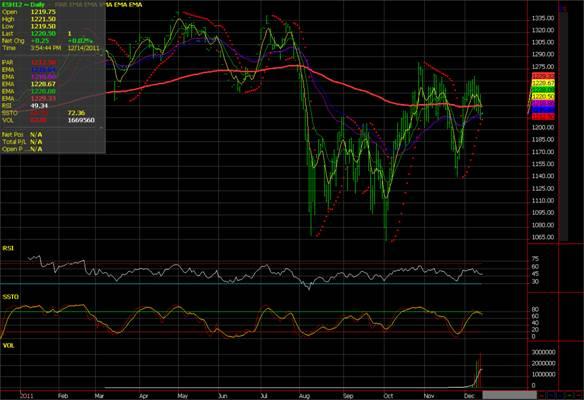 Click to enlarge
(Click to enlarge)
Thursday, what to expect! We are technically in 1st day sell mode on the Daily Chart unless the E-Mini S&P 500 penetrates $1264.75! Thursday, we anticipate an inside to lower day! Wednesday's range was $1226.50 - $1202.50. The market settled at $1206.25. Our comfort zone or point of control for this market appears to be $1214.50. Our anticipated potential range for Thursday's trading could be $1218.50 - $1188.50.
Disclosure: I have no positions in any stocks mentioned, and no plans to initiate any positions within the next 72 hours.