Economic bellwether FedEx (NYSE:FDX) reported better than expected earnings this morning. The company cited strong holiday sales and continuing global economic growth as the primary drivers. On the conference call it said the company expects 2.2% U.S. GDP growth in 2012 and 2.9% global growth. This is based on strong expectations for growth in emerging markets. FedEx reaffirmed its full year guidance on "moderate" economic growth:
FedEx projects earnings to be $1.25 to $1.45 per diluted share in the third quarter and reconfirms its forecast of $6.25 to $6.75 per diluted share for fiscal 2012. This guidance assumes the current market outlook for fuel prices, normal winter weather and moderate growth in the global economy. The company reported earnings of $0.73 per diluted share in last year's third quarter, which included one-time FedEx Freight combination costs of $0.08 per diluted share. The capital spending forecast for fiscal 2012 remains $4.2 billion.
The company's operating stats give us a decent look into the state of the global economy. Average daily freight pounds of 2% for the quarter and 1% for the six month period is consistent with the data we've been seeing in general from other segments of the economy – growth, but meager: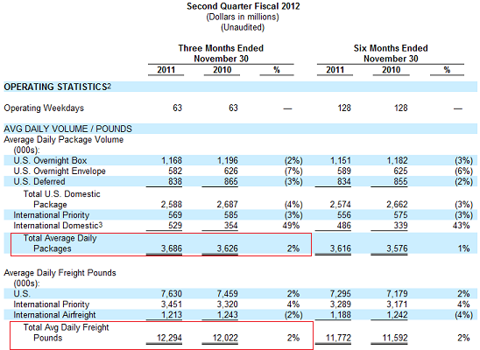 Click to enlarge
It's not a great report, but let's remember not to blow things out of proportion. The global economy has faced enormous headwinds in 2011 and things aren't falling apart.