It has been nearly a month since I wrote an article - Has The Recent Attack On Bio-Reference Laboratories Left Shares Oversold? - about the unscrupulous and unwarranted attack that was waged on Bio-Reference Laboratories (NASDAQ:BRLI) by the StreetSweeper blog in the form of a curiously timed two-part "research report," which was full of rank supposition, half truths and misinformation. I hope to someday dismantle that hatchet job, point-by-point, but for now I will just touch on some of the Bio-Reference positives.
Since the time my last Bio-Reference piece was released, continued artificial selling pressure briefly sent the company's stock back under $12/share (where I took a long position) before sharply breaking upward and away from its 52-week low of $11.4, set on November 11th. Since December 1st, the stock is up more than 28%, and with good reason.
BRLI 1 Month Chart
Click to enlarge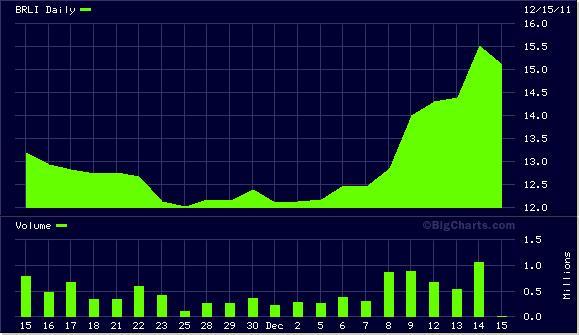 In addition to the company's recently announced share buyback program and recent insider open-market share purchases, Bio-Reference somewhat unexpectedly released its earnings and had its conference call a week ahead of schedule (possibly due to Grodman's participation in Nasdaq's closing bell ceremony today) and it was mostly positive and upbeat.
For the quarter ended 03/31/11, Bio-Reference reported a profit of $10.5M, up more than 22% from the same time period last year. Gross margins slipped nominally, but its number of patients soared by 19%. Furthermore, CEO and Chairman Marc Grodman upped the company's EPS guidance going forward from its usual 15% to 20%. This is probably, in part, because of its continued growth in esoteric testing (something that isn't performed by most labs), which has higher margins and now accounts for about 58% of its revenue mix. That may accelerate in 2012 as the result of new tests being rolled out, as well as its neo-natal testing, which is gaining traction now due to growing acceptance.
Of Note:
Bio-Reference's CGH array platform goes well beyond traditional testing for cancer as well as most testing altogether. The company is amassing a significant number of cancer patients' genetic maps, or anomalies, with one of its partners, Massachusetts General Hospital. This database of thousands of patients may eventually be sold to any number of biotech companies so that they may design and develop chemotherapies and other treatments for large groups of patients that have the same or similar genetic mutations.
The company seems to be way ahead of the pack in this information field. There is much clinical data and documented real-world evidentiary support which has shown that some drugs simply don't work on certain groups that have the same genetic mutation. But if the drugs are slightly modified to custom-fit a patient's needs, the result may be significantly improved efficacy. The company has invested much time and money in marketing these arrays, which, in time, may lead to new sets of designer drugs that could be quite significant in number.
Many, if not most, companies in the biotech space have negative earnings, high cash-burn rates and are seemingly in constant need of dilutive or debt financing. Historically, companies like Merck (NYSE:MRK), Pfizer (NYSE:PFE) and Lilly (NYSE:LLY), the old "big three" in ethical pharma, have shied away from investing in and experimenting with biotech. But in recent years big pharma has been buying and partnering with biotech firms that have had success in clinical drug trials. So many of these companies' stocks now trade in high multiples, seemingly up to infinity.
Considering the above, it is my belief that Bio-Reference deserves a much higher multiple than 11-12 X earnings, given its relatively long history of revenue generating and growth consistency coupled with the fact that its GenPath division plans to broaden its Array CGH technologies research and hopefully sell what it has developed. It is an exciting and promising area to be explored and exploited and should ultimately lead to increased shareholder value.
It is of my opinion that Bio-Reference is currently tremendously undervalued and will eventually go on to forge new highs as the market begins to understand and appreciate the company for what it is: A stable, well managed growth company with a promising and prosperous future.
Disclosure: I am long BRLI, PFE.