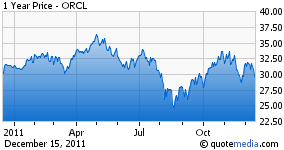 It goes without saying that Oracle's (NASDAQ:ORCL) CEO Larry Ellison rubs a lot of people the wrong way. It would involve too much time to sort through the many reasons why, but I'm sure we can agree that one of the causes for this hatred is the fact that not only is his company so dominant but en route to its rise to prominence, it has stepped on a few toes, some of which have yet to heal. Mr. Ellison would be the first to suggest that "you get use to it" – it's his reminder to any company that seeks to go "toe-to-toe" with his database empire. And as a shareholder, I appreciate that.
They say it's lonely at the top and that is likely why Oracle tends to be lacking in the friends department. Among its many enemies are Hewlett Packard (NYSE:HPQ), SAP (NYSE:SAP) and IBM (NYSE:IBM), all of which have spent the better part of this year trying to "one-up" the other. To do so, IBM recently spent $440 million to acquire DemandTec, a firm that specializes in retail marketing and software merchandising. SAP bought more space in the cloud with its own recent acquisition and HP, well it's still trying to get its act together and there is early evidence that it will with Meg Whitman now at the helm.
Expectations for the Quarter
For Oracle, it remains unfazed by all of the activity as it is set to announce its Q2 fiscal 2012 earnings next week. In its last quarter, the company reported record numbers in revenue, to the tune of $10.8 billion for the quarter - which was an increase of 12% from the previous year. I would be hard pressed to find another company that consistently produces such stellar top line results, yet be considered non-growth. Not only did the company report operating income of $5.2 billion, which was an increase of 19% from last year, but this was while it grew its operating margin by 48%.
Analysts are expecting an improvement of $0.09 in earnings per share compared to last quarter's results of $0.48. Additionally, investors are anticipating results north of $0.57 per share based on the estimated mean earnings. Analyst estimates range between $0.54 and $0.58 per share. It seems when it comes to Oracle, there are still many who take these types of performances for granted. Or in other words, it has become routine.
Clearly the company remains unfazed by all of this and just simply goes about its business even if it means stepping on a few toes along the way when it becomes necessary. We saw evidence of this earlier this year when it announced that it would stop developing software for Intel's (NASDAQ:INTC) Itanium chips – a shrewd competitive play to hurt HP since its wide range of servers sports those same processors. If that is not managing the competition, I don't know what is.
Year to Date
The term "uneventful" is not one to ever describe any operating year for Oracle. So far this year, the company has signed a number of large deals with some of the biggest names in cloud computing, including Salesforce.com (NYSE:CRM), CEO Larry Ellison said in a statement:
Salesforce.com's new multi-year contract enables them to continue building virtually all of its cloud services on top of the Oracle database and Oracle middleware.
With its recent purchase of RightNow (NASDAQ:RNOW) and its Sun acquisition of last year, it is clear that the company now has its sights set strategically of being a one-stop-shop for clients. It wants to provide customers with mission-critical solutions that integrate easily and rapidly and can also span both hardware and software.
Summary
Regardless of how one feels about Mr. Ellison, there is a lot to like about Oracle. The company is very well-positioned with deep offerings in a lot of important areas. As cloud computing becomes more and more significant, the company is going to play a major role. As I have said previously, one should not underestimate the resolve of good management – particularly one with a chip on its shoulder.
Disclosure: I am long ORCL.