There has been a lot of controversy over the Eaton Vance Tax-Managed Global Diversified Equity Income fund (NYSE:EXG), perhaps because it is the second largest equity closed-end fund (CEF) at about $3 billion in net assets and thus, has a lot of investors spread among its 305 million shares outstanding. With that many investors, there's bound to be plenty who voice their opinion and many aren't very happy with the poor market price performance or the current -17.2% discount from its Net Asset Value (NAV), one of the widest of all equity CEFs and the widest since the bear market of 2008. On the other hand, there's been a lot of positive write-ups on EXG lately. So how should an investor interpret this?
One great feature of CEFs is that you can perform some pretty simple calculations to see exactly how the fund is really doing and whether a fund's discount or premium is justified. NAV performance doesn't lie and EXG's NAV performance has been better than most investors realize. The following two tables show EXG's NAV performance from inception on February 23rd, 2007 compared to the S&P 500, as represented by the SPDR S&P 500 Trust index ETF (NYSEARCA:SPY) and the iShares MSCI EAFE Index ETF (NYSEARCA:EFA). EXG is a global fund so it's difficult to use just one benchmark index to compare. But with 40% of EXG's stock portfolio based in the U.S. and most of the rest based in Europe, SPY and EFA are the two most popular and broad-based indices that correlate best. The tables compare quarterly total return performances with all distributions and capital gains added back, i.e. not reinvested. Green represents up periods and red represents down periods or quarters.
Click to enlarge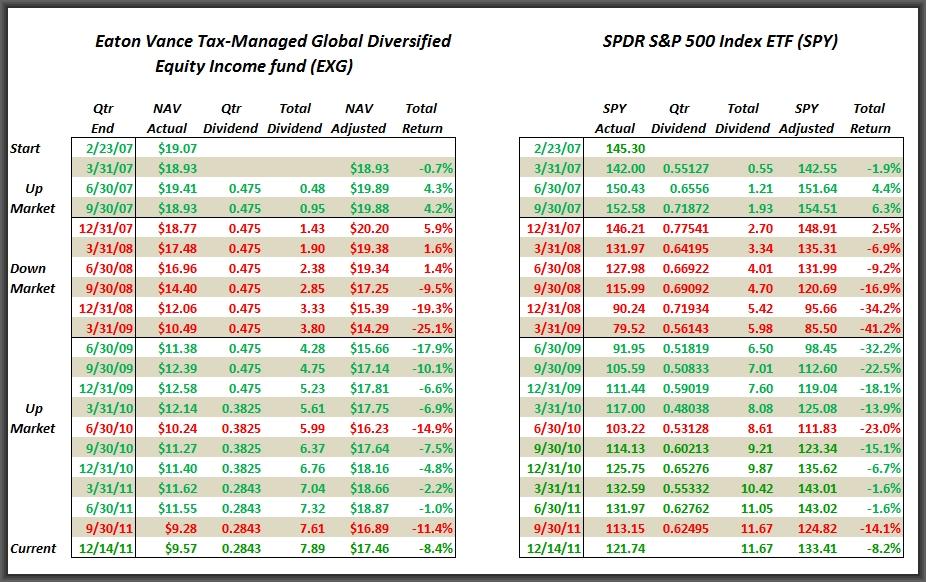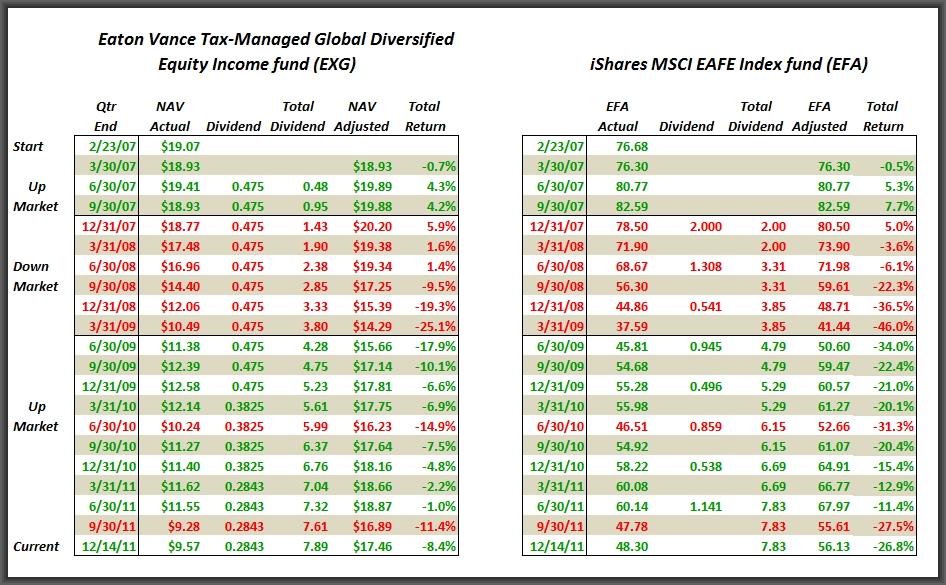 As you can see, EXG's NAV total return from inception through December 14th, 2011, is essentially the same as the S&P 500. And most quoted S&P 500 returns do NOT include dividends, whereas in my analysis, they do. And compared to the most popular and heavily traded European exchange-traded fund EFA, its not even close. EXG's NAV has trounced EFA's total return, -8.4% vs. -26.8%.
So why are investors so frustrated with EXG that they are willing to dump a global stock fund at a -17.2% discount even though its NAV will hold up better in a down global market? Now I know what investors would say ... you can't buy the NAV, only the market price. Forget about the NAV for a minute. Let's just look at EXG's market price and compare THAT with EFA.
Even if an investor had bought EXG at the IPO price of $20, which we all agree is not a prudent strategy with CEFs since the NAV starts roughly $1 lower because of a sales credit, he/she STILL would have been better off than if they had invested in EFA over the same time period. Think about that for a second. EXG's market price performance, as bad as it looks, was actually better on a total return basis than the most popular and heavily traded correlated ETF over the same time period. That's an incredible statistic, especially considering EXG's poor market price performance and -17.2% discount.
Click to enlarge

Obviously, a -21% loss since inception is not something to write home about but one has to consider the alternative as well as the exceptionally difficult market period this covers. Getting back to the NAV, I could stack up EXG's NAV against most of the other global option-income funds from BlackRock and ING this year or even from inception and EXG's NAV has compared well if not outperformed most of them. In fact, two of the ING funds (IID and IAE) continue to trade at PREMIUMS with significantly worse NAV performance YTD than EXG.
Click to enlarge

Now I am not saying that EXG is the best fund available to investors. I'm just saying it's better than what most investors think and it certainly has one of the best valuations with its -17.2% discount market price discount to NAV. Yes, EXG has had two distribution cuts during the ramp-up market in 2010 in which its portfolio and income strategy underperformed. So did most other option-income funds, including IID and IAE which continue to trade at premiums.
In fact, its because of those distribution cuts that have brought EXG's NAV yield down to a more manageable 11.9% that I don't believe another cut is likely. The benefit to investors is that because of the -17.2% market price discount, they can pick up a windfall 14.3% yield, one of the highest of all CEFs. Of course, if we go into a global market meltdown, then all bets are off. But EXG has already proven that its NAV will hold up a lot better than its correlated indexes in such an environment (see red bear market period in tables above).
I don't think I'll ever understand the logic of selling a fund at $7.92 (EXG's closing price as of December 14, 2011) when its liquidation value is $9.57 and when it would make more sense if you're bearish to hold your high-yielding position and hedge by shorting a correlated ETF. Though EXG may not get back to a premium price like it did in 2009 and 2010 anytime soon, who here doesn't think this fund should be trading closer to par than a bear market -17.2% discount with its outperformance? As the second largest fund in the CEF universe, investors should hope that EXG's market price performs more in line with its NAV since if investors are willing to give up on one of the flagship equity CEFs that trades more shares than any other equity CEF, that does not bode well for other stock based CEFs as we head into 2012.
Disclosure: I am long ETW, IGD.