On December 2nd, the U.S. and China got another step closer to a trade war over solar energy. In "China Rejects U.S. Panel Ruling That Solar Imports Harm Industry," Bloomberg reported that China denounced the decision of the U.S. International Trade Commission to launch a full investigation into industry claims that China is dumping solar panels in the U.S. market. The complaint alleges that "the Chinese government uses cash grants, raw-materials discounts, preferential loans, tax incentives and currency manipulation to boost exports of solar cells." Democratic legislators also complained to President Barack Obama that Chinese imports have grabbed half the market through "…government-provided loans, cheap land, tax breaks and an undervalued currency."
In "China concerned over US ruling on solar panel probe," on Dec 4, China Daily quotes a thinly veiled threat from China's Ministry of Commerce: "The United States should avoid abusing trade remedies which will affect bilateral trade and mutually beneficial cooperation between China and US enterprises in the new energy sector." The MOC "…warned last month that the probe could damage energy cooperation between the two countries and impede the progress of global efforts to deal with climate change." Moreover, also last month, the MOC announced it would launch an investigation into U.S. stimulus programs that support solar businesses in Washington, Massachusetts, Ohio, California, and New Jersey.
Momentum is building toward a trade war in solar energy between China and the U.S. U.S. companies that export to China will likely be the biggest losers in this battle. For example, GT Advanced Technologies (GTAT) reported in its Q2 investor financial summary on Nov 8 that 86% of its Q2FY12 $218M in revenue came from Asia. This compares to 98% in the previous quarter. Based on the company's commentary, it is clear the majority of the Asian revenues come from China.
In a related research industry update titled "SolarWorld's Petition for a Tariff on Chinese Solar Cells to Prove More Painful than Positive for the U.S. Solar Industry", Aaron Chew estimates that 63% of GTAT's revenue over the past six quarters came from China. Chew also estimates that most of GTAT's solar-based backlog comes from Chinese orders. Solar represents over 55% of GTAT's backlog. (GTAT's business in sapphire wafer equipment for LED production is also highly dependent on China. GTAT reported in its November earnings report that China is likely to grab over 40% of global sapphire wafer capacity by the end of 2013).
The threat of tariffs and a trade war did not appear anywhere in GTAT's last earnings report. I highly suspect it will be front and center in the next earnings report. Until further clarity appears on this issue, I am assuming that a trade war is a material risk for GTAT. GTAT has accumulated a massive backlog of equipment orders, but the company continues to maintain that these orders are secure. I am bit surprised by the confidence given all the indications and announcements of capacity cutbacks from the last round of solar earnings. President and CEO Tom Gutierrez frequently references the backlog as a source of reassurance that GTAT will survive, even thrive, through the current downturn. Naturally, analysts asked numerous questions about the backlog.
For reference, I provide below my notes from the Q&A portion of the conference call. The call began with a reading of prepared remarks and a review of the quarter's financials. I have re-organized the answers from GTAT management into categories.
Highlights: The tone for this earnings call remained confident but the content was much more somber than earlier in the year. At that time, GTAT talked about the investment imperative that forced solar manufacturers to plan capacity expansions years in advance. GTAT still insists that its solar-related guidance is robust and conservative and that its overall backlog is secure. No mention is made of any risks of a solar trade war with China. GTAT's strategic focus, and presumed advantage, is that it has the technology to help its customers fight price wars by increasing cell efficiencies and lowering costs.
Revenue Split (By end of 2012):
Sapphire – 34%
Polysilicon – 25%
PV -- remainder
Solar Pricing Pressure:
At a turning point in the industry.
Pricing pressure has gone back through the value chain. Prices not coming back.
Subsidies will continue to erode.
Will not be a demand-driven recovery.
Big and smaller players are focused on being able to make money and generate cash at these prices.
Asian players had their way with European and Western players. They are now competing against each other in a fierce way.
Pressures will mount on Western suppliers.
Adding more capacity is not going to help profitability, just more of the same.
Believe there will be some consolidation and lower-end players are not going to make it through this turn.
No customer in Asia is talking about adding capacity – about making technical advancements.
Credit/Cash Crunch:
Margins are the issue. Access to cash has become very tight.
Customers working with banks to free up cash.
(Solar) customers absolutely need to improve margin and generate cash.
Customers are very willing to make additions and investments but can't because banks won't give cash that they need.
This is why we think recovery will be technology-driven in increasing efficiency.
GTAT about to flip the tables on competitors with technological advancements.
Next year is all about helping the industry move to a new solution that significantly changes the game in terms of cell efficiencies.
"We are going to help the industry get out of it [the downturn]"
R&D spend remains unchanged, will continue to invest in this downturn.
Market Share
Will be a slow ramp going into FY12. No market share erosion.
Sapphire Costs
Pricing degradation is not a bad thing in the Sapphire industry. It solidifies GTAT position.
Similar kind of downward pricing slope from PV needs to happen in Sapphire. Current prices for wafers are too high. We are going to drive it much further down than where it's at. (PV went from $300 to $30).
Cost has got to go much further down in order to make sure cost of Sapphire does not become impediment, and it stays ahead of other competitive technologies.
Sapphire Customers
Fuyan is a new entrant (represents half the Sapphire backlog). It owns over a million square meters.
Helping it build out the management team.
Initial units will be installed in December. Grand opening being planned.
Not concerned about its access to capital.
Type of customer that requires more support given it's a start-up.
Backlog and Book-to-Bill Ratios
Expect some rather significant orders to hit books over next 6 months in the polysilicon business.
Sitting on top of $2.1B of backlog.
Will enter the next year with over full year's revenue in backlog.
Feel good about FY13 and building confidence in FY14.
70% of polysilicon backlog is in deferred revenue or deposits taken.
China is a net importer of polysilicon because of quality issues. Factories being put into China because it can't compete outside of China.
Will take some time for incumbents to invest, but if it doesn't, it's dead.
This might be a turning point where some Western players might get back into the market.
Some very interesting, high profile companies that are stepping in that are interested, not typical PV companies.
Between now and mid next year will not get back to book-to-bill of 1 but irrelevant given $2.1B in backlog. (Book-to-bill is 0.2 now).
We're satisfied with the pace of deposits getting with [Sapphire] customers.
Think about this as a $1B business, a normalized backlog would be $900M-$1B where book and ship would need to come in pretty frequently. We're not going to get anywhere near there.
We wisely took all the orders off the street. Built out supply lines, got economies to scale.
Will be living off backlogs for a period of time.
Polysilicon: cost of wafer is $25 while prices are $30 -- is that enough to encourage more build-outs?
Definitely.
Some of the players outside China are seeing this as opportunity to take market share.
A lot of low cost players in China are pricing close to cash costs.
Quality of polysilicon being produced is not up to snuff. When I say we are expecting to see additional orders, it is because we are dealing with high quality people. You know us to be conservative for these past 8 quarters.
Costs For 4- and 6-Inch Core Wafers Using ASS Furnaces
Haven't divulged those numbers.
There is some pricing curve that I showed in presentation. One of the issues of industry is that a lot of customers expect a 6-inch will cost less(?) than a 2-inch core. Issue is that because of thickness, that's not the case. 17x more Sapphire in a 6-inch Sapphire wafer than a 2-inch.
We have a roadmap that we're investing a significant amount of R&D money in. There is still much work required.
I think price of Sapphire still has more downside to go to make 6-inch economical.
Customer Qualification For Sapphire
OCI has been qualified. It doesn't start up production until November.
HTOT has the initial bore holes that it needs to get confidence… No one customer has actually taken Sapphire that it's grown and delivered it in any quantities to its customers. We are using our facility in Salem to provide materials for customers.
The beauty of our system is that it is all about geometry.
80% of business in Salem has been 4 inch and above. Some hesitation because of cost of 6-inch.
Guidance
We have pushed out more polysilicon than customers have told us to do. We are preparing for the Draconian view.
Have significantly derisked the PV business.
Not yet providing guidance on FY13.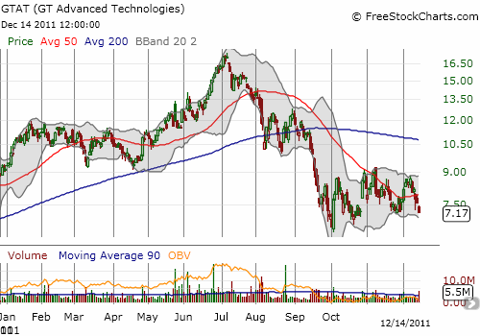 GTAT is down 21% for the year, down 58% from all-time highs, and trying to hold current lows.
Source: FreeStockCharts.com.
Disclosure: I am long GTAT.