Precious metals investors have experienced a rough and tumble week with the exchange traded funds GLD having lost 8.12% and SLV losing 10.41% through Wednesday's close. After studying the price behavior of UUP - the Powershares Dollar Bull Fund - and UDN – the Powershares US Dollar Bear Fund - along with the relative strength of the Treasury Inflation Protected Bond Exchange Traded Fund - TIP - during the period leading up to the beginning of the sell-off along with basic technical patterns, I penned the articles I posted on Seeking Alpha on November 25 and again on December 13 forecasting the sell-off.
On December 6, famed commodity investor Dennis Gartman communicated to his subscribers in the daily Gartman letter that gold and silver were in a bear market because prices were etching out lower highs and lower lows.
Some prognosticators have penned that we may be entering a period of deflation during which gold and silver continue to collapse. At this point it's probably too early to tell but it's fairly clear from the chart below that silver is driving toward a price in the $20 - $25 range during the next month or so which may take GLD below the $1500 level. Both of these can be clearly seen in the chart below (click on the chart to see it more clearly).
Click to enlarge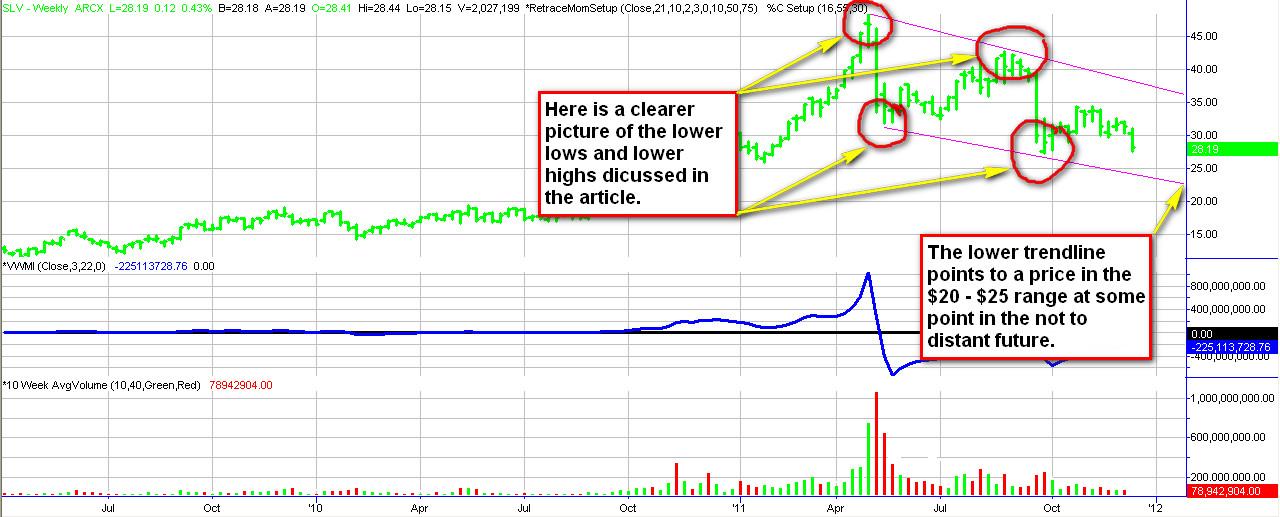 Although, I am still bullish on the prospects for silver and gold in 2012, I hedged my long positions in both with covered calls before the sell-off. In the case of silver I sold deep in the money January 2013, 20 strike calls. Although this strategy has negative tax implications by resetting the date of your basis in the long position I was willing to live with that when I sold them. This gives me the ability to buy back the call at any time up until options expiration in January 2013, offsetting whatever volatility has taken place in silver since I sold the calls all the way down to a price of $20 per ounce.
So what can we expect to see over the next few days and month or so? A chart of ZSL, the inverse leveraged (x2) silver fund, can give us a clue. The next chart shows ZSL with two simple oscillators, the 14 period %R and the five period RSI, measuring the price movement of ZSL, to give a clearer picture of when ZSL is overbought and oversold. Just remember that when ZSL is overbought, that silver is oversold; and when ZSL is oversold silver is overbought. It's clear that ZSL is way overbought and so we can expect a dead cat price bounce in silver fairly soon.
Click to enlarge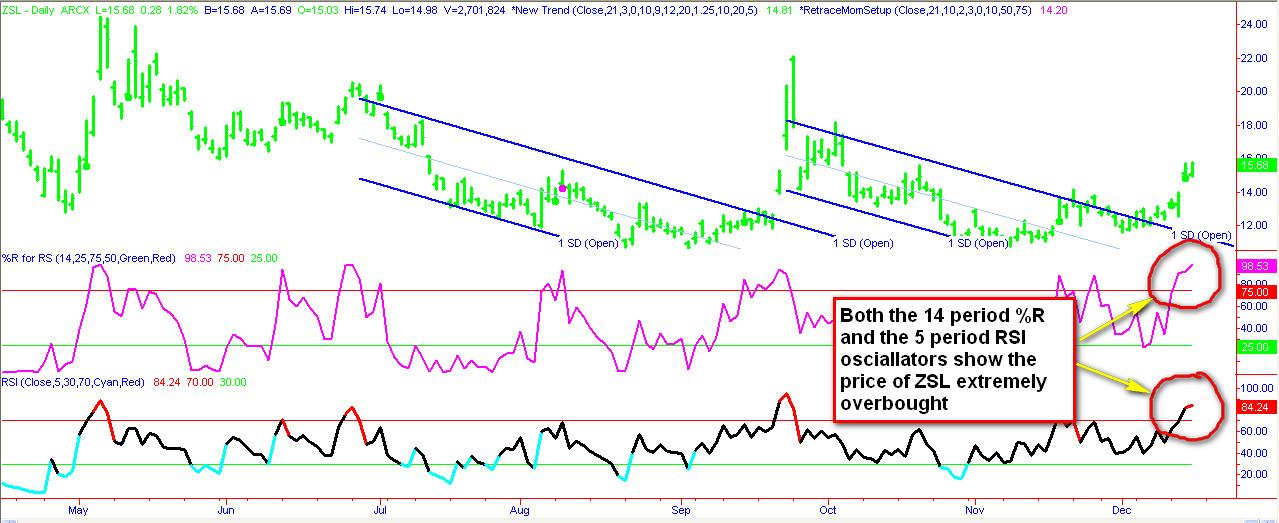 After the bounce, expect further selling until we reach the oversold levels for both silver and gold that I described in my first article on this topic on November 25, 2011.
Disclosure: I am long SLV, GLD.