When I look to invest in dividend paying stocks, I am looking at the long run. I want a reasonable dividend yield, consistent dividend growth, and some confidence that my dividend will be safe, even in an economic downturn. Of course, you can never be guaranteed that your dividends will not be cut or that they will keep growing. But we can look at a few characteristics that will help us figure out which companies are likely to keep their dividends growing at a healthy clip and maintain their dividend during an economic downturn.
The characteristics I am looking for are a dividend yield above 2.5%, a five-year dividend growth rate of at least 10%, a payout ratio of below 50%, and debt/equity below 40%. The reason I want a low payout ratio is due to the fact that a low dividend payout means the company has plenty of earnings left over to increase earnings or maintain the dividend if it has some rough quarters where earnings decline. Low debt/equity means the company is not dependent on the capital markets for cash flow, which means it is more likely to maintain its market position even if the capital markets seize up or interest rates rise.
The two companies I found that meet these qualifications easily are American Greetings (NYSE:AM-OLD) and Applied Materials, Inc. (NASDAQ:AMAT).
American Greetings

American Greetings Corporation, together with its subsidiaries, engages in the design, manufacture, and sale of greeting cards and other social expression products worldwide. It offers social expression products; including greeting cards, gift wrap, party goods, giftware, and stationery, as well as custom display fixtures; and DesignWare party goods, Plus Mark gift wrap and boxed cards, and AGI In-Store display fixtures.
Company

Dividend

Yield

5 Yr Div

Growth Rate

Payout

Ratio

Debt/Equity

American

Greetings

3.7%

11.8%

26.0%

29.3%
Not only does American Greetings have a nice dividend yield of 3.7%, but the dividend has been growing at a solid clip of nearly 12% over the past five years. The low payout ratio and debt/equity make this stock even more enticing. The one downside I should point out is that AM cut the dividend twice earlier this decade in 2001, when it went through a serious rough patch with earnings.
Looking ahead, if American Greetings maintains this level of dividend growth and the stock price doesn't budge, investors will see a total return of 78.6%, which is an annualized 6% return (assuming dividends are reinvested). I ran this analysis using our publicly available dividend calculator called Total Returns- Dividends vs. Price Appreciation and I assumed the investor bought 100 shares.
(Click charts to expand)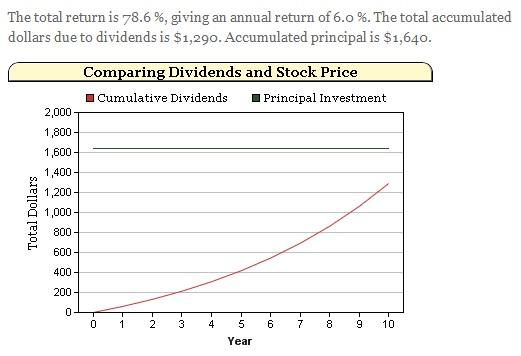 Let's now look at Applied Materials:
Applied Materials
Applied Materials, Inc. provides manufacturing equipment, services, and software to the semiconductor, flat panel display, solar photovoltaic (PV), and related industries worldwide. The company's Silicon Systems Group segment offers a range of manufacturing equipment used to fabricate semiconductor chips or integrated circuits. This segment provides systems that perform primary processes used in chip fabrication, including atomic layer deposition, chemical vapor deposition, physical vapor deposition, electrochemical deposition, rapid thermal processing, chemical mechanical planarization, wet cleaning, and wafer metrology and inspection, as well as systems that etch or inspect circuit patterns on masks used in the photolithography process.
Company

Dividend

Yield

5 Yr Div

Growth Rate

Payout

Ratio

Debt/Equity

Applied

Materials

3.0%

11.5%

21.0%

22.1%
The metrics for Applied Materials are very similar to American Greetings. Although the dividend yield is lower, AMAT has a strong five-year dividend growth rate in its favor. Also, AMAT has never cut its dividend since going public in 1984. Applying the dividend yield and five-year dividend growth rate over a 10-year time frame we get the following: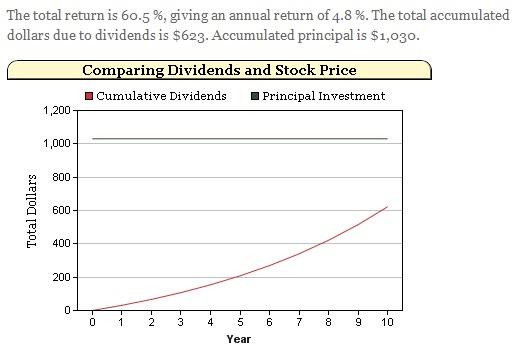 It's important to understand the best way to seek out companies that are more likely to keep their dividend growth going, or at the very least keep the dividend where it is during a downturn. The scenarios I've shown here also highlight the power of solid dividend paying stocks over time and why most people should have them in their portfolio.
Disclosure: I have no positions in any stocks mentioned, and no plans to initiate any positions within the next 72 hours.