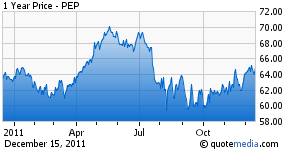 I was wandering within Wal-Mart (NYSE:WMT) the other day and I happened to stumble upon the chip aisle or perhaps more aptly the PepsiCo (NYSE:PEP) aisle. Literally, there's an entire aisle denoted for chips and within this aisle all I could find were Frito-Lay products. Sure there were off-brands shoved to the side or consequently to the bottom shelf, but anything you wanted to buy sported that tried and true red and gold sun logo. And while Pepsi has worked for decades elbowing for its share of shelf space next to beverage behemoth Coca-Cola (NYSE:KO), Frito-Lay down-right demands an entire aisle worth of attention. From PepsiCo CEO Indra Nooyi's "I want a larger share of your stomach" standpoint, this is exactly where Frito-Lay should be.
From the investor's viewpoint, it might be difficult to look past the flagship Pepsi drink and see this company as anything but a competitive soft drink maker. After all, the billion dollar Pepsi, Mountain Dew, Sierra Mist and Diet Pepsi - among other beverage brands - still make up the majority (however slight) of PepsiCo's $60 billion annual revenue. But Pepsi has fallen behind as of late to both Coca-Cola and Diet Coke, and in general sugary drinks are on the decline in the U.S. market.
True, PEP is well positioned in other beverage areas, including healthier options Tropicana, Aquafina and Lipton. However, consistently going up against the big KO has always proven to lead to a knock out. As Warren Buffett quipped when Coca-Cola had a market capitalization closer to $100 billion: "If you gave me $100 billion and said, 'Take away the soft-drink leadership of Coca-Cola in the world', I'd give it back to you and say it can't be done."
Luckily, PepsiCo doesn't need to take down KO. The number two spot makes PEP a lot of money, billions upon billions in fact, and that's a pretty nice consolation prize. More than that, PepsiCo has a portfolio of snacks and foods that make up 49% of its revenues. Perhaps you haven't noticed but those chip aisles you peruse are simply a small PepsiCo monopoly. Certainly the billion dollar Frito-Lay brands, including Lays, Ruffles, Doritos, Tostitos, Fritos and Cheetos, are responsible but don't be afraid to venture over to your oatmeal, granola or cereal aisle to grab some Quaker products as well. Overall, investing in the world's largest portfolio of billion-dollar food and beverage brands seems like a pretty smart move. The world is growing and the demand for food and drink is palpable.
Those concerned about diversification and emerging markets shouldn't lose too much sleep. Only 53% of PepsiCo's revenues come from the U.S. and Canada while the other 47% comes from over 200 countries around the globe. Perhaps a more legitimate concern is the growing distrust for unhealthy products. To this point, PepsiCo seems well positioned to become a leader in this trend. This year, about $13 billion of its $60 billion in total sales came from healthy products. Things like fruit juices, oatmeal, dairy products and sports drinks. By 2020, PEP is committed to growing its healthy product sales to $30 billion; implying either a 10% revenue growth for the next nine years with the same healthy-to-other ratio as it has today, or else a greater emphasis on healthy products. For an investor, both seem like pretty good news.
Perhaps most refreshing is that PepsiCo doesn't try to disguise its products as something that they are not. PEP has three very distinct portfolios of food and beverage: "Fun-for-You," "Better-for-You" and "Good-for-You." The Fun-for-You portfolio has all the really tasty, salty, sugary staples that we're used to: Pepsi, Doritos, Lay's, Cheetos and Mountain Dew, for example. The Better-for-You portfolio contains products that still have that staple name, without so much of the bad stuff, for example: Baked Lay's, Diet Sierra Mist, Chewy Granola Bars and Pepsi Max. The Good-for-You portfolio is downright wholesome, with products like: Quaker oatmeal, Tropicana orange juice, Natural Nut Harvest and Naked Juice. What's important about this separation is that PepsiCo doesn't have to pretend to care about the sugar in Pepsi or the salt in Lay's. It simply offers viable alternatives while keeping true to its mainstream brands. If this health-kick turns out to be a fad, no worries. Pepsi didn't change its taste for the healthy consumer. On the flip side, if healthy choices are here to stay, PepsiCo is well positioned to continue doing what they are doing with the healthier portfolios.
The case for keeping both healthy and unhealthy food products in the line-up is likely pretty obvious. What might not be as apparent is keeping the beverage and food products under the same household PepsiCo name. Pepsi brands are quickly losing ground to KO, while the snack and food businesses act as an effective shelf monopolizer. Some shareholders might be hankering for a split, citing the potential to unlock shareholder value with the better positioned food portfolio. This is a reasonable assumption, but I don't think much has been lost in keeping two together. The combination allows for deals and discounts that no one else can offer, not to mention the economies of scale associated with delivering two different PepsiCo products using the same truck and nearby shelf space. As the company itself asserts one of its main strategies for growth is to "leverage the company's unique "Power of One" selling model across foods and beverages."
Finally, if you have any doubt about the added value that PepsiCo can bring, just look at the company through the eyes of a dividend investor. Having not only paid but also increased its dividend for the last 39 years, it has been more than consistent in returning value to shareholders. Over the last decade PEP has increased in price by about 32% as compared to a relatively flat market; not to mention a 27% return provided by dividends. With a current yield around 3.2% and a payout ratio of 52%, PEP would have no trouble growing its dividend by 10% for the next seven years without any earnings growth at all. This is certainly reasonable given PepsiCo's 10-year average dividend growth rate around 13%.
Although it's much more likely earnings will grow and the payout ratio would stay about the same, this still represents a 6.2% yield on cost. You just missed PEP's last dividend, payable after the New Year, but a buy today let's you in on a March payout along with the likely 40th anniversary dividend increase announcement in early May. Much more importantly, a buy today leads to a "Good-for-You" retirement.
Disclosure: I am long PEP, KO.