Gold (NYSEARCA:GLD) has made a remarkable run over the last 10 years. The precious metal was trading near $300/ounce in 2001. Since then, the bullish sentiment pushed the gold prices all the way up to near $2,000. However, the bulls were not strong enough to push the gold to higher levels. Since reaching its all-time high of $1900, gold retreated. At the time of writing, it is trading below $1,600 for the first time in the last 6 months.
There are a variety of views on the future of gold. Nobody can make precise predictions. While I am on the bearish side of the market, when it comes to precious metals, Citigroup does not agree with me. A recent report from Citi's FX Technical group claim that the "bull market remains intact." Citi even suggests a target near-term price of range of $2,300 - $2,400 for the second half of 2012. Their medium-term target of $3400 imply near 100% upside potential for the gold.
An interesting article from 2008 explains Citigroup's position during the height of the financial crises. Looking back, one might think that it did make some remarkable predictions regarding political instability in Europe and/or socio-economic issues in other countries. Nevertheless, not all of their predictions were correct. Citigroup mentioned Pakistan as an example that might be subject to a meltdown. Apparently, the Citigroup analysts had no idea about the upcoming Arab Spring.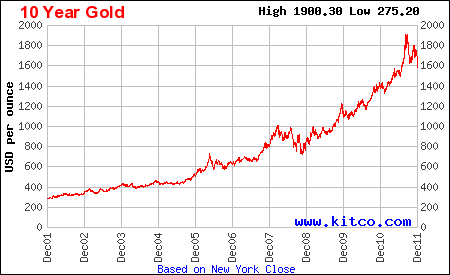 The problem with the Citigroup prediction is the lack of strong foundation other than a random price target. In late 2008, the same technical analysts from Citigroup predicted a target price of $2,000 by 2009. Surely, gold had a smooth upward movement in 2009, but it reached nowhere near $2000 in that year.
Silver (SLV), which lagged gold during its decade-long marathon, tried to catch up, but the silver bulls were not as bullish as the gold bulls. Still, in the 16 months following January 2010, silver made a huge run from $15 to above $45. During that period, I was confident that it was a temporary spike, not based on any fundamental demand.
Silver was on my avoid-for-sure list, which worked surprisingly well. Those, who avoided the mentioned names, saved quite a bunch of money. In the few weeks following the silver's hyperbolic movement, the metal lost its shine, trading for as low as $30. To my surprise, we observed another spike that pushed silver prices to near $45 again. However, that was a dead cat bounce, destined to be normalized. As of the time of writing, silver is trading at $28.60/ounce.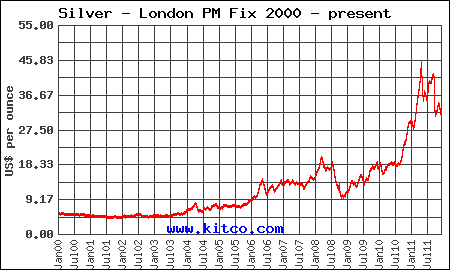 Neither gold nor silver pays any dividend. Therefore, once you buy any of these two, the intrinsic price is what you just paid for. It might even change from location to location. It even depends on from whom you buy it -- if you are going to a jewelry store with a loved one, it is very likely that you will pay a premium.
Note that this type of valuation where demand meets supply is valid only for the traditional markets. In today's computerized markets, many investors/speculators buy precious metals with the hope, that they can sell it for more later on. Yoni Jacobs, explains that estimating the fair value of precious metals such as gold are one of the hardest tasks. It is true that their prices are "…affected by inflation, deflation, war, economic crisis, etc. – factors that are nearly impossible to evaluate or determine with certainty."
More importantly, the value of gold is determined by our psychology. If we keep believing that gold will never go down, and keep buying gold whenever we can afford, it will naturally keep going up. Things will work fine, as long as, we keep believing, and doing in what we believe. The problem is that most of us are too late. It was a great period to buy and hold gold or silver a decade ago. Those who jumped early on the gold wagons such as John Paulson, made huge returns, and even they started dumping their gold holdings. I always ask myself. Why I should buy something for more than what they paid for?
Those bullish on gold/silver claim that their use as the money is the primary reason for their value. While we do not use gold or silver coins as money anymore, it is claimed that "unbacked paper money is worthless." This is a pretty bold, but an outdated statement. It would have made sense for someone living in Germany's hyperinflation period to state "Hey, your money is worthless." But, come on. What is the inflation rate in the U.S.? If gold prices were going in par with inflation, gold would have sold for barely $400/ounce, as most.
There are also worries about the collapse of global fiat regime collapse. Fiat currency regimes will not collapse, but they are already getting out of fashion. Money is losing its traditional role as a transfer of value. This is not happening, because gold is replacing money as the primary form of trade. It is happening, because in today's modern society, everything has become electronic. The role of paper money is disappearing.
Summary
The value of items such as gold or silver totally depends on what the market pays for. Obviously, there is a minimum cost associated with the mining and refining activities. Gold and silver made remarkable runs over the last decade, but the associated costs of extracting gold changed little. Thus, the price of gold is detached from the cost of obtaining gold.
I recommend avoiding gold, as it does not have any value other than what a buyer is willing to pay for. However, if you insist in having a piece of gold, I recommend investing in cheap mining giants with low valuations. Based on my FED+ Valuation technique, I rate Barrick Gold (NYSE:ABX), Kinross Gold (NYSE:KGC), and Newmont Mining (NYSE:NEM) as cheap stocks with relatively higher margin of safety that the gold itself. Gold Corp (NYSE:GG) and Yamana Gold (NYSE:AUY) also seem to be fairly valued.
Disclosure: I have no positions in any stocks mentioned, and no plans to initiate any positions within the next 72 hours.