For long-term defensive income investors, AT&T (NYSE:T) has always been a cash cow. Long-term income investors might want to consider this stock on the recent market weakness. As you can see on the graph below, provided by Barchart, the stock has had a bit of weakness in the last 6 months: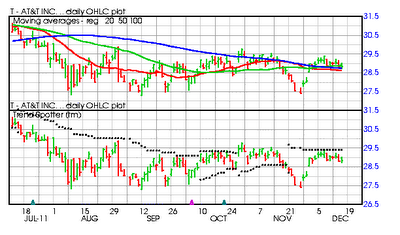 The stock has held up well during the past year, as measured by the Value Line Index of 1,700 stocks.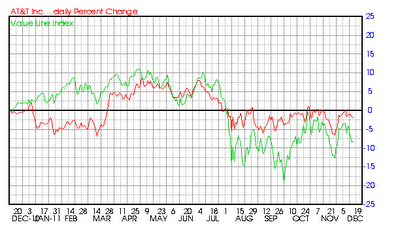 AT&T Inc., together with its subsidiaries, provides telecommunication services to consumers, businesses, and other service providers worldwide. Its Wireless segment offers wireless voice communication services, including local wireless communications service, long-distance service, and roaming services. This segment also sells various handsets, wireless enabled computers, and personal computer wireless data cards; and accessories comprising carrying cases, hands-free devices, batteries, battery chargers and, other items. This segment sells its products through its own stores, or through agents or third party retail stores.

The company's Wireline segment provides voice services, including local and long-distance services, calling card, 1-800 services, conference calling, wholesale switched access service, caller ID, call waiting, and voice mail services; and application management, security service, integration services, customer premises equipment, outsourcing, government-related services, and satellite video services. This segment also offers data services, such as switched and dedicated transport, Internet access and network integration, data equipment, and U-verse services; high-speed connections comprising private lines, packet, dedicated Internet, and enterprise networking services, as well as DSL/broadband, dial-up Internet access, and WiFi products; businesses voice applications over IP-based networks; and local, interstate, and international wholesale networking capacity to other service providers.

In addition, its Advertising solutions segment publishes yellow and white pages directories; and sells directory advertising and Internet-based advertising and local search. The company was formerly known as SBC Communications Inc. and changed its name to AT&T Inc. in November 2005 as a result of merger with AT&T Corp. AT&T Inc. was founded in 1983 and is based in Dallas, Texas. [Yahoo Finance profile]
Factors to Consider
Barchart technical indicators:
Barchart uses technical indicators from 7 days to 6 months to determine the current direction of a stock's price momentum
At the present time, the stock's price momentum is very weak
A weakness in the price of a solid income stock can signal a good entry or accumulation point
Barchart technical hold signal
Trend Spotter sell signal
Trading below its 20 and 100 day moving averages but above its 50 day moving average
The stock currently trades 9.92% below its 1 year high
Barchart computes a technical support level at 28.52
Relative Strength Index is 49.02% and currently falling
Traded recently at 28.78 which is below its 50 day moving average of 28.89
Fundamental factors:
Wall Street brokerages have always pushed T as an income stock, and 26 firms have assigned 33 analysts to follow this stock
Revenue is expected to increase a modest 1.50% this year and another 1.30% next year
Although earnings estimates are down 1.30% this year they are expected to be up 8.80% next year and continue to increase by 2.93% a year for the next 5 years
These consensus numbers resulted in 8 strong buy, 8 buy 17 hold and no negative report to their clients
The stock is cash rich and earns an A+ financial strength rating
The P/E ratio of 12.46 is slightly less than the market
The dividend rate of 5.92 which is about two thirds of projected earnings is about double the market's
The stock price enjoys a 100 stock price stability ranking
The company is a leader in wireless Internet offerings and it's new U-Verse video service is widely accepted as state of the art
OK now the bad news that is keeping the price down - T wants to acquire the US division of Deutsche Telekoms operations and the Obama administration is using the Justice Department and the FCC to fight this. The battle is too close to call at this point
General investor interest:
I use the readers of Motley Fool to gauge the thoughts of the individual investor and 5,749 readers voted an opinion on this stock
The general readership voted 92% that the stock will beat the market
The more savvy All Stars voted 95% for the same result
Fool noted that 97% of the most recent reports on this issue were positive
Those high on the stock include Wayne Rogers, Jim Cramer and Rich Pzena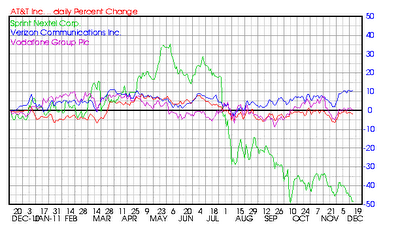 AT&T is definitely not a growth stock, but income investors like the steady dividend of 5.92%. The dividend appears to be secure, and is expected to increase over the next 5 years. I think the price today is about as good as you will get in the near future, and only bad news about the T-Mobile acquisition can drive the price down further. It is now trading at the high range of its 14-day turtle channel, as this Barchart graph shows: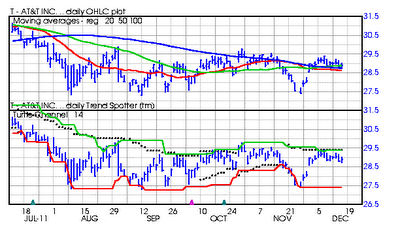 Disclosure: I have no positions in any stocks mentioned, and no plans to initiate any positions within the next 72 hours.