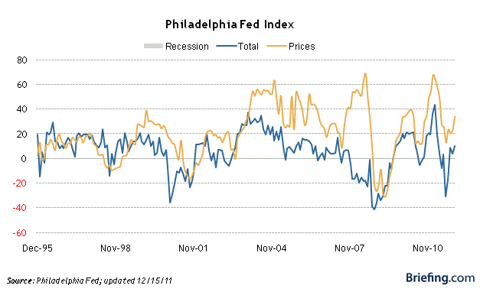 Click to enlarge
Click to enlarge
The market rebounded on Thursday after falling to start the week on a positive note. Leading the way was economic data our for the U.S. First, we had an amazing report on jobless claims. Claims dropped to 366K, which was a level not seen since early 2008. Those claims continue to drop, which is starting to paint a better picture of joblessness in the U.S. Additionally, the country is also looking stronger after two Fed reports from NYC and Philly. The Empire Manufacturing Index and Philly Fed Index both came in better than expected, which helped fuel the markets as well.
At least for one day, the market was able to somewhat ignore the European issue. Though it was not a clean day. In the morning, IMF head Lagarde mentioned that Europe would need help from other nations in order to clean the mess up. That comment helped keep the market in check, and that comes one day after Bernanke says no to helping Europe, which may mean a showdown is coming soon.

Earnings were out this morning that were good from Discover Financial (NYSE:DFS), FedEx (NYSE:FDX) and Pier 1 Imports (NYSE:PIR). All three companies had nice reports and gave us a snapshot of different sectors. FDX was probably the most crucial. We enjoyed seeing that the company had done well as they are a definite bellwether for the markets. We got some key upgrades as well today and downgrades. Cintas (NASDAQ:CTAS) and Onyx Pharma (NASDAQ:ONXX) got upgrades from Barclays and Goldman, respectively. First Solar (NASDAQ:FSLR) was dropped by Robert W. Baird and had its PT cut from $80 to $35 ... ouch.
We are having a terrific month in our options portfolio so far as we are trying to add 30% in 30 days to the portfolio. Right now, we have added about 10% already this month. We just closed the 120/125 bear call spread for Salesforce.com (NYSE:CRM) yesterday for a solid gain of 8.26%. We are looking to go long on Google (NASDAQ:GOOG) calls here soon for the rest of the month.
For our other positions we have included short positions in Skyworks (NASDAQ:SWKS) and Sina (NASDAQ:SINA). We continue to hold long positions on the SPY, Starbucks (NASDAQ:SBUX), AutoZone (NYSE:AZO), CarMax (NYSE:KMX), Nike (NYSE:NKE), Exxon Mobil (NYSE:XOM) and Monsanto (NYSE:MON).
We added a long position on Onyx Pharmaceuticals (ONXX) today as we like the stock to retake $40 here soon and move toward $42. The company got upgraded by Goldman and seems to have priced in any issues with the FDA. We also got into a reverse iron condor position on Research In Motion (RIMM) where we bought the 14/15 put spread and we bought a 15/16 call spread. We want the stock to move violently in either direction to make money off tonight's earnings.
Moving into tomorrow, the market looks interesting. We got good data, but the world is sick. The VIX is not showing strength to the downside and may be suggesting that we have upside from here. It appears to be showing that a lot of call volume is increasing. At the same time, Europe hangs in the balance. Yet, we are doing well here at home. It's a lot to swallow. We think it is going to be day by day at least for a little while here. We have CPI tomorrow as well as earnings tonight from RIMM and Adobe (NASDAQ:ADBE). For the sake of the markets, we hope those are good.
One position we are looking at entering tomorrow is with Google (GOOG) and Amazon (NASDAQ:AMZN). Google looks primed for a breakout higher, while Amazon looks like it will stay weak. We want to buy a call spread on Google, and pay for it by selling a call spread on AMZN. We hedge ourselves and can cover any losses in GOOG with AMZN.
Click to enlarge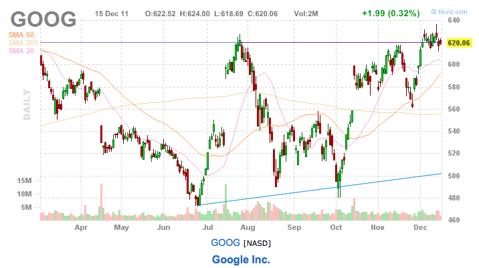 Click to enlarge
Disclosure: I am long AZO, KMX, MON, DISH, NKE, SBUX, ONXX, XOM, SPY.
Additional disclosure: I am long and short RIMM.I am short SINA, CRM, SWKS.