I have learned to live by a simple motto presented lyrically by a band of days gone by, The Gin Blossoms:
And if you don't expect too much from me/You might not be let down
That "way of living" helps inform my skepticism when I come across articles that argue that this stock or that stock could "double" over a certain period of time. In many ways, they create potentially false hope, at best, and danger, at worst, for investors.
As a pessimist, I prefer to go into a position prepared for the worst, but with an educated opinion that the best will come to be. Outside of the fun I have had with the $10,000 portfolio, I try not to set up a fresh batch of disappointment by psyching myself up over an eventual "double."
With that said, I'm not necessarily slapping a "SELL" rating on these stocks, but I'm increasingly hesitant to think they'll rise much, let alone double in 2012.
Ford (NYSE:F). This stock assumes prime perch on many "5 Stocks That Could Double ..." lists. Given F's impressive rise from the dead and how it's next to impossible not to love its CEO, I think dangerous psychology keeps some investors, including myself, in the stock.
Click to enlarge (Chart courtesy of Yahoo Finance)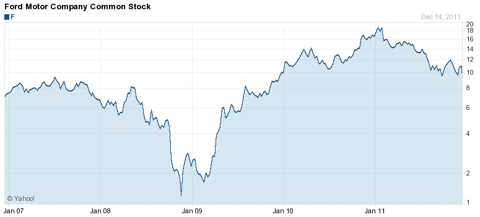 The more I think about the logic that feebly supports the notion that F could double in 2012, the more I want to kick myself for buying into it.
I own a couple of different out-of-the-money call options on F. As this screenshot from one of my accounts shows, I'm taking a bath on both trades. While it's a relatively small amount of somewhat speculative money at play, I clearly should have bailed. Instead, I'm counting on a miracle to come through and keep these calls from withering away to worthlessness.
Click to enlarge

Click to enlarge
The more I think about being long F, the more I think about what a tenuous proposition it is to bank on large numbers of consumers plunking down for a major purchase admist an uncertain global economy that's likely to persist in 2012. A double! We'll be lucky to see Ford do much more than it has in 2011 - and that's come in respectably around sales estimates month after month.
As much as I want to believe in F as a company and investment, that alone does not form the basis for any more long plays other than the ill-advised one I have on now.
Bank of America (NYSE:BAC). When a company as mammoth as BofA sees its stock price drop so low, a mix of the too-big-to-fail guys and "value" investors come out of the woodwork proclaiming things like a double. Of course, when Warren Buffett makes headlines by taking some sort of a stake in the company, an even larger number of people turn over rocks, dial up their brokers and buy shares.
As I've tried to explain from time-to-time, you're not Warren Buffett, therefore you should refrain from not only trying to invest like him, but from attempting to replicate his moves. He, presumably, has a bigger bankroll than you. Plus, he can cut the types of deals that mediate his risk. You can't.
While I consider Ford quite a bit healthier than BofA, my hesitation to go long BAC runs along similar lines. In this environment, I don't want to be in most bank stocks, just like I don't want to be in the stock of most car companies. You can make the case that gobbling up shares of F and BAC will pay off in 3, 5, or 10 years. I can buy that and appreciate the risk-reward proposition, but to think you're looking at a double - or anything close - in 2012 will likely prove plain foolish.
Gap (GPS). In a recent Seeking Alpha article, Vatalyst provides the following rationale for its contention that shares of Gap "could double" next year:
With the holidays right around the corner, retail companies hope to see a sharp increase in profits. GPS is no different ...

With the holidays approaching, Black Friday is most talked shopping day of the year. With every company fighting for the same consumers, many retailers are reducing prices to attract buyers. Although this might cut into the company's profit margin by reducing prices, ultimately the added sales will boost the company's bottom line. In the long run, GPS should benefit from the holiday shopping and continue an upward trend, doubling the company's stock price.
In all seriousness, you could pretty much take any retailer's name, put it in the place of GPS and make the same flimsy case. The holidays are coming. People like to shop. Black Friday is huge. There will be sales. GPS could double. I'm afraid I cannot hang my hat on that.
Instead, I'll look to how investors hammered Best Buy (NYSE:BBY) after it increased sales, year-over-year, but saw its profits get squeezed thanks to the discounts that, for some reason, Vatalyst sees as a boost to Gap's bottom line. Gap does not have a Ford- or Domino's (NYSE:DPZ)-like turnaround written all over it. In fact, some investors don't see the company's CEO making it through 2012.
While I certainly would not chide long-term investors for taking a chance on F, BAC or GPS, I don't think it serves any purpose to suggest that any of them "could double" in 2012. Of course, it makes sense to buy some stocks when they look stagnate, beaten down or like a value, but it makes little sense to set up unrealistic expectations about their near- to mid-term returns.
Disclosure: I am long F.