Sirius XM (NASDAQ:SIRI) popped Thursday morning on news that its top talent, Howard Stern, signed with NBC to be a judge on the network's hit show, America's Got Talent. SIRI's pop, however, was followed by a drop, which tends to happen quite often, as free publicity and the rumor mill fuel its frustrating gyrations.
Historically, radio stations do very little to market their programming. They tend to rely on relatively cheap promotional gimmicks and, even more so, free publicity. The debt companies like Clear Channel (CCMO.PK) manage to run up serves as a testament to just how expensive it is to (poorly) run terrestrial radio stations, even on bare-bones budgets. While the days of "turkey drops" are, sadly, long-gone, radio, including Sirius XM satellite radio, continues to bank on free publicity to get the word out.
NBC Acts Out The Vision Sirius XM Lacks
While the rumor was that NBC would pay Stern between $15 and $20 million, Stern, himself, half-jokingly implied that the actual price tag goes higher. In any event, it's a boatload of money and NBC will move production of the show from Los Angeles to New York City to suit Stern's schedule and lifestyle.
Interestingly, America's Got Talent dominates several key sub-demos within the all-important 18-49 year old demographic. I argue that Sirius XM fails to maximize its investment in Stern by rendering him virtually obscure to the very 18-49 year old audience he dominated on rock radio. The company places Stern in the vacuum of a service that, naturally, skews old just like AM news/talk radio. No matter how many NHL All-Star Game promotions you buy time on or how hard you (don't even) try, you're simply not going to bring large numbers of 18-34 year olds to satellite radio through osmosis or word-of-mouth. AM Radio was never able to do it. And, with the added barrier of a subscription fee, Sirius XM certainly will never be able to do it.
It should concern Sirius XM investors that NBC has the foresight to further drive its 18-49 numbers by signing Stern, but that Sirius XM fails to act, in any meaningful way, to expose Stern to that demo. That's akin to signing Sidney Crosby, paying him $100 million a year and making him a stay-at-home defenseman.
Sirius XM needs to put Howard Stern in the position where not only he, but the company and, in turn, its shareholders can best succeed. Success equals getting as many people as possible to pay to listen to Stern's show. No matter how powerful the talent, making the jump from mostly rock radio, where 18-34/49 year olds live, to 35-64 year old-skewing satellite radio results in a mass exodus.
While my idea of an acquisition of, or partnership with, Pandora (NYSE:P) might not be the answer, it makes complete sense for Sirius XM to think along the same lines Clear Channel and Cumulus (NASDAQ:CMLS) thought along when they teamed up to offer the latter's stations on the former's iHeart Radio application. NBC made the right move by unleashing Howard Stern on its 18-34/49 year old target market. Now, with the iron hot, it's time for Sirius XM to initiate a similar type of strike.
What Does It Mean For The Stock
At Seeking Alpha, we mainly care about what news like this means for a company's stock. As usual, it means very little for SIRI. It's just another dead-cat bounce. Just another short-term trade.
On December 7, 2010, Stern, in the excellent, albeit transparent, theatrics he is known for, blasted Sirius XM during contract negotiations, noting that he would not "take a f---ing pay cut." The stock closed at $1.36 that day and $1.32 the next.
Then, on December 9, 2010, Stern re-signed with Sirius XM for five more years. The stock traded as high as $1.44 on the 9th, closing at $1.39 that day.
Something very similar happened as renewed speculation took hold that Liberty Media (NASDAQ:LMCA) would increase its stake or acquire Sirius XM. Around the time the rumors intensified, the stock bounced, as shown via Yahoo Finance's price history, and quickly retreated back to a level not all that far from where it started:
Click to enlarge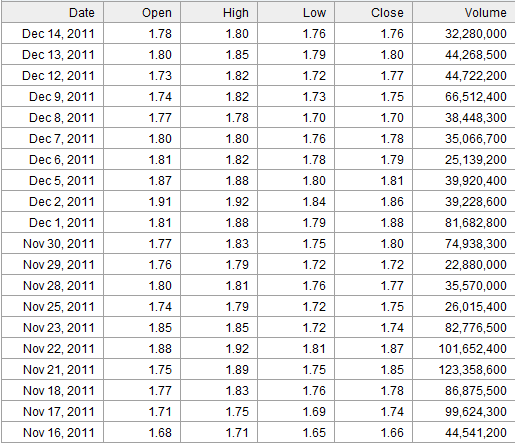 Something similar happened today on the America's Got Talent news, as evidenced in SIRI's intraday chart: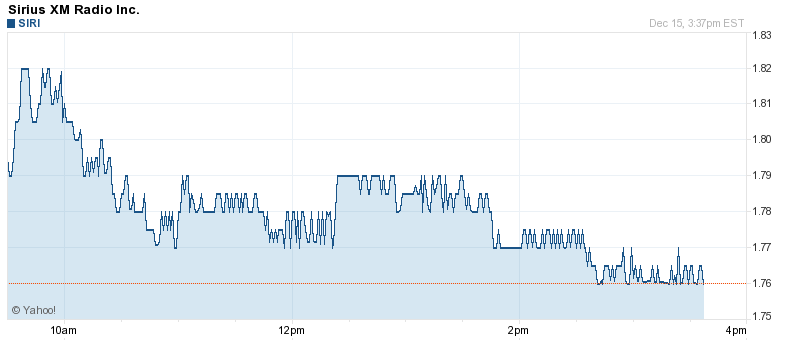 Needless to say, if you bought at over $2.00 or so, SIRI probably frustrates you quite a bit. Ever since closing my long position in mid-July, I've expected SIRI to stagnate or decline. Other than a dead cat bounce here or there, it has done both of those things.
Near-term, it will continue to do just that unless Sirius XM CEO Mel Karmazin can pull a rabbit out of his hat and meet or beat fourth quarter subscriber guidance. Even if he does, I don't think the stock will sustain the bounce it's likely to receive on such news. SIRI will not be able to continue what was once a trend of upward appreciation until it shows investors that it has a long-term strategic vision worthy of competition in the aggressive and innovative new media/audio entertainment space and more formidable revenue/EPS growth.
Disclosure: I am long P.