Disclosure Insight, the outlet that broke the latest alleged Netflix (NASDAQ:NFLX)/SEC story, suggests in a Tweet that it's not rumor or speculation. They consider it fact that the SEC is indeed investigating Netflix:

In fairness to Netflix, the letter Disclosure Insight refers to does not go quite that far. You can read it for yourself at Zero Hedge's website. All you can cleanly and objectively conclude from that letter is that there might be or might have been some type of investigation. A letter printed "on govt letterhead" does not change the meaning of the language the Branch Chief of the SEC's Office of FOIA (Freedom of Information Act) Services used.
I think it's important to make that clear.
With that said, thanks to Netfix's "no comment" on the issue, all we can do is speculate as to the reason(s) why the SEC might be looking into the company:

With the company mum, I use this article to consider plausible areas of concern for the SEC.
Churn. For whatever reason, Stephen E. F. Brown's report from September that the SEC was not happy with how Netflix reports - and chooses not to report - subscriber metrics, specifically churn, flew under the radar. (For a time, early Thursday morning, the link to that story appears dead. I can only assume it's a coincidence). You can read my summary of that back and forth between Netflix and the SEC here. The existence of this seemingly legitimate story leads me to believe that it could be the subject of the alleged undisclosed investigation.
Footnote 9. If you read Netflix's quarterly reports, you probably pay close attention to footnote 9. It's so important to any discussion involving Netflix that I include the entire section on Streaming Content from Q3's footnote 9, Commitments and Contingencies:
Click to enlarge

Footnote 9 has sat at the heart of my Netflix bear case since the beginning of 2011.
Not only does it clearly lead you to the conclusion that Netflix employs a broken business model, it makes it incredibly difficult for analysts and investors to make sense of the company's expenses.
Consider the roughly $2.1 billion in streaming content obligations that come "due after one year and through three years." That's incredibly imprecise. We have no idea when each chunk of that $2.1 billion will hit. Netflix provides no color as to when those expenses will touch down, other than through the broad regular guidance it issues.
To be fair, Netflix does not know, upon signing a contract, exactly how these expenses will shake out. Quite a bit surely depends on when a programmer or studio makes a television show or movie available to Netflix. That said, I would be shocked if Netflix does not have more visibility on the timing than it reports.
Bottom line, Netflix needs to play its costs close to the vest, on one hand, for competitive reasons. On the other, however, it's legiitmate to ask just how close is too close with regard to the company's obligation to provide the public with clear insight into the future of its business.
This issue presents a bit like the one about churn. Netflix, apparently, expressed its strategic reasons to the SEC as to why it reports subscriber metrics as it does. According to Stephen Brown's report from September, the agency was not happy with Netflix's response. While all companies deserve wiggle room on what and how they choose to report statistics germane to their businesses, it's logical to conclude that the SEC could have similar questions for Netflix regarding off-balance sheet obligations as it does churn. With churn, the SEC seems to think the public needs to know more than Netflix discloses. I would not be surprised if they feel the same way about content debt.
Reed Hastings Vs. Whitney Tilson. Any time you go public, like Netflix CEO Reed Hastings did on Seeking Alpha in December 2010, about the trajectory of your company's stock, you open yourself up to regulatory scrutiny. By now, Hastings telling Tilson to cover his short has become the stuff of legend.
Fellow Seeking Alpha contributor Slim Shady summed things up quite nicely in a late October "letter" he penned to Tilson: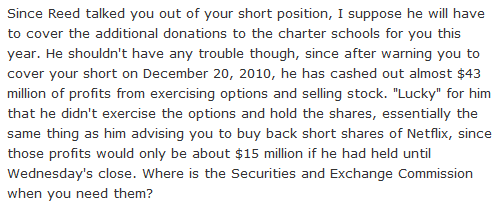 Well, Slim, we might have our answer.
The "Temporary Removal" Of Starz Movies. I'm not sure if this qualifies as plausible deniability or playing dumb, but, often, it's the Netflix way. When Starz (LSTZA) removed Sony (NYSE:SNE) movies from Netflix streaming in June, the company took to its blog calling the move "temporary."
It was clear from a mile away that there was more to the story. In fact, within days of Netflix's take on the situation, others chimed in with the rest of the story. Here's the play-by-play I posted of the dust settling on Seeking Alpha: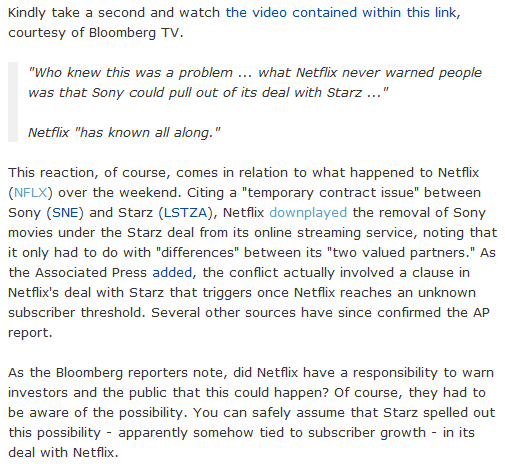 While it's important to review the Bloomberg video and AP story I refer to in that article, it's equally important to pay attention to what I bring up next:
Have a look at the "Risk Factors" Netflix lists in its most recent annual report. I hope that, from this moment on, I am never again accused of not being fair to Netflix, despite my bearishness on the stock and concerns over transparency, accounting and corporate governance at the company. Netflix clearly states risk that obviously associates itself with the loss of the Sony streaming films.

Click to enlarge

Here's the key portion of that excerpt (although I encourage you to read the entire paragraph as well as all of the risk factors listed in the official filing):

As such, we are completely dependent on the studio or other content distributor to license us content in order to access and stream content. Many of the licenses provide for the studios or other content distributor to withdraw content from our service relatively quickly. Because of these provisions as well as other actions we may take, content available through our service can be withdrawn on short notice (emphasis added).
It appears that Netflix does cover itself in official SEC documents for instances, such as Starz pulling Sony movies from its service. That said, its public reaction to the news, calling it a "temporary removal," could have raised the eyebrows of the SEC.
Does burying that warning in the risk factors section of an annual report meet the company's obligation to properly inform investors about material events, particularly when the far-more public stance was that this was nothing more than a "temporary" issue?
Again, I would shocked if somehow Netflix did not know about the trigger clause the AP reported. The company's use of the word "temporary" begs skepticism, primarily because Starz ended up pulling the plug all together, announcing the news in not-so-flattering fashion on September 1st:
This news just broke at 4:40 p.m., Eastern Time, Wednesday. Starz Entertainment will no longer discuss contract renewal with Netflix. Once the current agreement between the two companies ends on February 28, 2012, it's all over. Netflix will no longer be able to stream Liberty Starz content. Here's the rationale from the LSTZA press release:

This decision is a result of our strategy to protect the premium nature of our brand by preserving the appropriate pricing and packaging of our exclusive and highly valuable content. With our current studio rights and growing original programming presence, the network is in an excellent position to evaluate new opportunities and expand its overall business.
In the present article, I detail just four possible reasons why the SEC may be investigating Netflix. The company opens itself up to this speculation by offering yet another "no comment" to a sensitive issue.
In the SEC's letter to Disclosure Insight, it notes that the watchdog requested information on "any investigation related to Netlfix, Inc., since November 2010." While this does not mean that the investigation, assuming there even is one, started at that space in time, it raises the curious question as to why former Netflix CFO Barry McCarthy chose to step down in December 2010.
The company line, relayed by Hastings in his Seeking Alpha letter to Tilson, was that McCarthy knew he would never be CEO at Netflix, therefore he wanted to be free to explore bigger opportunities. Interestingly, McCarthy, to my knowledge, does not hold a CEO role. Rather, he is a partner at Technology Crossover Ventures, the firm that recently invested $200M in Netflix.
Shortly after McCarthy left Netflix, it's VP of Investor Relations, Deborah Crawford, resigned. This news came, quietly, in April 2010. While the departures of McCarthy and Crawford might just be examples of the normal turnover that happens within high-level management teams, the timing, without much clarification from Netflix, prompts the question of whether or not they could be associated with a possible SEC inquiry.
Without much of a public statement on the issue, yet again, we're left to wonder about what's really going on. While whatever the SEC might be looking into could be small potatoes, something tells me that this does not end well for Netflix.
Disclosure: I am short NFLX.
Additional disclosure: I am long NFLX June 2012 $40 put options.