In today's psychotic market, we continue to believe there are ways to still find value and make a little money. Research In Motion (RIMM) has been disappointing the street for months on end and Thursday's latest earnings were no different. While revenues came in at $5.2 billion and were up 24% from the previous quarter, it appears that forward estimates have investors concerned. Revenue estimates for the fourth quarter are now expected to come in at $4.6-$4.9 billion with earnings expected to be in the range of $0.80-$0.95. Their cash position increased $87 million to $1.5 billion during the quarter.
In light of the lowered guidance, we expect analysts' estimates to come down further in the days ahead. Trying to pick a bottom on a stock that is as wounded as RIMM is can be treacherous to say the least. So the real question for investors is at what level does RIMM become an overwhelming value proposition? At one point earlier this year, $25 appears to be a good value, then most recently we saw $20. Even this week the stock looked cheap at $15 but now it is anybodies guess.
Many people have argued the case for RIMM's patent portfolio as making them a viable target for a takeover. We would not begin to try and put a price tag on those assets and will leave that for others to decide but feel they are worth something.
The $64,000 question seems to be whether or not RIMM will be around twelve months from now. Looking at the chart, it is easy to see the fear that exists.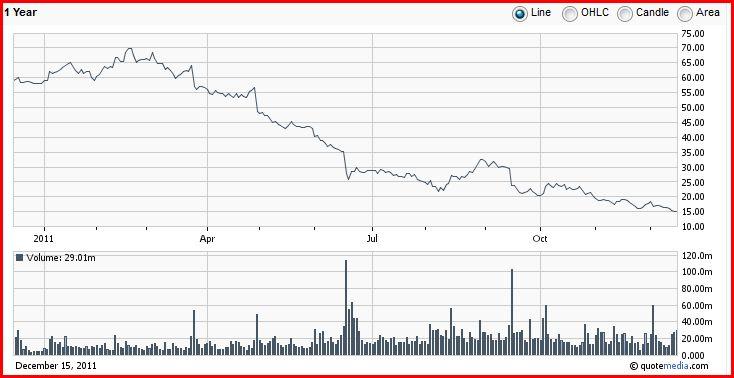 Click to enlarge
We have successfully used the covered call strategy quite often to help get us in a position at cheaper prices and feel now may be the time to try and buy RIMM on the cheap. The volatility in the stock has made the premiums on the options quite expensive and by buying the stock and selling a call, we can take advantage of that premium.
Our suggestion is to consider buying the stock at current levels and selling a $13 or $14 February call against your position. For every 100 shares you buy, sell 1 option against your position. By using this strategy, investors can get in the stock around $12 or so and have a 8-12% return upside by mid February.
Owning RIMM at these depressed levels and using the covered call strategy makes for what we believe to be a compelling risk/reward strategy.
Disclosure: I have no positions in any stocks mentioned, and no plans to initiate any positions within the next 72 hours.