Thursday NBC announced that Howard Stern would be replacing Piers Morgan as a judge on the hit show "America's Got Talent."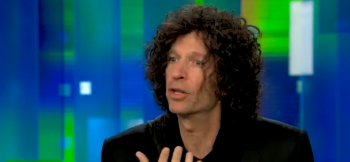 The announcement was made by Paul Telegdy, President, Alternative and Late Night Programming, NBC.

"Howard Stern's larger-than-life personality will bring a thrilling new dynamic to 'America's Got Talent' starting this summer," said Telegdy. "He's a proven innovator and his track record in broadcasting is truly remarkable. Howard is very passionate about this show and is fully committed to its future success."
At first glance, investors might think that this is bad news for Sirius XM Radio (NASDAQ:SIRI) since Howard has his live radio show in New York. But it will actually have the reverse effect and make Sirius XM a household name. According to an article in Reuters Thursday:
Wall Street is already betting this is going to benefit the shock jock's satellite radio home, SiriusXM Radio. Stern, who will replace the less potty mouthed Piers Morgan, will raise the profile of his radio show and drive new subscribers, at least one analyst said on Thursday.

"We see this as a positive for Sirius, holding potential for free on air-promotion, positive for awareness and sub growth, depending on how the TV show fares," said Lazard analyst Barton Crockett in a research note.
And this will also be very positive for NBC. "Talent", which has only been shown during the slower summer months, may become more than that now that the popular Stern will be a star of the show. According to a Washington Post article Thursday by Lisa de Moraes, the show is destined to become a year round hit with an investment in Stern rumored to be as high as $20 million. Already, America's Got Talent is the most watched summer show on any network:
"Talent" is NBC's most-watched series, and the most watched show of the summer on any network, clocking 14.3 million viewers on Tuesday nights last summer and 13.3 million on Wednesdays, both series highs for the show.
According to NBC the show is so excited to have Stern that they are moving the entire production from the West Coast to New York City, so it will not interfere with his Sirius XM Radio show. So why would NBC invest that much money in salary and production changes for a radio host? According to Stern he has "between 5 and 6 million" listeners. A lot of these loyal fans will be tuning in to NBC twice a week to see their "idol". And a lot of "non-believers" will be watching the show out of pure curiosity. MTV quoted the outspoken Stern:
"I'm going to be Piers [Morgan] on steroids," Stern promised, in reference to the former lead judge. "It's going to be a no-nonsense judge ... I'm going to go there as a serious judge ... It's gonna be something else ... I am very excited."
He went on to say that this is one of his favorite shows, and that things on the show are going to change drastically. No doubt! This is exciting news for Sirius XM which closed up Thursday, and ended at $1.81 during extended hours.
Disclosure: I am long SIRI.