Before I jump into the fundamentals of the most visited department stores, I went ahead and asked 17 females at various age groups and income levels to see which retailers out of the following list were their favorite ahead of the busiest holiday shopping season. Unequivocally, a larger poll number would yield accurate results, but I didn't want to spend too much time and quickly did a survey of random people I knew. I merely wanted to gauge what women look for when shopping at stores on a Black Friday or ahead of Chrismas and why they keep going back to a particular retailer repeatedly. Contrasting which department stores women favor with those companies that have been able to grow their earnings, was essentially my ultimate goal.
The results were that Saks Inc. (NYSE:SKS) and Nordstrom Inc. (NYSE:JWN) were definitely favored over Macy's Inc. (NYSE:M) and J.C. Penney Company Inc. (NYSE:JCP) by higher tax bracket females. Women with lower incomes picked Sears Holdings Corp. (NASDAQ:SHLD) and J.C. Penney (JCP) over Dillards, Inc. (NYSE:DDS) and Kohl's Corp (NYSE:KSS). Now let us dig deeper into the fundamentals of each company by highlighting their current financial viability.
click to enlarge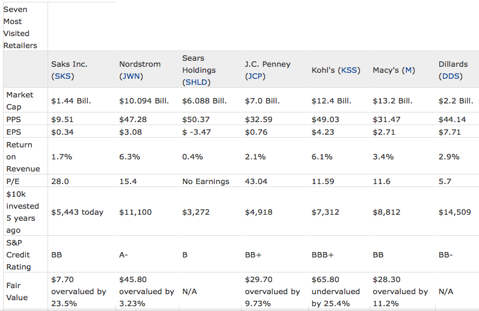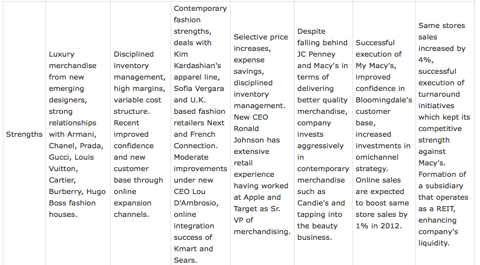 From a financial standpoint, Dillard's should have been the favored store as it gained 45% over the course of 5 years, turning $10,000 investments into $14,509. As much as women are attracted to Sears, most of them don't know that the store will not have positive earnings for quite some time. And who would have thought that Kohl's is just as financially viable as Nordstrom? (in terms of generated return on its revenue and an investment grade credit rating).
Clearly, when women shop at stores, they might be drawn to a particular item that is in season or result of a new clothing line deal with a certain celebrity, but they have no idea that the store could be barely meeting its minimum short term debt obligations and become a target for a possible takeover.
Disclosure: I have no positions in any stocks mentioned, but may initiate a long position in M over the next 72 hours.