Zynga (NASDAQ:ZNGA) is another important IPO in the social networking space. In the case of Zynga it's all about games and they are the undisputed leader in this segment. Their revenues have grown quickly to reach a $1B+ run rate and they have started to turn a profit. Their success is closely associated with Facebook since they have built their business on top of that platform. Without FB there would be no Zynga. The $10 price is at the top of the range but is attractive. The newness of the space suggest that our IV will be a work in progress more than usual on Zynga but the assumptions used are fairly conservative. It certainly looks much more attractive than Groupon.
Positives, Neutrals and Negatives
+ Social gaming has become an online phenomenon and Zynga is by far the leading player in the US. Popular titles include FarmVille, CityVille and Words With Friends, which is a social version of Scrabble.

+ Mobile platforms are becoming primary driver and access point for social games, which adds an additional positive aspect to the story and investment case.

+ Growth has been remarkable and the company is generating operating profit. Revenues are growing 100% YoY and will exceed $1B for 2011. Operating profits have reached 18-21% and they have room for further expansion.

+ Zynga has processing capacity, data collection, analysis and the optimization mechanisms needed for a large online consumer focused business. This can seem simple but is hard to do at scale.

+ The company has substantial room to expand given their pipeline of new games, international expansion, more mobile gaming and additional social networking platforms.

+ Zynga has been around long enough to demonstrate some persistent returns in existing games since they can be regularly updated and promoted with special content.

+ Valuation at the proposed pricing range is attractive given our $25 intrinsic value estimate.
= TheCEOholdssuper-votingstock,whichisoftenseenasbadforpublicmarketinvestorsbutitmayalso allow the company to manage more for the long term.

= Zyngahasthrivedwiththetakeupofso-calledcasualgaminglinkedtosocialnetworksandmobileplat- forms. This has been a major trend but casual gamers, by their very nature may be less persistent players over time than traditional "serious" gamers.
− There is a growing concern that social and mobile applications have just gone through a "1.0" phase and may enter a period of cooling growth as early users become less enthusiastic and more compelling offer- ings are required to attract the next group of users.

− The management style of the CEO and the company culture have been criticized as being hyper aggressive and uncompromising. However so far it has delivered strong results. Investors will be watching closely to see if management turnover accelerates after the IPO lockup agreement expires.

− Zynga relies heavily on the Facebook platform, virtual goods and nascent advertising revenues. It's possi- ble for any of these to be at risk from changes in the market. It's not quite a castle built on sand but the foundation is far from concrete and stone.
Valuation
It's much easier to build a valuation model for Zynga based on their current financials and substantial pro-forma cash position than it was for Groupon. Zynga has proven they can ramp revenues quickly and their margins are attractive. Although revenues grow to nearly $5B over our analysis period it should be noted that the growth rates are not outlandish and the company benefits from low-friction in generating new customers and revenue.
click to enlarge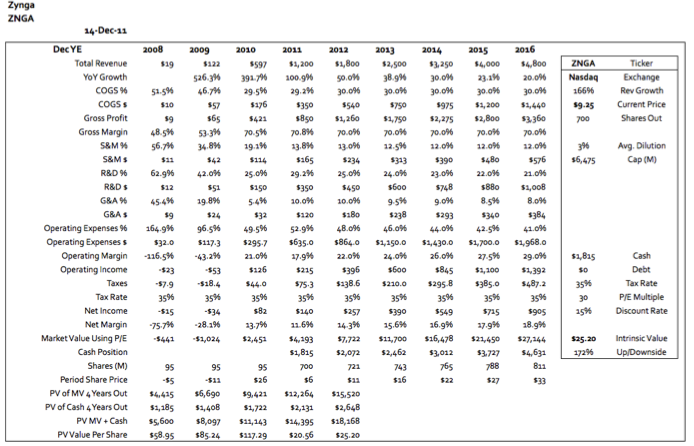 Click to enlarge
[For comparison purposes the Groupon IV and peer valuation table from their IPO preview is attached below.]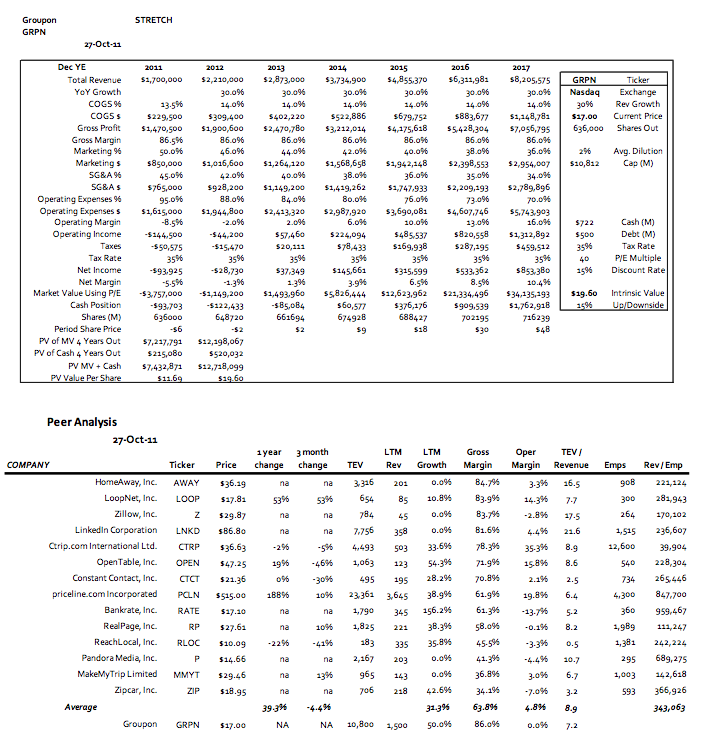 Click to enlarge
Disclosure: I have no positions in any stocks mentioned, and no plans to initiate any positions within the next 72 hours.