My fingers are on fire from debating this topic in the comment section of my original article.
The dialogue has been very helpful for me personally as it has solidified my beliefs even more. Two commenters in particular that I have been having a dialogue with are also contributors to this site. They have been instrumental in educating readers of the power of dividend growth investing. In fact, I would argue that the Seeking Alpha community owes them a debt of gratitude for their work on the subject. I have learned from them and been made to think.
The debate from my original article got me to think harder about this topic. Many commenters on the article have stated that dividends are better in the end, and that share buybacks are wasted money. Taking that statement as a blanket truth hasn't sat well with me. I went on a fact-finding mission to prove that not all buybacks create bad performance. I think I have found the answer I was looking for.
Before we get into the facts, though, I do want to recommend the Dividend Growth strategy as a superior strategy compared to index investing. David Fish, one of the main proponents of this wonderful strategy, is co-manager of a highly rated fund that has a focus on investing in stocks that have dividend re-investment plans. I gather from reading his comments that he prefers companies with growing dividend streams, and prefers to re-invest these dividends. I am not certain of the funds selection process, but dividend re-investment seems to be the core magic.
Now for the test...
On May 3, 1999, the DRIPX fund had a value of $10.57 per share
On December 5, 2011, the DRIPX fund had a value of $12.04 per share
Total return of DRIPX (not including dividends from the fund) = 13.90%
Total return of the S&P 500 (not including dividends) = (-7.20%)
The DRIPX fund since 1999 has beaten the S&P 500 by over 20%! This proves in my opinion that dividend growth has merit, and that dividend re-investing can be better than passive index investing. To be fair to index investing fans, this chart does not include dividends being reinvested for the S&P 500, which would put the returns of the index much closer to the DRIP strategy, but they would still lag.
To go a bit further, DRIPX is tracking almost exactly to the Powershares Dividend Achievers Index (NASDAQ:PFM) as can be seen below:
PFM seeks investment results that generally correspond (before fees and expenses) to the price and yield of the Broad Dividend Achievers Index. The fund generally invests at least 80% of total assets in common stocks of companies that have raised their annual regular cash dividend payments for at least each of the last ten fiscal years. It generally will invest at least 90% of total assets in dividend-paying common stocks that comprise the underlying index. The index was composed of stocks of approximately 190 companies. In essence, a poster child for a dividend growth index.
The DRIPX fund is similar in performance over the past 6 years to the Broad Dividend Achievers Index. The correlation would argue that both DRIPX and the Dividend Achievers Index are shooting for the same strategy: find dividend paying stocks that have grown their dividends over long periods of time.
WIth that in mind, I went and used the Indxis.com back-testing model to see how the Broad Dividend Achiever Index would have done going back to the beginning of 1999 compared to the S&P 500. This is the result: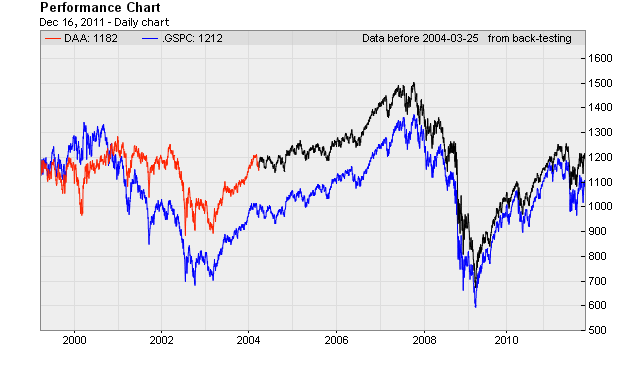 Keep in mind that the red line is back-tested numbers for the Index, whereas the black line is actual data. Back-testing has problems, but this gives us an insight into the potential returns one could have made with a Dividend Growth Strategy.
On May 3, 1999, the Dividend Achievers TM Index stood at 1175.05
On December 5, 2011, the Dividend Achievers TM Index stood at 1207.58
Total return of the index = 2.76%
The Dividend Achievers TM Index did 10.66% better than the S&P 500 in a bit over 12 years!
Who is going to argue that investing for dividends is not a good strategy? Not me.
In fact, this would argue that an actively-managed Dividend Growth Strategy can give better returns than the index itself as DRIPX has proven for the better part of 12 years. DRIPX outperformed the index by 3.24%, and this number does not include re-invested dividends.
But this is not what my original article was attempting to prove. I knew that buying dividend stocks has a much better long-term track record than buying stocks that don't pay a dividend. I want to now know if buying stocks that pay dividends are better than buying stocks that do share buybacks instead.
The debate I'm engaged in is with dividend growth proponents who are telling me that cash should be paid out to the owners of the stock. It is their cash, they scream, and they know what to do with it better than management! It was also argued that when managements do buybacks, they destroy shareholder value with their ill-timed purchases, and only do them to in order to line their own pockets.
I have heard this time and again, but have never seen actual proof. It sounds like a feasible statement on the surface, but as you will see in a moment, the data shows otherwise.
Using Inxis.com again, the Buyback Achievers Index crushes any Dividend Growth Strategy one might want to implement during the test period.
On May 3, 1999, the Buyback Achievers Index stood at 1901.74
On December 5, 2011, the Dividend Achievers Index stood at 4991.40
Total return of the index = 162.46%!!!!!!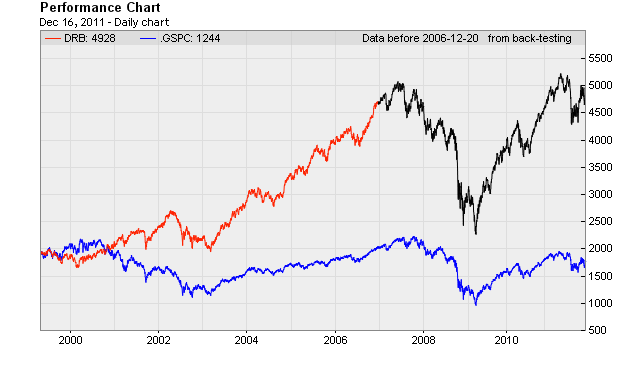 Again, I realize this includes back-tested data, which might include data that is not clean or accurate.
So the question that must be asked is this, how has the method done in real time? Per Indxis.com, the Buyback Achievers Index began live tracking on December 21, 2006.
Index Value on December 21, 2006 = 4668.49
Total return from Buyback Achievers TM Index since going live = 6.93%.
How have the Dividend growth strategies done during this time?
DRIPX has proven to be a better long-term option than the Dividend Achievers Index, so I will use that fund for the first comparison.
DRIPX closing value on December 21, 2006 = $13.71
DRIPX closing value of December 5, 2011 = $12.07
Total return from DRIPX during testing period = (-11.9%)
That is a HUGE difference. Buying an index of stocks that are buying back their shares made an investor 18.83% more money over the past 5 years.
Using the back test results going back to 1999, investing in companies that are buying back shares hypothetically would have given an investor returns that were 148.56% better compared to buying a well managed dividend growth fund like DRIPX.
If you had put $100,000 into the Buyback Index, you would have $262,460 today.
If you had put $100,000 into a Dividend Growth Fund like DRIPX, today you would have $113,900.
If you had put $100,000 into the S&P 500, today you would have $92,800.
(DRIPX and S&P 500 examples do not take into consideration dividend payouts from the investment)
It goes without saying Dividend Growth has been much better than buying a stock index. But Buyback Investing has crushed them both.
PowerShares Buyback Achievers (NASDAQ:PKW) is an ETF that tracks this index. Since it began trading, the buyback strategy has done better than DRIPX and the S&P 500: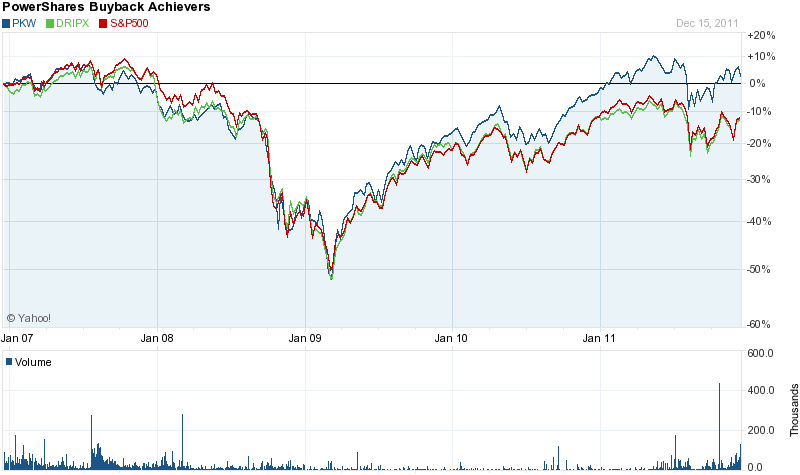 In conclusion, I would argue that the calls for paying out dividends instead of corporate buybacks, because management purchases are usually ill-timed, is rooted more in conjecture than fact based on these results.
Disclosure: I am long many stocks that pay dividends and buy back shares.