Since its late-June launch, the demand for LeapFrog Enterprise's (NYSE:LF) LeapPad Explorer (LeapPad), a new tablet for kids, has been impressive, to put it mildly. Two weeks post launch, the company announced the tablet had already sold out.
Back in August, John Barbour, LF's CEO, explained:
"July pre-order sales of LeapPad provided a good read on consumer demand, and we expect it to be a top-seller during the holidays."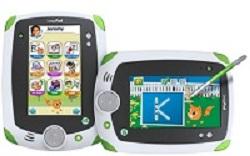 CONSISTENT DEMAND
Six months after its debut, the LeapPad remains in short supply. After the shelves have been restocked, buyers clean them out. Retailers have not been able to keep LF's tablet in stock for more than a day or so. In late November, for example, I got lucky and was able to pick up one of the LeapPad bundles - a gift for my niece – on the company's website. Just for fun, I made it a point to revisit the site one hour after I made the purchase. Guess what? They were sold out. I was stunned, but glad that I did not sit on my hands. Again, I got lucky. (See also: Five Tips for Finding LeapPad.)
A recent Times article points out that LeapPad supply constraints stem from consistent demand.
"[The] LeapFrog LeapPad Explorer … [is] sold out or hard to find in many parts of the country, but that is mainly because of consistent demand rather than growing waves of frenzied shoppers."
In their recent Q3 conference call, LF indicated that display makers cannot keep up with the pace of that demand.
With such demand, it certainly appears that kids are asking for the LeapPad by name. Presumably, when they started back to school this summer, some of their classmates already owned the tablet. And now they're asking Santa for one of their own. Money can't buy that kind of advertising.
Going forward, I think it's safe to say the LeapPad will be one of the key drivers of LF's revenue and earnings growth.
Timeline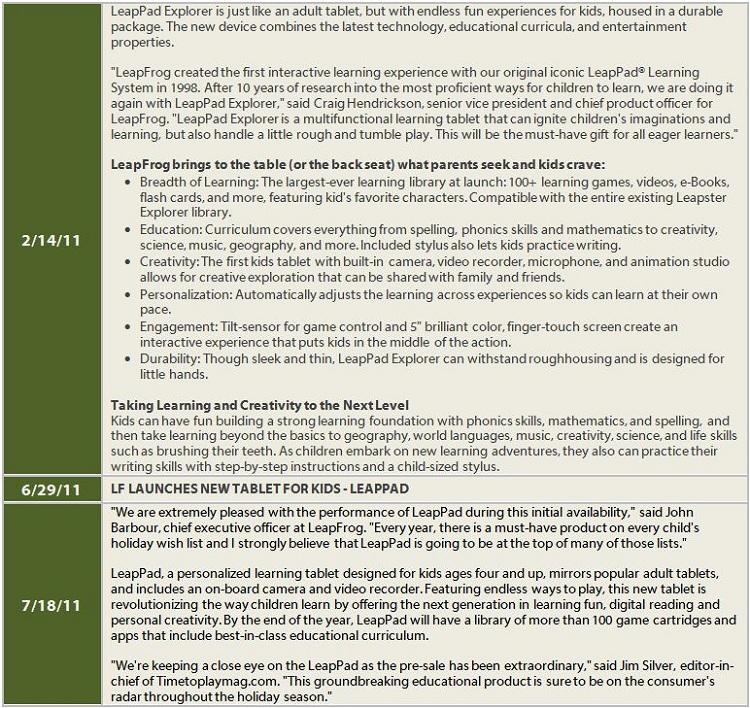 Source: LeapFrog
OPPORTUNITY
I believe there's a potentially good investment opportunity here. For this reason, I decided to draft this article. Try to hang with me. I'll keep it simple. Afterwards, I think you'll be glad that you heard me out.
#1 During the first three quarters of 2011, LF has reported revenues totaling $245 million.
#2 During Q3 2011, LF's revenues grew 9% from Q3 2010.
#3 During their recent Q3 report, LF upped their guidance. The company now expects Q4 revenue to come in somewhere between $190 and $200 million. In the Q3 report, Mark Etnyre, LF's CFO explained:
"For the full year 2011, we now expect net sales to be in the range of $435 million to $445 million, an increase of 1% to 3% compared to the prior year …"
#4 In 2010, the company reported sales of $190 million during the fourth quarter; annual sales totaled $433 million. Last year, strong demand for the Leapster Explorer fueled sales growth, and the company closed out the year in the black. Refer to the Sales and EPS charts, infra.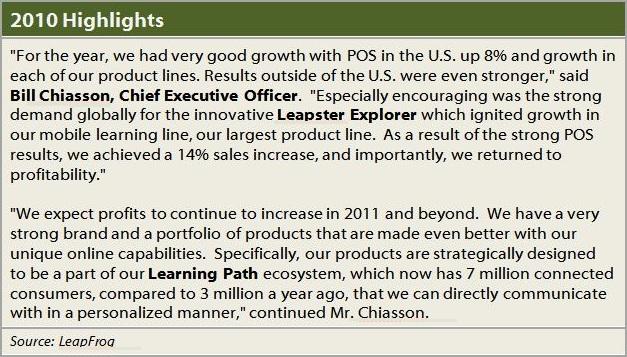 GREAT PRODUCTS IMPROVE LIVES
I have followed this company for a number of years. I first traded / invested in LF back in 2006. Over the past several years, I have also purchased a number of their products, including the TAG reader, for my niece and nephew. As I indicated, supra, I just purchased the LeapPad for my niece. But keep that on the D-L, it's a Christmas gift. Needless to say, I am very fond of the company and its products.
LF's key products and services include:
Industry analysts and other commentators also seem to share my sentiment on LF.
In a late-November AP report, Scott Hamann of KeyBanc Capital Markets explains:
"The toy sector is traditionally considered to be one of the most resilient during economic uncertainty. Parents and others are more likely to pull back on spending on themselves rather than skip buying toys for children. Even during 2008, the worst year for toy sales recently because of the financial crisis, toy sales slipped only 5 percent.

He believes … LeapFrog Enterprises (LF) should fare best among toy companies.

Hamann said the LeapPad has appeared on many lists of hot toys, and it's already becoming difficult to find the product. He expects demand for LeapPad to outstrip supply, boding well for 2012."
In 5 Stocks Under $10, Rick Aristotle Munarriz of Motley Fool also likes LF's prospects.
"LeapFrog is on a roll. It posted better than expected quarterly results earlier this month, as earnings growth of 46% flew past Wall Street's projections. It also raised its top- and bottom-line guidance for the entire fiscal year. It's the kind of momentum one loves to see heading into the holiday shopping season."
TOP SELLING TOYS 1960–2009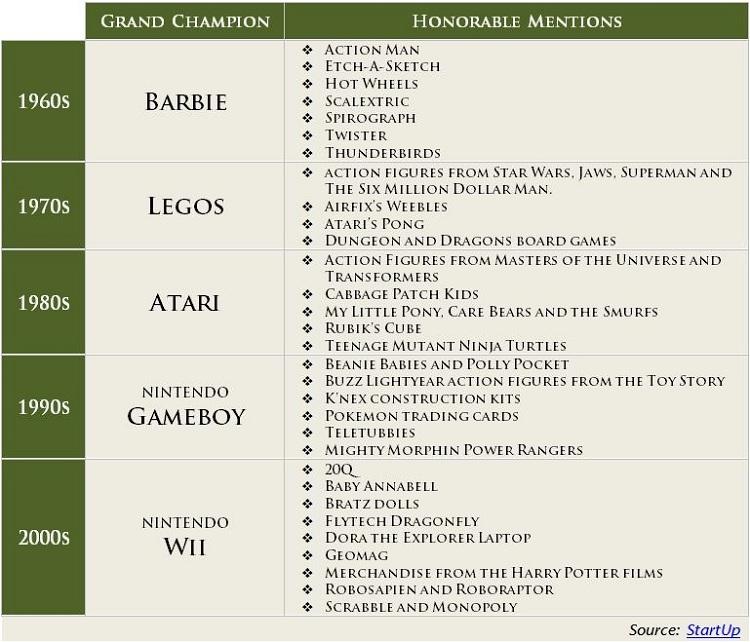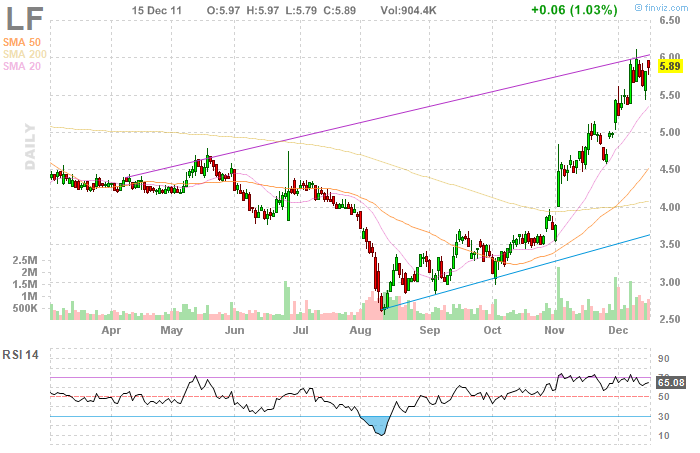 THE BOTTOM LINE
Given the strong demand for its products, namely LeapPad and Leapster, I think LF's sales and earnings are likely to surprise investors – to the upside. I believe LF sales are likely to come in somewhere between $210-$220 million in Q4 and $455-$465 million for the year, 2011.
Near-term, I think shares of LF could top out somewhere between $7.50 and $10.00.
Have some doubts? Buy just one share of LF. At the end of Q1 2012 (3/31/12), let me know how it worked out for you.
Disclosure: I am long LF.