Despite a current lack of production, one of the most exciting opportunities for growth in the global energy landscape over the next few years appears to be the east coast of Africa as some industry observers believe this area has similar properties to the pre-salt basins of offshore Brazil.
On November 28, 2011, Anadarko Petroleum Corp. (NYSE:APC) announced an increase in its estimate of recoverable natural gas resources from the four discoveries made in its Offshore Area 1 exploration block to between 15-30TCF, up from its original discovery estimate of 6 TCF. For reference, 30TCF of natural gas would be enough to meet an entire year's natural gas consumption of the United States. Anadaroko's CEO, Mr. James Hackett comment "this could be one of the most important natural-gas fields discovered in the last 10 years on a global basis." Anadarko is the Offshore Area 1 field operator, with a 36.5% economic interest, and is partnered with Cove Energy PLC (OTC:CNVGF) and Mitsui & Co. (OTCPK:MITSF), along with some local Mozambique entities.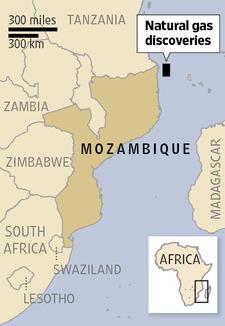 In addition, Eni SpA (NYSE:E) recently announced a 22.5TCF natural gas discovery off Mozambique's coast, which is the single largest exploration discovery in the company's history. These significant resource discoveries appear large enough in scale to justify the construction of a large liquefied-natural-gas (LNG) production train for the export of natural gas on a global basis. While Mozambique currently has one of the lowest GDP per capita ratios in Africa, the construction of a major LNG export facility could push the country into a top-tier global position in the natural gas market.
The global integrated oil producers have been active in West Africa, in countries like Angola and Nigeria (which produce approximately 4.2mm BoD of crude), but are now increasingly focusing on the deep water off Africa's eastern and southeastern coast.
Tullow Oil PLC (OTCPK:TUWLF) has a first mover advantage after finding massive reserves of oil in Uganda's Lake Albert rift basin; France's Total SA and China's CNOOC Ltd are also partners in this project. Total SA (NYSE:TOT) also just closed on a license to a significant heavy-oil field in Madagascar. After the success in Mozambique, offshore areas of Tanzania are now an area of focus for Exxon Mobil Corp. (NYSE:XOM), Statoil ASA (NYSE:STO) of Norway, and BG Group PLC (OTCQX:BRGYY).
For investors looking to gain exposure to East African offshore natural gas developments, Anadarko and Eni SpA appear to be the brightest prospects:
Anadarko Petroleum Corp - ($38.1bn market cap, 25.4x FY11 P/E, 0.5% div yield) Anadarko is an independent oil and natural gas exploration and production company with global operations. In the United States, Anadarko operates in Texas, the Rocky Mountain region, Alaska, and the Gulf of Mexico. Internationally, Anadarko has exploration and/or production operations in Africa, Asia, South America, and the Caribbean. Additional clarity on timing and CAPEX cost of the LNG facility in Mozambique will likely be a positive catalyst and provide an attractive entry point for investors currently on the side lines. In addition, Anadarko also benefits from an excellent growth trajectory over the next 18-24 months as core projects in Asia and the Gulf of Mexico come on-line for production and/or further prove-up reserves.
Eni SpA - ($81.8bn market cap, 7.3x FY11 P/E, 3.2% div yield) Eni SpA explores for and produces hydrocarbons in Italy, Africa, the North Sea, the Gulf of Mexico, Kazakhstan, and Australia. The Eni SpA both produces natural gas and imports it for sale in Italy and elsewhere in Europe. Eni SpA transports natural gas in pipelines, generates and trades electricity, refines oil, and operates gasoline service stations on a global basis. Eni SpA currently sports an excellent dividend yield and has adequate coverage ratios to ensure the sustainability of the dividend payments. The geopolitical malaise paralyzing southern Europe at this time makes it an extra attractive entry point for patient investors, especially due to the significant sub-Saharan African business ramp-up Eni SpA should benefit from over the next 12 months.