How the mighty have fallen! Over the last two years, long-term equity holders in Research in Motion (RIMM) have experienced an 80% decline in the value of their position. Let's put this drop into perspective: Below is a two-year chart comparing RIMM's performance versus the S&P 500 (NYSEARCA:SPY), Nasdaq (NASDAQ:QQQ), and the S&P Technology (NYSEARCA:XLK) indices: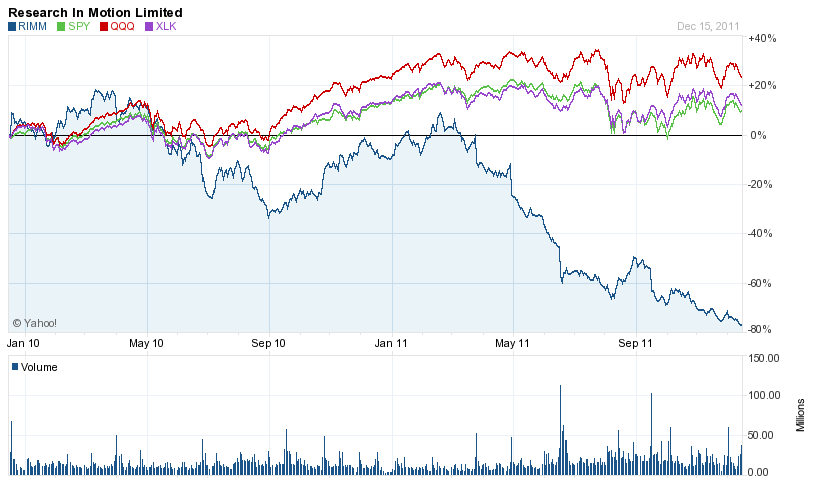 Now let's compare a 5-year performance chart comparing RIMM's performance to competitors Motorola (NYSE:MMI), Nokia (NYSE:NOK), LM Ericsson (NASDAQ:ERIC), Google (NASDAQ:GOOG) and Apple (NASDAQ:AAPL):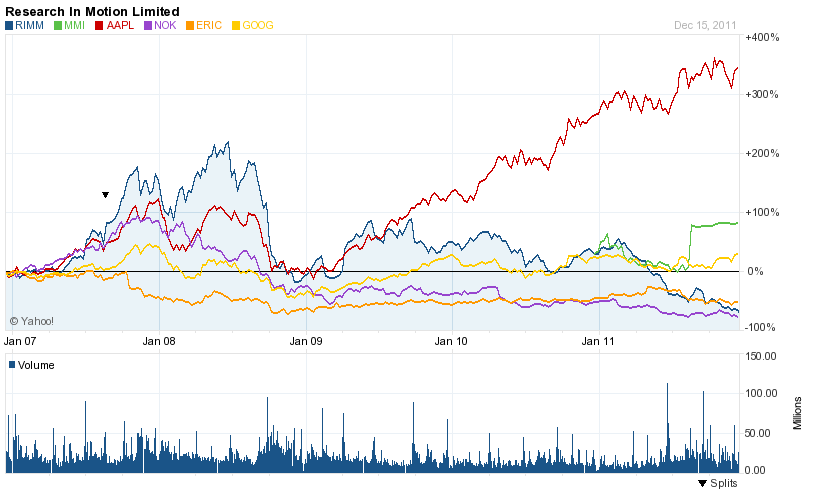 The chart seems to state that Research in Motion, Nokia, and Ericsson are on their death-march. I was previously quite bearish on the stock as it descended from $60 to $20 ... and now to $14.30 in after-hours trading Thursday. But around $15, I began to get constructive. Why? While the market focuses on its income statement, I focus on Research in Motion's balance sheet. There is an asset play here. Let's be clear -- the stock was not a steal at $30, but at $14.30, Research in Motion is a bargain, trading near its tangible asset value.
Stop and think about that for a second: Research in Motion is trading at its net assets on its books, half of which is cash and receivables. Questions about the earnings power are less relevant at this price- Research in Motion only needs to break even for you to have valuation protection. You get any upside in turnaround, brand value, and patent value for free. Sounds like a good deal to me. Research in Motion is an asset play, an intriguing opportunity for the long-term value investors.
Additionally, all of Research in Motion's valuation multiples signal the market's pessimism for Research in Motion's future prospects (source: Yahoo Finance):
| | |
| --- | --- |
| P/E (ttm) | 2.8 |
| P/E (FY1) | 3.9 |
| P/B | 0.8 |
| EV/EBITDA | 1.4 |
There are two potential explanations for these remarkable numbers: Research in Motion is either cheap any way you look at it, or a value trap.
From a risk/reward perspective, I believe Research in Motion's stock is currently cheap, with the potential to become absurdly cheap. Let's not sugarcoat it -- the competitive landscapes for BlackBerry products are bleak. Management at Research in Motion did not anticipate the recent market shifts. Research in Motion's management was outmaneuvered by Apple's iTunes and Google's Android market ecosystem, and its competition is intense, well-capitalized and innovative. Stipulated.
So let's take a step back and get to the numbers. I calculate we are nearing the price at which all of these stipulations are moot. I am talking about the liquidation value of RIM's shares -- the lowball price at which you sell the company's assets in a firesale. While few people believe that RIMM, despite its many challenges, will exit the cellphone business entirely, the liquidation value serves as an important valuation support level. I estimate RIM's breakup value to be roughly in the range of $11-$13 per share.
I know what you're thinking: Things must really be bleak for an equity guy to be looking at a balance sheet. Since the accepted wisdom is that RIM is in terminal decline, it is instructive to estimate how a distressed investor might value the shares. Here's the math -- I show the most recent as-reported Balance sheet, liquidation haircut (discount the item would fetch in a firesale), and the Liquidation Value of each asset item.
| | | | |
| --- | --- | --- | --- |
| Assets | As of February 2011 | Liquidation Haircut | Liquidation Value |
| Cash & Short-term investments | 2121 | 100% | 2121 |
| Receivables | 4508 | 95% | 4283 |
| Inventory | 618 | 50% | 309 |
| Other Current Assets | 241 | 80% | 193 |
| Long-term Investments | 577 | 95% | 548 |
| PP&E | 2504 | 80% | 2003 |
| Goodwill & Intangibles | 2306 | 0% | 0 |
| Total Assets | 12875 | | 9457 |
| Total Liabilities | 3937 | 100% | 3937 |
| Total Shareholder Equity | 8938 | | 5520 |
| Net Tangible Assets | 6632 | | 5520 |
| Per-Share Value | $12.75 | | $10.68 |
Figures in $ thousands.
These are my numbers, and you may have a different view on the liquidation haircut for the various items. In that case, adjust the haircut and recalculate. But the basic idea is that RIM's balance sheet has mostly cash and receivables, and, importantly, stories of RIM's demise are premature. RIM is a no-brainer buy at the $11-13/share level: You get all its future earnings (if any) and intangibles (brand value, patent portfolio, network) for free.
What's the value of this upside? That part is tough to quantify -- of course, much of the value depends on the successful launch of RIM's delayed products, a strategic buyer emerging, and so on. However, at the liquidation price, we don't need to know the future earnings with any precision -- I get any earnings for free, while my downside is capped.
But for those who care about earnings value versus asset value, note that Goldman Sach's analyst -- historical bears on Research in Motion -- estimates the sum-of-parts value for Research in motion at $18/share. Now, of course, if management engages in "bet the company" behavior, the per-share value above will be considerably lower. I see no signs that management intends to engage is, one, very expensive and, two, hard to predict R&D projects to turnaround the firm. Further, No analysts currently expect Research in Motion to have an operating loss in the upcoming years, an important assumption in my thesis.
One final note -- it's window dressing season, so institutions are unlikely to purchase volatile names two weeks before bonus time. The near-term lack of buyers -- and plentiful presence of motivated sellers -- could present a potential opportunity to purchase an attractive asset play at a good discount to its intrinsic worth.
Disclosure: I have no positions in any stocks mentioned, but may initiate a long position in RIMM over the next 72 hours.