As I presciently called the play-by-play of Research in Motion's (RIMM) collapse throughout 2011, I have been less shocked by the existence of RIMM bulls than dismayed at their outrage toward me and other bears. It's not about the sharp differences of opinion, often inane criticism or downright personal attacks. Rather, I simply cannot comprehend their misdirected anger.
Here, they have every reason in the world to spew outrage at RIM's co-CEO team of Jim Balsillie and Mike Lazaridis. Yet, as psych 101 teaches us, RIMM bulls filter, deflect, avoid and minimize in a never-ending battle with cognitive dissonance, if they even get that far. After RIM's FY12 Q3 conference call, however, I have to think RIM bulls will finally just move to manic outrage.
But, maybe not. It apparently did not bother the most ardent RIMM longs that the company sent investors on a wild goose chase with the way it handled quarterly and fiscal year guidance. Here's part of what I wrote about that for Seeking Alpha on June 17, 2011: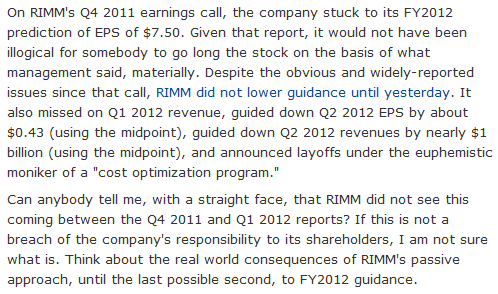 Here's a copy of the chart I included in that article, detailing RIM's numbers. Remember, this is from early June, the day after the company's Q1 FY12 earnings call:
| | | | |
| --- | --- | --- | --- |
| Period | Estimates (EPS/Rev) | Actual (EPS/Rev) | Guidance |
| Q112 | $1.32/$5.13B | $1.33/$4.91B | ----- |
| Q212 | $1.38/$5.44B | ----- | $0.75-1.05/$4.2-4.8B |
| FY12 | $6.24 | ----- | $5.25-6.00* |
*Company guides down FY2012 from earlier estimate of $7.50.
Fast forward to today, the day after the company's Q3 FY 12 earnings call, and it's not crazy to think that FY 12 consensus estimates could approach the $3.00 level. For what it's worth (and, at this point, that's not much), RIM sees Q4 at $0.80-$0.95 against soon-to-be-decimated $1.10 Capital IQ Consensus Estimate, according to Briefing.com's InPlay Plus service.
Here's the fundamental problem with RIM and poorly-run companies like it. Its CEOs can slap shareholders in the face with meaningless and wholly symbolic moves, such as cutting their salaries to $1 per year, but they're already rich beyond comprehension. According to Yahoo Finance, Balsillie and Lazaridis have each exercised $3.63 million worth of stock options. While that's chump change to their worthy peer, Netflix (NASDAQ:NFLX) CEO Reed Hastings, it still happened with the stock in freefall and longs getting fleeced.
And, through it all, Balsillie and Lazaridis hide behind the following boilerplate:

That's from the transcript of RIM's Q3 FY 12 conference call held yesterday. If you're a RIMM long, you have no recourse against the management team. The laws the regulatory agencies put in place are designed by people like them to protect people like them. If you stayed in a long position back in April or May because you gleaned confidence from RIM holding fast to FY 12 estimates, it's your own fault for listening to the people who are supposed to have a handle on their business.
So, yeah, take it out on me. I've only been telling you to buy puts since March 25, 2011: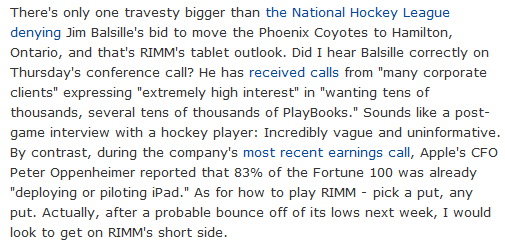 Speaking of that, it's probably a good thing that I forced myself to hold the $10,000 portfolio's 30 RIMM March 2012 $20 puts through earnings. I unloaded the entire position this morning at the bid price of $6.85. I picked them up for an average of $2.70 each. That's a profit of $12,450. Proceeds from the sale equal $20,550, enough for a portfolio double on its own.
It's a good thing I decided to unload my Apple (NASDAQ:AAPL) and Amazon (NASDAQ:AMZN) calls for small losses in my last update. While Apple has pretty much ridden a range, Amazon took a, not surprising, considerable beating. Exiting those two positions produced a cash balance of $4,720. Add the RIMM proceeds to that and the cash balance stands at $25,270.
Today, I am also exiting my position in 25 Netflix June 2012 $40 puts for a loss. I want to make it clear that I am not closing the trade because I lack conviction in it. In fact, in "real life," I own some of these very puts and intend to hold them. I am closing the position and going all cash because, most likely next week, I plan to introduce an entirely new strategy for the $10,000 portfolio.
First, the book work - I bought the NFLX puts for $3.85 each so I take a pretty sour $2,125 hit by unloading them at this morning's bid of $3.00. Proceeds from trade total $7,500. That puts the $10,000 portfolio all in cash at a whopping triple and then some - $32,770.
Throughout the life of this portfolio, I've made money by executing relatively aggressive options plays on AAPL, AMZN, NFLX and RIMM as well as a timely 24-hour turnaround short sale on Sirius XM (NASDAQ:SIRI). I lost relatively small amounts of money with long bets on Ford (NYSE:F), Best Buy (NYSE:BBY), Pandora (NYSE:P), Lululemon (NASDAQ:LULU) and deep-in-the-money SIRI puts. Had I not bailed prematurely from FedEx (NYSE:FDX) calls, that $32,770 would sit comfortably over $40K.
I want to use this hypothetical mound of cash to help me realize my real-life New Year's resolution. My goal - to move toward a less stressful life in 2012. I've already taken steps toward that goal in 2011, but I realized something the other day when I decided not to add to my NFLX put position after having already added to it once earlier in the week.
As I contemplated buying more puts, I considered the psychological risk-reward factor. In other words, would I feel more emotional angst as a result of losing money if I end up being wrong or because of missing out on larger profits thanks to caution? I'm not sure I'll ever have a definitive answer to that question, but I can tell you this: I felt much more at ease with myself after deciding to not pull the trigger on more NFLX puts.
Instead, I intend to put a good portion of my money/future income into a somewhat different strategy. Here are the key points that will guide the $10,000 portfolio going forward:
It will be more conservative, yet still contain a speculative sub-section. While this is just a rough estimate, expect something like 80% conservative/20% speculative.
I will make the same trades I discuss in the portfolio in real life. However, I might execute them with different amounts of money and/or on a slightly different schedule.
Keep that 80/20 ratio in the proper context. I'm 36 years old and an aggressive investor by nature. Something that I consider conservative might be full of risk for a person of a different age and/or mindset.
The portfolio will use strategies such as dollar cost averaging and compare them against other options like lump-sum investing.
Stay tuned. We'll head into 2012 with $32,770 worth of cash in our pockets. I intend to do my best to put it to work, which means I want to not only grow it, but take care to preserve it.
Disclosure: I am long AAPL, P, F.
Additional disclosure: I am long NFLX June $40 put options.