Collectors Universe (NASDAQ:CLCT) traded under $13 yesterday
In fact, shares traded under $12 at one point yesterday! Did you miss it? It wouldn't surprise me, very few people follow this stock and there typically won't be even a single question asked of management at the end of the earnings calls. Sometimes it feels like nobody is listening ...
The last time that shares of Collectors Universe traded under $13 was about 2 months ago when I bought some for just around $12.90. Over the next month and a half those shares climbed towards $16 and I sold after it went ex-dividend, collecting $.325 in dividend and about $2.50 in gains per share. I discussed this strategy in more length in my previous article and also mentioned that I plan to follow it again.
For additional context, please read my first article about Collectors Universe or this one (which I did not write), an article that gives a great overview of what the company does.
I've ridden what I'm now calling the "CLCT Dividend Wave" a few times now: stock trades between $13 and $14, has a big run into the dividend, goes ex-dividend, slowly creeps back down and then the cycle repeats. As I also said in my previous article, this stock trades on very thin volume and tends to toss out great entry points. Today was the first such entry point I've seen since pulling back after the most recent ex-dividend date, and while I'm quite happy with my purchase price of $12.90, I could've paid even less if I'd been quicker today.
To be clear, it is entirely possible the price will waiver around here or decline further. In fact, if my theory about this cycle holds true, the opportunity to get in won't be for another couple of weeks when we are at the mid-point between dividend payments. However the stock's usual price movement leading into the ex-dividend date has me feeling confident about any purchase in this range and I will view any further decline as a chance to buy more. Additionally this stock hasn't adhered to the global market direction throughout the turmoil beginning this summer, which I believe is the reason several institutions either initiated or expanded their positions in the company since then. (Take a look at this Ownership Profile on the Collectors Universe website)
Insider Selling
In my previous article I wrote that with the (legitimate) uncertainty regarding the stability of the dividend any significant insider selling over the coming months could be a warning sign and an opportunity to ring the register. Well it is now "the coming months" and there is one insider who has done some selling recently. However part of my motivation to write this article stems from a desire to explain why I'm not worried about this selling. Here are the 3 reasons why:
Reason #1: Richard Duncan is a crappy seller. Sure, he made a great investment when he bought hundreds of thousands of shares at a time when it seemed like the (financial) world was going to end and when shares traded between $3 and $4. But Duncan has not demonstrated the same skill with his selling. At the end of November and beginning of December he sold 53,000 shares for an average price of $14.30 when he could have sold them around the ex-dividend date for over $1/share more. In September he sold 27,000 shares for an average of $16.33 when he could've sold a month before for over $18/share. Or he could've sold more in September if he thought they would slip back down towards $14 (as they have since then). There are additional examples of this further back, feel free to poke around for yourself on Collectors Universe's Investor Relations page. For as smart as his investment in CLCT clearly was, Duncan doesn't seem to be as astute with his selling and I don't view light selling by him as an indication of what is to come.
Reason #2: I could care less about Duncan selling a few thousand shares every so often. Ok, that's not 100% true but frankly, if I was managing his money I would probably have already taken more off the table especially after watching his stake grow from $4/share in early 2009 to almost $17/share in October 2010. Sure, he just sold 53,000 shares but I view this as a roughly $760,000 payday, or perhaps he just wanted to buy a few dozen iPads for everyone on his holiday list this year. Duncan still owns, even after this most recently disclosed transaction, 1,012,554 shares, a stake worth (even at today's closing price) almost $13.3 million. I keep a spreadsheet of insider ownership. As you can see, Duncan has a lot more at stake than a measly 53,000 shares.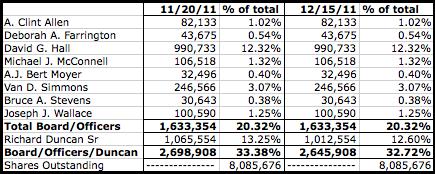 Reason #3: CLCT trades on very thin volume. I mean thin, as in sometimes under 10,000 shares kind of thin. With this in mind, when Duncan sells a chunk of shares it can really have an effect on the price action. Take November 28th as an example: Duncan sold 13,000 shares that day. These sales fetched prices ranging from $15.18 to $14.38 and accounted for almost half of the 31,264 shares exchanged that day. Not only is this very low volume why I believe you can find great prices on CLCT if you just pay close attention (or by using "hopeful" limit orders), it is also why I think these chunks of Duncan shares hitting the market brings the price down below where they should be. It certainly wouldn't be the first time that Duncan has sold a whole bunch of shares only to see them subsequently start climbing higher when the selling pressure has stopped.
Conclusion
In hindsight I probably should have waited to see if any of today's very large volume was related to insider selling by somebody other than Richard Duncan. It was pretty wild price action for this particular stock, swinging about $2.50/share, and if there was significant insider selling during this critical period it would indicate to me that the move lower may have been warranted. Nobody likes to bet against conviction in the market and a significant move to the downside on 5x normal volume is certainly conviction...however if my theory about the CLCT price cycle holds even remotely true, today was a terrific buying opportunity and it'll just be a matter of time before I can collect my dividend, cash out and repeat. (I think I've seen those same instructions written on a shampoo bottle ...)
Please tell me, what do you think?
Disclosure: I am long CLCT. I may initiate new long positions in CLCT within the next 72 hours