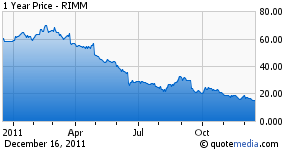 In my last few articles (click here to read) I have been bearish on Research In Motion (RIMM) and yesterday's earnings release and conference call confirmed what 8% of the stock float already know: RIMM's share price is headed lower.
Now we find RIMM's stock trading for as low as $13.12 (so far) after the numbers were released and investors had time to digest the report overnight. Shares in after hours trading last night broke below $14, but I didn't buy any looking for a "value" because I knew the odds favored a continuation of bearish follow through this morning. I want to write about RIM further, but first let's touch on a subject I have also written about in the past: Not letting emotions influence your investment choices.
I like odds and the math that makes up the odds of this or that happening. The really great thing about the stock market in today's world is we can crunch numbers 24/7 to figure out the odds of any given event happening. As a numbers kind of guy, I don't spend a lot of time looking at the "coolness" factor of any given company or product.
Take Apple (NASDAQ:AAPL) for example, I don't own an Apple product (my wife does) and I believe that aids my investment decision making process. I often have bullish trades with Apple because I know the numbers support it. Either the numbers are there or they are not, but I don't have a love of an iWhatever to cloud my thoughts. With RIM I don't own a blackberry, and I don't intend to. But I will likely put on a bullish position with RIMM today (either a buy-write or a short put option position). I use Sprint (NYSE:S) service and I like it, but I don't own the stock. As you can see, I could care less about companies, their products, and the idea of investments having any type of relationship.
The real difficulty in trying to catch the falling RIM knife is knowing how many hands have been cut off, leaving a bloody stub by those who tried it before me. I have put on bullish positions in the past, but they have been largely based on the relative premium of the options more than my confidence in the company itself.
There are several factors that lead me to believe "this time is different" (ohhh how I hate to even write the words). First, things are different, the stock price is now trading down another 10% at $13.55 per share and all else being equal (it's not of course), buying in at $13.55 is a lot less full of peril than buying at $23.55. Secondly is the valuation of the underlying assets. RIM has over $2 in cash per share and is still cash-flow positive.
There are many examples of what happens to company's balances sheets when their phones become unpopular. The last big case study is Palm which ended up part of Hewlett Packard (NYSE:HPQ) after a buyout of what was left. Arguably RIM is in much better shape than Palm with several services to go along with the hardware. RIM reported after liability assets of about $10 billion. I went in with my spreadsheet and started discounting different parts of the assets based on an assets only type of sale in an attempt to value the company on a worst case scenario possibility. After removing about $6 billion I came up with about $4.5 billion as a bottom level number for me to use. With about 525 million shares outstanding, the "real" bottom number I am using is $8.57 per share. This compares to the tangible book value of $12.40 on WSJ.com and the book value per share (mrq) on Yahoo.com of $19.05.
I believe the odds greatly favor RIM will not get sold out for "scrap metal" and any buyout offer would set a price considerably higher. At a 50% premium to the bottom price, the minimum buyout price likely would be at or higher than $12.86 per share. This is the number I am using for my estimates of the amount of likely risk I am exposed to with RIM.
You can see my first attempt ever at making a youtube video about a stock (RIMM) by clicking here. I am sure I will get better, but I have to start somewhere.
Now that I have my likely amount I could lose if RIM falls apart (both as a garage sale and a buyout) I can calculate the upside. This is much more difficult because the market sentiment is currently so negative that some good news (more than one required) could really lift the shares higher.
Good news could include:
A reorganization of top management (yes this includes the twins). If the co-CEOs step down, I would expect the shares to increase in price over $2 a share within a few days of an announcement.
A highly favorable market response of the new Blackberry next year after an EARLY release.
Actual growth in market share for handsets and or Playbooks with services matching.
Absent any really great news like the possibilities listed above, retarding the downward circling of the drain for more than a quarter would put a lot of wind in the sales.
While sitting and waiting for the ship to stop taking in more water, there is a method of investing in RIM's future and getting paid to wait it out. Currently, January $14 strike call options are trading for about $0.88 with the stock trading for $13.44. If I buy the stock and write the January $14 call against my shares I have a maximum profit potential of about $1.44 per share. More importantly, on the downside, I have a lowered risk profile than simply buying the stock. Instead of a cost basis of $13.44 if RIM continues the downward slide, I have a cost basis of about $12.56. This is a lower cost basis than my calculated buyout if the wheels fall off the wagon.
It's not a home run and I rarely go for home runs. Investing is a marathon, not a sprint, and I am more than happy to hit lots of doubles and triples. A return of over 12% in a month's time is certainly nothing to snicker at either. The numbers are not necessarily a true reflection of the price I may enter at. I will wait until the last half hour today and possibly the opening Monday to pull the trigger. Ideally, I would like to enter near $13 a share or slightly less on a strong "flushing out" of weak hands on massive volume.
I use a proprietary blend of technical analysis, financial crowd behavior and fundamentals in my short-term trades, and while not totally the same in longer swing trades to investments, the concepts used are similar. You may want to use this article as a starting point of your own research with your financial planner.
Disclosure: I have no positions in any stocks mentioned, but may initiate a long position in RIMM over the next 72 hours.