A few weeks ago, I wrote an article titled Weathering the Storms with a Fleet of Battleship REITs and in that article I detailed five "battleship" REITs that have survived decades of turbulence and market volatility. All five of these extraordinary "safe margin" REIT vessels (all characterized by prudence and careful risk control fundamentals) have stayed on course in the wake of some of the most difficult storms, including the latest historical tsunami known as the "great recession." In researching these intelligently modeled "battleship brands", I decided to dig deeper into one of the rugged ships known as Tanger Factory Outlets (NYSE:SKT).
Founded in 1981 (and public since 1993) Tanger Factory Outlet Centers, Inc. is headquartered in Greensboro, North Carolina and this well-balanced REIT operates and owns or has ownership interests in, a portfolio of 39 outlet centers in 25 states coast-to-coast (and Canada), totaling approximately 11.6 million square feet, leased to over 2,400 stores that are operated by more than 415 different brand name companies. Unlike most other shopping center operators, the outlet sector has maintained a relatively disciplined acumen for new development. According to Value Retail News, the outlet sector has maintained single digit annual grand opening growth since 1997. And because of the conservative outlet expansion patterns, all of the centers built since 2001 are still open and operating as outlet centers. This exceptionally strong performance-based platform has resulted in a highly sustainable REIT model with tremendous opportunities for growth.
Tanger is the only public REIT with a pure outlet portfolio and because of the powerful brand name recognition the "differentiated" REIT has more than 175 million shoppers visiting Tanger Outlet Centers annually. And because of the growing base of assets (and market cap of $2.46 billion), Tanger benefits from the growing economies of scale in owning larger portfolios and maintaining strong landlord relationships with many dominating value-based retailers. Because of the challenging retail environments, outlet centers continue to be a viable and profitable channel of distribution for retailers and manufacturers. Historically, outlet center occupancy levels have not been impacted to the same extent as other retail properties by bankruptcy and store closings. With a proven 30-year track record of performance, Tanger has become a highly-diversified landlord leasing to many of the most desirable "best in class" brands. Here is a snapshot of the REIT's diverse portfolio: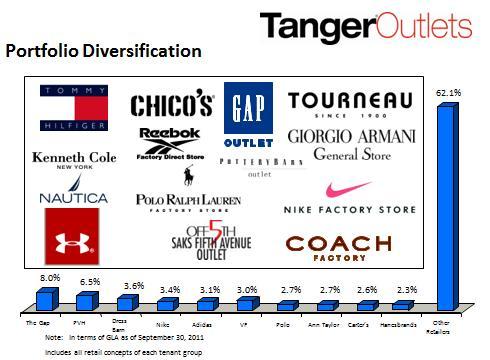 With just around 39 outlet centers in 25 states (and Canada), Tanger has plenty of room for organic growth and acquisitions. The under-served and highly scalable outlet sector has considerable room for new development and acquisition opportunities. Collectively, Tanger and Simon Property Group (NYSE:SPG) own around 65% of the outlet center product (85% of high-quality product) and that provides for extraordinary opportunities to gain scale and growth to the Tanger Factory Outlet brand (in both the US and in Canada).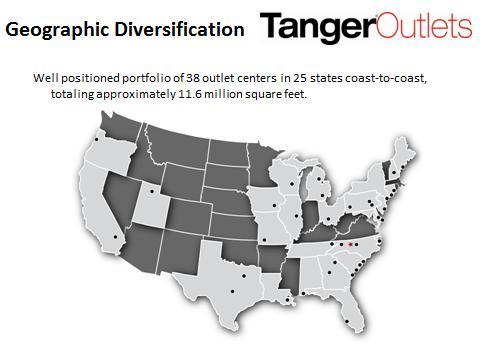 In 2011 Tanger expanded its geographic reach into 3 new states and increased its portfolio size by 1.3 million square feet. On Jun 28, the outlet REIT closed on a 410,000 square foot property in Jeffersonville, OH ($134 million all cash). And in July, the North Carolina-based REIT closed on a partial interest in a 445,000 square foot (two phase) center in Atlantic City (just under $200 million). And in September, Tanger closed on a 248,000 square foot center in Hershey, PA ($56 million). And just a few weeks ago, Tanger announced two strategic JV deals with RioCan Real Estate Investment Trust (TSX-REI.UN). Both projects are in Canada – (1) Cookstown Outlet Mall is located approximately 50 kms north of the Greater Toronto Area, (2) and a second site is a predevelopment site (in pre-leasing stages) in Kanata, Ontario (near Ottawa) ,(3) and a third site and a predevelopment site (in pre-leasing stages) is Halton Hills (a submarket of Toronto).
The Tanger family helped shape the course of the outlet industry by the opening of the first strip center with brand name factory outlet stores in Burlington (in 1981). In doing so, the Tanger family (founders) turned the city (of Burlington) into a destination for shoppers who often arrived by the busload. The founder, Stanley Tanger (CEO from inception thru 2009), died a little over a year ago and his son, Steven Tanger (President & CEO), has become an excellent example of his father's bold and dynamic leadership style. Over the years, the Tanger brand has grown in size and today the $3.53 billion (enterprise value) REIT has delivered an annualized 12% compounded increase in value.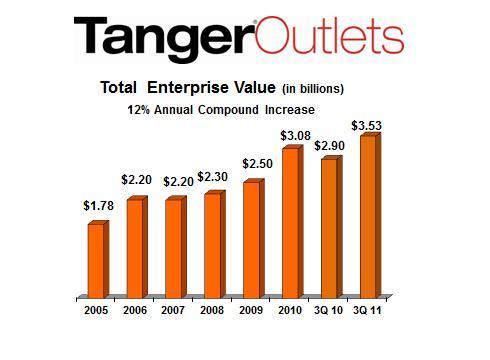 This conservative value structure is made up of around $2.554 billion in common equity and around $984 million in debt (as of September 30, 2011). In July, Tanger completed a public stock offering of 4.6 million shares at a price of $25.662 per share, using net proceeds of $117.5 million (net of offering expenses) to pay down its unsecured credit lines.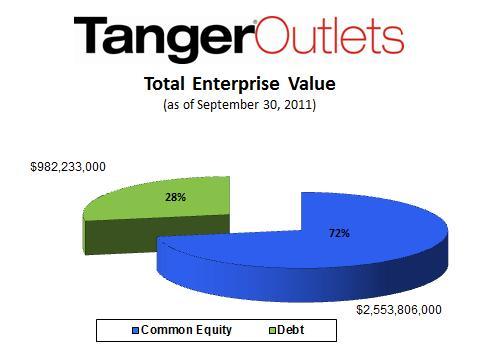 Perhaps the best growth metric for a real estate investor are rental rate increases - where Tanger has been an exceptionally strong leader. As shown below, Tanger has delivered astonishing double-digit rental rate increases on renewals and releasing. This metric indicates the strong tenant-based demand and the fact that the Tanger name-brand is a valuable storefront facilitator.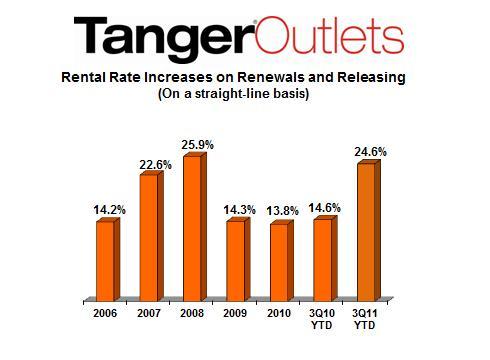 And another metric worth providing is the average tenant sales per square foot . With record Q3-11 sales of $362 per square foot, Tanger Centers are performing exceptionally well as the consumers are flocking to shop at Tanger branded properties with a broad mix of value-driven "best brand" products.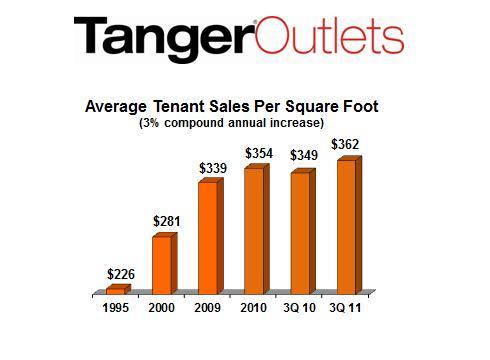 And because of the strong operational fundamentals, Tanger has maintained an incredible 98.3% occupancy level. As shown below, this sound rental strategy has become a highly sustainable metric.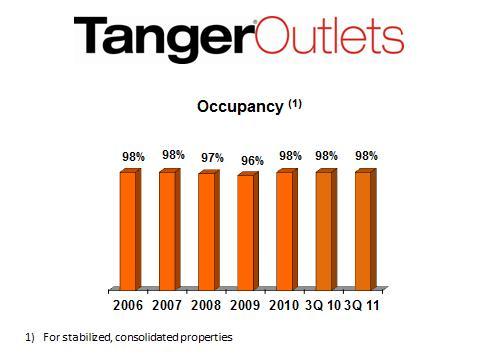 With such strong demand generators, Tanger has maintained a disciplined approach to investing as the conservative balance sheet has an unencumbered portfolio of around 92% (as of September 30, 2011) and a ratio of 28% debt to market cap. (credit capacity recently increased to $520 million).This strong operating portfolio (geographically diverse, tenant diverse, high quality tenants, and stable lease rollover) has resulted in some highly durable income and growth. As you can see below (and since 2005), Tanger has exceedingly outperformed the NAREIT All Equity REIT Index and the SNL REIT Retail Shopping Center Index.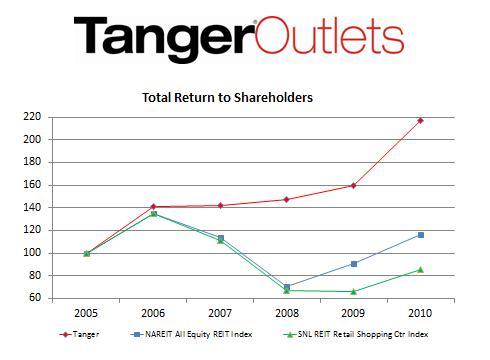 This Battleship Should Be On Your Radar
A few weeks ago, Tanger's President & CEO, Steven Tanger, was interviewed on Cramer's Mad Money and in that interview Jim Cramer referenced Tanger's "defensive" positioning and tremendous growth prospects. As Tanger pointed out, the outlet industry in the U.S. is comprised of just around 156 outlet centers with around 50 million square feet of space. And he added that consumers are driven to shop for high quality merchandise and they are seeking exceptional value. Likewise, investors are also looking for high-quality income and extraordinary value. Tanger Outlet's current dividend is 3% and the 2-year total return is 44.43% (29.92+14.51). The 5-year total return is 71% (41.73+29.27) and the 10-year total return is 771.85% (second behind LTC properties at 790.2%). As explained by Steven Tanger:
"For the past 10 years Tanger has provided its shareholders with a 741% total return. This ranks number one among the 132 publicly-traded REITs. During the Great Recession, when other REIT dividends were cut, eliminated, or paid in the form of stock, Tanger continued to pay a cash dividend. We have increased our dividend each year since our initial public offering in 1993."
The stock is currently trading at around $28.32 and the 52-week high was $28.99 (7-22-11). With an 18 year track record (140 consecutive payments) of dividend performance (with an extraordinary "margin of safety"), Tanger Factory Outlets is well positioned as a "battleship brand" and the sustainably high-quality REIT should continue to be on every intelligent investors' radar.
Disclosure: I have no positions in any stocks mentioned, and no plans to initiate any positions within the next 72 hours.