Will mega-miners like Barrick (NYSE:ABX) tip-toe back into hedging in 2012?
This unlikely question came to mind this week as gold experienced a sudden, bracing sell-off, breaking its 200 day moving average for the first time since January 2009. As a widely disseminated piece by Bespoke described, the drop would mark the end of gold's longest ever streak of consecutive closes above its 200 DMA.
Obviously, for a metal as popular and widely followed as gold, these intrinsic technical factors can quickly take on a momentum of their own. But as the proverbial "uncola" of paper assets in an era of their acute deterioration, gold also speaks volumes on fundamental issues. It is linked up to all the main strands of macro-economic discussion and its price action may be telegraphing how the new year will shape up.
One argument is that as the numbers roll in and confirm that a new recession will envelope Europe next year, the dollar will shoot up in the early months. This will exert a swift risk-off pressure on gold. Pimco's assessment this week that the euro will find parity with the dollar in 2012 gives weight to the position that the economic slowdowns and outright disinflationary pressures blowing in from China and Europe will send the dollar up.
The manufacturing numbers out of both Germany and Beijing bear near-term witness to this view. A failed German bond auction in late November had investors scrambling into cash and US bonds. And amid widespread bank de-leveraging, the European money centers are increasingly seeking dollars to fund US operations and dollar-denominated loans. This past week the demand for the ECB's 7-day fixed rate dollar funding has surged dramatically, with the allotment jumping from 1.6 billion to 5.12 billion in one week.
The euro-weakness /dollar strength trade has another golden wrinkle. A recent paper issued by the European Commission suggested that to deal with its debt crisis Europe could transfer some of the gold held by member states out of reserves and use it to partially back a bond issue and lower rates. The Euro treaty presently disallows its nations to finance operations by actually selling the gold at their central banks, but this use of it as collateral -- if quietly orchestrated by the ECB -- could be possible if things get dire and the "inflators" eventually win out over the Germans in the coming "euro bond hash-out" of 2012.
So one view is that the greenback is back. The opposing view is that gold will show resilience and may even shoot the lights out if recent buying by governments continue.
According to the World Gold Council, central bank purchases of gold soared in the third quarter to 148.4 metric tons. Placed into a year of year context, this is a significant jump year over year.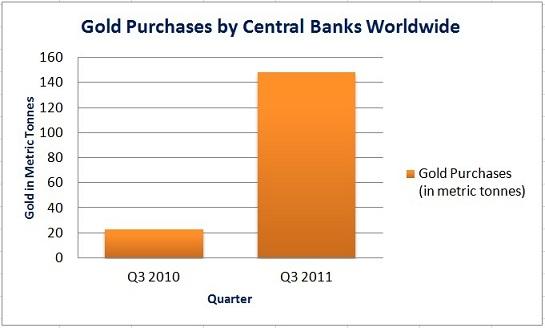 Click to enlarge
(Click to enlarge)
The EU debt crisis has sovereign governments around the world loading up on gold as they diversify away from the paper coming out of Euroland and the U.S. Treasury. As analyst David Urban recently pointed out, in October, Beijing added to its gold holdings, importing slightly more than 3.022 million ounces of gold. In one month the Chinese essentially imported enough gold to cover the quarterly production of the two mega-miners Barrick and Anglogold Ashanti (NYSE:AU) combined.
Whether this spike was unique to the uncertainties of Fall Semester 2011 or indicative of a new historic trajectory, one where the emerging nations steadily dissuade themselves from old verities of developed market stability, is an open question. It is part of the tangle that will mete out in 2012.
If continued, central bank purchases would effectively put a floor underneath prices, mopping up vast segments of quarterly production. But the autumn action could easily be anomalous and represent precisely why prices will now fall –the big buyers have properly gorged themselves.
Back to the Future
So what's a gold miner to do in this coming, more volatile environment? Ride out the new year, looking for that new leg-up to $2300 or $3000, or lock in a percentage of production at $1600? It's an interesting question for Barrick especially as the firm once took such pride in its forward sales program.
In 1983, when Peter Munk first founded Barrick, the firm produced 16 thousand ounces of gold from a single mine in Ontario. By 2006, a mere twenty three years later, the firm was the largest gold producer in the world, with 26 mines in nine countries.
This feat was all the more impressive because it occurred during a period when gold prices mostly declined. Though Barrick's hedge book became one of the firm's toughest liabilities this past decade, with an ugly, highly publicized exit in 2009 that cost the company a cool $5.7 billion, it was an essential aspect of its early success.
During the late 80s and 90s, when gold prices were in serious decline, this hedging program gave Barrick stable revenues and a better credit rating. It also received far higher prices for its gold, allowing them money to buy up competitors when gold prices were low and capital was scarce for the industry. From 1996 to 2001 Barrick booked an additional $1.7 billion in revenues from their forward sales program, which it spent on acquisitions from Australia to Tanzania.
The lower volatility in earnings provided by the Program also translated into stronger equity price, which dovetailed nicely with its compensation strategies as a very young, owner-managed firm.
But everything quickly changed with the new decade. Investors sought refuge from volatility and dollar depreciation in hard assets. New fangled gold ETFs spurred broad demand for the metal. Even the central banks eventually became net buyers. Barrick would ultimately exit its hedging program in September 2009.
The main reason was its cost. Financing fees were $24 million a quarter, and for every $100 increase in gold, the firm incurred a mark-to-market liability in its hedge book of $300 million. Yes, it was losing investor interest in its stock. And yes, there was a new recognition of counterparty risk in the hedging trade as the Yandal incident of 2007 made abundantly clear to all parties. But the painful truth was that Barrick was locked into handing over 9.5 million ounces that were each worth hundreds of dollars more on the spot market.
Barrick hit the exit button in the third quarter 2009. It took a $5.7 billion charge against earnings, and washed out existing shareholders 12%.
The reward for this was a major surge in income and the knowledge that the exit price would have billions more it they had waited. Barrick retired its program at a weighted average cost of $930. It was the right thing to do. If done last week, with gold at $1730 – essentially 800 bucks higher -- the firm would have spent an additional $2.4 billion to retire its book.
Is Now Different?
Barrick is now a very different company than when financial hedging first got engrained in its corporate culture (back in 1987). It enjoys a far more robust operational diversification. While financial hedging once helped it expand and diversify its holdings, now its operational hedging has allowed it to leave financial hedging to the small, higher-cost producers.
The question is whether – in a complete reversal from 2009 — Barrick will soon see pressure from investors to reduce earnings volatility and lock in today's prices, especially if gold is utterly routed by stirrings of what Naill Ferguson has called a "double-dip depression."
The following monthly chart of GLD from 2008- 2011 does suggest a reversal, as the PSAR, MACD, and true strength index all suggest a committed downtrend.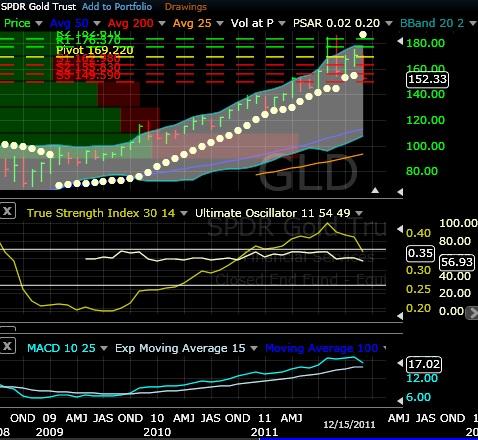 Back in the gravy years of its Premium Gold Hedge Program, Barrick would typically have 20% to 28% of its production tied up in forward contracts. That is absurdly unlikely today obviously, but what about 5%? Is that prudent? Or is the current price still so far above the operating costs per ounce that this remains a non-issue? Would it make sense if gold falls further to a more consolidating $1400 by February.
2012 is likely to be a far more volatile year for gold, with all the attendant risks and opportunities. At present, European disarray triggers both a sensible flight of central banks into gold and a sensible risk-off flight of investors into the dollar. We'll know more later.