A couple of months ago, J Mintzmyer wrote that "the Baltic Dry Index Is At 2,000, but nobody is watching."
Well, it's below 2,000 now. And this Google Trends chart shows that, indeed, few people are watching – or at least searching for information on it.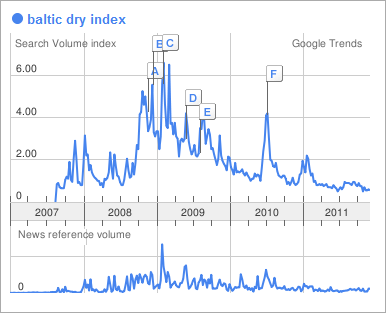 Back in late 2008 and 2009, it seemed to be the topic of the day. I have to admit that I'd never even heard of the index before 2008, which I learned, of course, tracks shipping dry goods.
This is an interesting indicator because it fluctuated widely back in the early 2000s. First, here's a chart of the index scaled logarithmically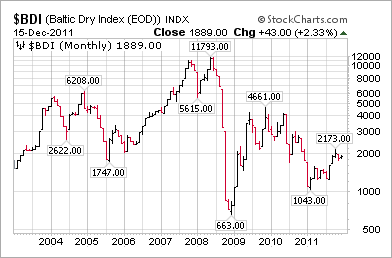 In a log scale view, that shows some pretty high magnitude moves. Now here's the chart scaled normally along with the S&P 500 and the price of copper.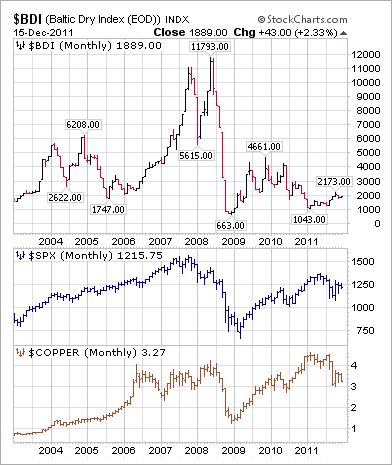 Even though copper prices (and presumably other commodities) tanked in 2008, they seemed to bounce back somewhat. Yet while the cost of shipping these dry goods as measured by the BDI rose 700% into late 2009, it's now off more than 50% from its 2009 high.
That bubble into 2008 was really a bubble in dry bulk ships themselves. It looks pretty clear to me that while it may have seemed as if there were too ships few in 2007, there were actually too many.
More ships: Impact of global slowdown on shippers
Last month MetalMiner quoted a shipping analyst who predicted continued pressure on shipping rates:
Although the IMF cut its global economic growth forecast in September for both 2011 and 2012 to 4 percent, from 4.3 percent and 4.5 percent respectively, growth is still expected by Reuters to remain firmly positive. Shipping space is also in demand and expected to remain in growth mode, according to Erik Stavseth, a shipping analyst quoted in the Financial Times, predicting dry bulk will rise by 5.9 percent for the year as a whole and tanker fleet demand will rise by 2.7 percent.
If there's going to be a global slowdown, maybe not a crash, but more of a pause, it's difficult to envision much upward pricing pressure in this sector.
And some of the stocks in this sector have been very disappointing. I know because I owned a few companies such as Dryships (NASDAQ:DRYS) and Diana Shipping (NYSE:DSX) in 2009 when times seemed brighter. But they just weren't bright enough for these companies, so I'm glad I got out with modest losses, painful as they felt at the time.
Here's a look at both DRYS and DSX.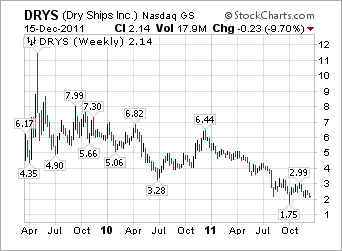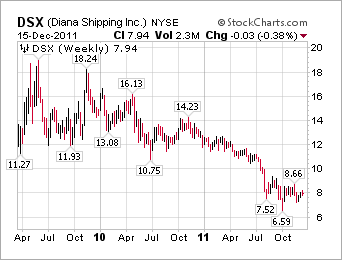 But some other companies in the sector seemed to fare worse, such as FreeSeas (FREE) and Paragon Shipping (NASDAQ:PRGN)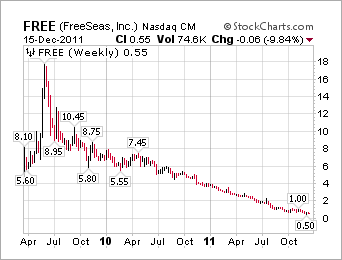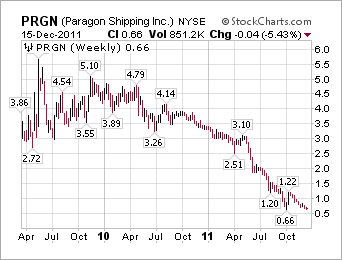 I suppose that at some point, there's a value play in some of these companies, perhaps not in potential earnings, but the value of assets less debt. I'm not nearly expert enough on the sector to suggest which of these companies – or any of the others – might be stocks worth considering. But even if there is a pickup in global trade, it seems as if there are probably better sectors in the overall transportation industry [Fedex (NYSE:FDX) for example] to put new money to work.
Disclosure: I have no positions in any stocks mentioned, and no plans to initiate any positions within the next 72 hours.