Overview
Oracle (NASDAQ:ORCL) is scheduled to report 2Q 2012 earnings after the close of trading on Tuesday, December 20. The results are typically available within the first minute after the bell and will be followed with a conference call at 5:00 p.m. EST. The results tend to have a broad impact across the technology sector and key market gauges, including the CME Index Futures.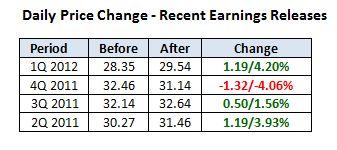 Outliers & Strategy
Back in September, Oracle provided the following guidance for the 2Q 2012 period:
Non-GAAP Earnings Per Share (EPS): $0.56 to $0.58.
Revenues: Total revenue growth on a non-GAAP basis is expected to range from 4% to 8%. Based on 2Q 2011 revenue of $8.582 bln, the projected range equates to: $8.925 BLN to $9.269 BLN.
The current Street estimates are for Non-GAAP EPS of $0.57 on revenues of $9.23 bln (Source: Yahoo! Finance).
The reaction to Oracle's earnings can have a meaningful impact on other markets, including the S&P E-Mini Index Futures & NASDAQ E-Minis. Large-cap tech names such as Microsoft (NASDAQ:MSFT) and IBM (NYSE:IBM) could also be affected, along with the PowerShares QQQ (NASDAQ:QQQ) (mirrors the NASDAQ 100) and Technology Select Sector SPDR (NYSEARCA:XLK).
Softness across Europe has been cited as a reason for the recently pullback in Oracle shares. However, software maker Adobe Systems (NASDAQ:ADBE) just posted record quarterly and annual revenue thanks in part to a "phenomenal" quarter in Europe.
Oracle shares are now trading at just 10.9x earnings, resulting in a FWD PEG ratio of just 0.9, implying the shares are trading at a discount to the 5-year growth rate. The shares are also at a mere 4.1x sales, below the 5-year average of 5.2x.
Recent News
12/15: Citigroup reiterated a Buy rating on Oracle with a price target of $34 ahead of its earnings release. The firm indicated that the spending environment in Europe remains "ok", according to a report on Benzinga.com.
12/15: Morgan Stanley reiterated an Overweight rating and a $36 price target, according to Benzinga.com, based on expectations for a solid 2Q resulting from margin expansion, growth in hardware, and improving middleware.
10/24: Oracle agreed to acquire RightNow Technologies (NASDAQ:RNOW) for $43.00 per share or approximately $1.5 billion net of RightNow's cash and debt.
Technical Review
Oracle shares have been in a downtrend since touching a 10-year high of $36.50 back on May 3. More recently, Oracle shares took out support near $31 – a convergence area of the 50-Day & 200-Day SMA. The shares are now barely holding support near $29, with potential downside risk to $28, followed by $27, in the event of a weak earnings release. The previous support near $31 now becomes the first key resistance area should Oracle deliver a solid report. (Chart courtesy of StockCharts.com)
Summary
Oracle shares have come under pressure in recent months, down more than 13% from the late October highs, due in large part to macroeconomic headwinds, resulting in tighter short-term margins, and an uncertain IT spending environment further in 2012. However, over the last several months, Oracle has expanded its presence in cloud-computing, highlighted by the October 24 acquisition of RightNow Technologies, while seeing an uptick in the hardware and middleware segments. Recent signs that the situation in Europe may not be as dire as many had feared, an improving backdrop in North America, and a PEG ratio of less than 1.0 are other signs that Oracle shares may be oversold near-term. Also note that Oracle's earnings and revenues have topped its own forecasts over the previous eight consecutive quarters – a sign that the current estimates may be too conservative.
DISCLAIMER: By using this report, you acknowledge that Selerity, Inc. is in no way liable for losses or gains arising out of commentary, analysis, and or data in this report. Your investment decisions and recommendations are made entirely at your discretion. Selerity does not own securities in companies that they write about, is not an investment adviser, and the content contained herein is not an endorsement to buy or sell any securities. No content published as part of this report constitutes a recommendation that any particular investment, security, portfolio of securities, transaction or investment strategy is suitable for any specific person.
Disclosure: I have no positions in any stocks mentioned, and no plans to initiate any positions within the next 72 hours.