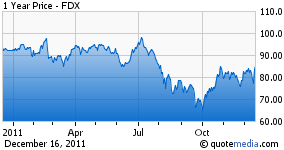 FedEx (NYSE:FDX) reported strong fiscal second quarter results Thursday and reconfirmed its fiscal 2012 earnings outlook. The report came as welcome news following a number of weak chipmaker earnings and warnings from DuPont (NYSE:DD) and Joy Global (NYSE:JOY) in past weeks. We are maintaining our $82 fair value estimate for FedEx. In the spirit of transparency, we make available our report on FedEx and other companies here.
FedEx's revenue advanced 10% from the same period a year ago, while operating income surged 66%. The firm's operating margin expanded 3.5 percentage points, and net income advanced 76% from last year's quarter. FedEx noted that it experienced particular strength from FedEx Ground, where revenue advanced 13%, and FedEx Freight and Express, where revenue increased 9% and 10%, respectively.
The company's FedEx SmartPost average daily volume increased a whopping 17% thanks primarily to growth in e-commerce. And the company noted that on Monday, Dec 12, it registered a record for the largest average daily volume in company history. After adjusted for one-time expenses in the year-ago period, earnings per share expanded over 35%, coming in at $1.57 per share, beating consensus estimates.
Interestingly, FedEx hit on two themes that we're focused on in the portfolio of our Best Ideas Newsletter. The company noted that there was healthy growth in online shopping this holiday season, which bodes well for our payment-processor plays. FedEx pointed to the secular trend toward online purchases on its conference call and estimates that e-commerce now makes up 4.6% of total retail sales (from 4.3% in calendar year 2010 and less than 1% in 2009), suggesting a long runway of growth ahead.
The firm also indicated that it will continue to modernize the company's aircraft fleet, revealing continued strength for replacement aircraft. Specifically, FedEx said it would purchase 27 new 767-300F aircraft and replace its outdated MD-10 models, which it mentioned were more than 40 years old. A robust replacement cycle for new aircraft remains core to our thesis on the aerospace supply chain.
Looking ahead, FedEx expects fiscal third quarter earnings to be between $1.25 and $1.45 per share, up from an adjusted $0.81 in the year-ago period, and fiscal 2012 earnings to come in between $6.25 to $6.75 per share (no change). The company anticipates that overall economic growth to continue at a moderate pace, but it did mention that inventory destocking has been a headwind, consistent with what we've been hearing from other companies recently. FedEx believes that the combination of low inventories in the distribution sector and continued demand growth will lead to restocking in coming months, a time frame that is more aggressive than ones given by other firms mentioning destocking in the supply chain. FedEx seemed optimistic on the call, and noted that consumer confidence hit the highest level since July, registering its biggest monthly gain since April of 2003.
Here's what management had to say about the economy on its conference call (view the transcript here):
"For calendar year 2012, we expect U.S. GDP to grow 2.2%, which is in line with consensus, with industrial production growing 3.9% and consumption growing at 2.2%. We're forecasting calendar year 2012 world GDP growth at 2.9%, with developed countries growing at 1.8% while emerging countries are projected to grow at 5.8%."
Our report on FedEx is here.
Disclosure: I have no positions in any stocks mentioned, and no plans to initiate any positions within the next 72 hours.