By James Pelczar
Nokia (NYSE:NOK) is a leading mobile device manufacturer. In the past year we have seen NOK drop in half to the 5s. In September, 2010 the company elected a new CEO, Stephen Elop from Microsoft (NASDAQ:MSFT). Soon after Mr Elop took over he sent a memo to the company telling a story of how the current position of Nokia is similar to being on a burning oil rig platform with no other choice but to jump into the waters below. In a major strategy shift the company discontinued the use of its Symbian operating system and will use Microsoft OS in its cell phones.
Competition is fierce in the cell phone industry, as others have pointed out with the likes of Samsung (OTC:SSNLF), HTC, LG and Apple (NASDAQ:AAPL) providing formidable competition. Nokia has just introduced its new line of Lumia phones, the 710 in the U.S. market and the 800 outside the U.S.
Worldwide market share has plummeted for Nokia. Nokia's Smartphone worldwide market share dropped from 30% to 15%. Helsinki's newspaper, Taloussanomat, reported that in the past 12 months, Nokia's market share in its home country has dropped from 76% to 31%. That is still good enough for the top spot in Finland, but the competition is breathing down its neck. In the same timeframe, Samsung has risen from 3% to hold second place at 25% market share.
In its latest quarterly earnings report the company reported net revenue of $12.7 Billion, down 13% year over year, above the Zacks Consensus Estimate of $12.3 Billion. Quarterly net loss was 3 cents per share compared to the prior year third quarter income 20 cents per share. Third quarter 2011 adjusted EPS of 4 cents beat the Zacks Consensus Estimate of a 1 cent loss.
Nokia's balance sheet is strong, with $14.69 Billion in cash and $7.56 Billion in debt. With 3.71 billion shares outstanding, if debt is covered by cash, the company has $1.92 in cash per share. At $5 per share, investors are purchasing a large, well known company free and clear of debt for about $3 per share. The company also has a dividend yield of around 10%. So why wouldn't investors want to purchase a large, well known company with no debt for $3? The simple reason is a lack of company vision, therefore a lack of growth.
NPD just released Operating System Share of Smartphone sales in the U.S. market. The chart below is worth a thousand words. (Click to enlarge.)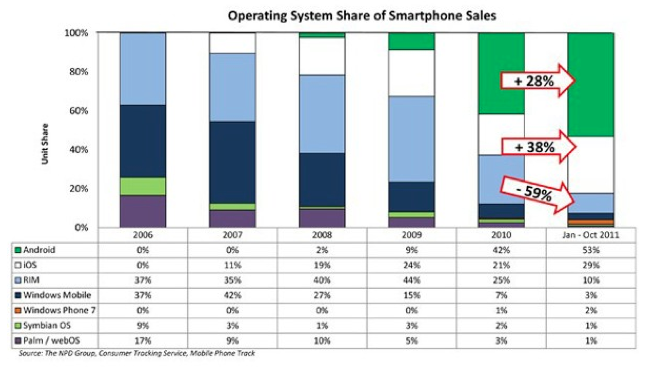 Click to enlarge
Why have Android and IOS skyrocketed from 33% of the market in 2009 to 82% of the market in 2011? One reason: applications. The top downloaded Apps are Facebook, Youtube, Google (NASDAQ:GOOG) Gmail, Angry Birds, and Pandora (NYSE:P). Do people use their Smartphones for work or do they use them for pleasure? This list of App downloads points with a neon sign to people buying and using Smartphones for pleasure. It's cool to have a smartphone. It isn't cool to have a Smartphone to do your job outside of the office.
As of Q2 2011, 62% of Smartphone users are 44 years old or under. The vast majority of these folks aren't looking to earn brownie points with their bosses by doing office work while they are out of the office. Rather, they want to have a good time while they are out of the office. That is where Nokia and Microsoft are falling short. There is a place for a Windows phone and maybe Nokia can take some of Research In Motion's decreasing market share. However, without a huge app store and a way to convince the public that Nokia phones are cool, Nokia's strategy is going to go the way of the Microsoft Zune.
Disclosure: I have no positions in any stocks mentioned, and no plans to initiate any positions within the next 72 hours.